printer friendly version
Real-time spectrum analyser
16 July 2014
Test & Measurement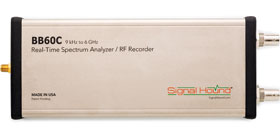 Signal Hound's BB60C, successor to the company's affordable BB60A real-time spectrum analyser and RF recorder, boasts significant performance improvements such as a frequency range of 9 kHz to 6 GHz, an instantaneous bandwidth of 27 MHz, and the ability to sweep the RF spectrum at 24 GHz per second.
The new instrument has improved spurious-free dynamic range by typically 20 dB; the noise floor has been flattened by reducing frequency band transitions more than 8 dB; operating temperatures have been extended down to -40°C and up to
+65°C; and streaming I/Q bandwidth is now selectable from 250 kHz to 27 MHz.
Signal Hound touts the BB60C as being able to accomplish more than 80% of the work of a high-end spectrum analyser for less than 20% of the cost. By adding custom software and a low-cost Intel i5 NUC vPro-enabled computer, users can also remotely perform spectrum analysis, manage system recovery, turn on and off the unit, and update software, all over the Ethernet.
The analyser ships with a fully documented API written in C++. The open source software provides examples of efficient techniques for creating new functions and interfacing the API when writing customised applications.
Further reading:
DIN-rail programmable transmitter
23 October 2019, Instrotech , Test & Measurement
Calog Instrument's versatile DPM9000 series – a miniature DIN-rail mount programmable isolated transmitter range – boasts high reliability and a versatile, wide range of programmable inputs. With dimensions 
...
Read more...
---
Hands-on learning module
23 October 2019, Altron Arrow , Test & Measurement
The ADALM2000 (M2K) active learning module is an affordable, USB-powered, software-defined instrument that exceeds the capabilities of its predecessor ADALM1000 (M1K). With 12-bit ADCs (analog-to-digital 
...
Read more...
---
Digital multimeter with thermal imager
23 October 2019, RS Components (SA) , Test & Measurement
A digital multimeter (DMM) with a built-in thermal imager has been added to RS Components' RS PRO product range. The RS-9889 allows engineers to identify thermal overload issues in electrical equipment 
...
Read more...
---
Project-based learning for the modern engineer
23 October 2019 , Test & Measurement
Projects that inherently challenge students to use innovative design thinking often involve interacting with an unknown process or device. Students are encouraged to understand the unknown through theory, 
...
Read more...
---
Automotive Ethernet testing software
25 September 2019, Comtest , Test & Measurement
Tektronix has released two new software packages that greatly simplify Automotive Ethernet testing, debug and protocol decode for use with its 5 and 6 Series mixed-signal oscilloscopes (MSO). Using 
...
Read more...
---
4-channel PC-based oscilloscope
28 August 2019, Vepac Electronics , Test & Measurement
The newly developed Model 1330 from Peaktech is a 4-channel PC oscilloscope with 100 MHz bandwidth and 1 GSps sample rate, which is suitable for mobile use on a laptop, and permanent installation in control 
...
Read more...
---
Handheld PoE tester
26 June 2019, Coral-i Solutions , Test & Measurement
Ideal Networks has launched a new handheld tester that eliminates guesswork when installing, maintaining and troubleshooting PoE devices and data cabling. PoE Pro measures and reports PoE class, voltage/voltage 
...
Read more...
---
Debugging probe for STM32 MCUs
31 July 2019, Altron Arrow , Test & Measurement
The STLINK-V3MINI probe, new from STMicroelectronics, combines the features of the STLINK-V3SET with standalone simplicity for faster programming and ease of use. The compact, portable probe can be 
...
Read more...
---
Digitiser for advanced applications
31 July 2019, Comtest , Test & Measurement
Tektronix, Inc. has unveiled the 6 Series low-profile digitiser, a 4-channel instrument offering up to 8 GHz bandwidth, 25 GSps sampling rate and a 12-bit ADC (analog-to-digital converter) on every channel, 
...
Read more...
---
Cost-effective tools for makers and small businesses to innovate
31 July 2019, TRX Electronics , Test & Measurement
In addition to professional engineers, makers and hobbyists are now able to contribute significantly to innovation in our modern world – as they can develop ideas with passion and without the financial and logistical constraints that often stifle ideas in large corporations.
Read more...
---