Prestigio's new MultiCentre range delivers the capability to turn any HDMI supported TV or display into a fully functional smart device.
The PMD1 MultiScreen enables Android devices (version 4.2 or later) which support Miracast to duplicate their content over Wi-Fi to a connected HDMI device. Not only does this allow full HD movies or music to be streamed from the Android device to a larger HDMI TV or display, but it also opens up the possibility of delivering technical presentations to a group of people directly from a tablet.
The system is powered over USB and creates its own point-to-point Wi-Fi connection to the Android device so as not to interfere with an existing Wi-Fi connection.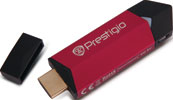 The PAB2411 MultiCentre Box and PAD2411 MultiCentre Mini transform an HDMI screen into a fully functional Prestigio tablet controlled not via touch but rather via an infrared remote. The PAB2411 is powered by an external adaptor and has 2 x USB, 1 x Ethernet, 1 x Micro SD and 1 x AV output. The PAD2411 is powered by a USB port and has 1 x USB, 1 x Micro SD and 1 x IR receiver port.
The MultiCentres support the ability to connect to a Wi-Fi network, as well as supporting USB plug-in devices such as wireless keyboards, external disk drives or USB modems.
For more information contact Chris Viveiros, Otto Wireless Solutions, +27 (0)11 791 1033, chris@otto.co.za, www.otto.co.za