printer friendly version
IDC connectors for discrete wires
27 August 2014
Interconnection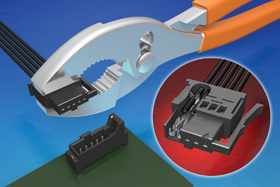 Samtec recently released a discrete wire IDC (insulation displacement connection) system on 2,00 mm pitch, designed for a highly reliable connection and ease of termination in field applications. Available as an IDC connector only, this system eliminates the need for special tooling or separate parts such as bodies and contacts.
The offering includes a cable socket connector (I2SS series) and a mating board-level header (T2I series). The former is available in 2, 3, 4 or 5 positions and accepts AWG #24 discrete wires, which are held in place by the connector and then terminated with standard flat jaw pliers. The board-level header has a single-row configuration with through-hole termination for increased stability on the board. In addition, a single end latching system is standard for secure locking.
This system is ideal for industrial applications including installation, testing and maintenance in the field. Additional applications include I/O, controls, factory automation, instrumentation and measurement equipment.
Credit(s)
Further reading:
Circular connectors for signals, data and/or power
28 July 2021 , Interconnection
Farnell is now delivering Intercontec circular connectors from TE Connectivity – an innovative, plug-and-play connector concept that simplifies modular machine design by offering a wide range of variants 
...
Read more...
---
Modern trends are shaping new power connectors
25 August 2021 , Editor's Choice, Interconnection
While it may sound counter-intuitive to use smaller connectors, it is possible to obtain a better total current rating with connectors that use a larger number of smaller terminals.
Read more...
---
The evolution of heavy-duty connectors
25 August 2021, Phoenix Contact , Editor's Choice, Interconnection
Tomorrow's smart production demands smart components that can be assembled quickly, easily and economically to create customised solutions that can be delivered from batch sizes of one upwards.
Read more...
---
Connector backshells for demanding environments
25 August 2021, Hiconnex , Interconnection
A backshell is the rear portion of a connector which is normally a separate section from the connector head. It is used to secure the cable to the end of the connector in order to relieve strain on solder 
...
Read more...
---
High-speed connectors for vehicle networks
25 August 2021, Actum Group , Interconnection
The differential high-speed data connector systems H-MTD, H-MTD+ and H-MTDe developed by Rosenberger, set high standards for future vehicle network systems. H-MTD connectors can be used for frequencies 
...
Read more...
---
Low-PIM coaxial cable assemblies
25 August 2021, RF Design , Interconnection
Pasternack recently expanded its ever-growing line of low-PIM coaxial cable assemblies using its Superflex cables, as well as popular cable offerings from Times Microwave that are ideal for use in wireless 
...
Read more...
---
Touch-safe appliance power connectors
25 August 2021, Vepac Electronics , Interconnection
Saf-D-Grid builds on the proven contact technology used in Anderson Power Products' (APP) SB and Powerpole connectors by offering features required in 380-400 V d.c. power distribution systems. APP 
...
Read more...
---
Self-locking RF connectors
28 July 2021, Hiconnex , Interconnection
With all the antennas present on civil aircraft, cable assemblies for airborne electronic systems are still receiving plenty of development attention. Coaxial cables remain the transmission medium of 
...
Read more...
---
Case study: IP68 sealing and EMI protection for radar application
28 July 2021, Hiconnex , Interconnection
The end users of radar systems require them to be durable, reliable and to require little maintenance. In order to track multiple targets, such a system needs to have the most accurate transmission of 
...
Read more...
---
Robust sealed connector system
28 July 2021, Electrocomp , Interconnection
Today's complex vehicles include more connectors than ever, which brings a higher risk of failure as one compromised seal on a single connector can result in the failure of an entire system. To address 
...
Read more...
---