printer friendly version
Global equipment vendor boasts of relationship with SA manufacturer
8 October 2014
News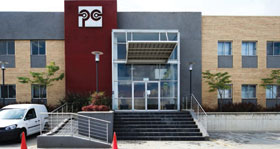 South African contract electronics manufacturer Projects Concern was recently featured in the in-house magazine of equipment vendor Mycronic (formerly known as MYDATA), which is represented locally by MyKay Tronics.
The success story that is the companies' longstanding relationship was the subject of an article that has been read by Mycronic customers the world over.
Located in north-eastern Johannesburg, Projects Concern is one of the largest contract manufacturers in South Africa. It is also the oldest, having been established in 1986. The company's success in recent years has been built on a backbone of Mycronic equipment, including a suite of seven pick-and-place machines, two jet printers, four SMD towers and a full range of integrated software.
Projects Concern has gained a reputation for offering excellent customer service and high-quality electronics assembly adhering to international standards such as IPC-A-610c class III and ISO 9002. It specialises in process control, such as products for vehicle tracking and video surveillance, although its customer base is extremely broad. It serves diverse industries, from telecommunications, commercial and automotive, to power, security, defence and aerospace.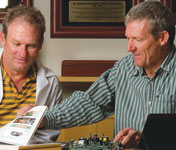 Sean Flynn (right), CEO and founder, and his brother Mike Flynn, general manager for operations.
The company's charismatic CEO and founder is Sean Flynn – a well-known figure in the world of South African electronics. Asked why customers choose to work with Projects Concern, he answers without hesitation, "More than anything, I think it comes down to the fact we have a real passion for what we do. When you're in the business of taking care of each and every customer – large or small – you have to have a passion for coming to work and making every day a success."
Remarkable journey
That passion has led Flynn and the company on a long and remarkable journey. He started out straight from school as an industrial engineer helping to produce high-tech, military specification electronics. After just five years of work and study he decided it was time to set out on his own.
A few years later, his brother Mike joined the team and together they have steadily grown the company year on year. From the outset, they adopted the same high-tech, high-quality approach Sean had been exposed to at his first job. These principles remain central to the company's offering to this day.
In the early days of surface mount assembly, the company sub-contracted out its SMT work. That all changed after Sean first laid eyes on MYDATA's TP9 pick-and-place machine at a local trade show. "I can clearly remember peering over the shoulders of the other attendees and thinking, 'Wow! That is technology at its best,'" he recalls.
The company bought that very machine, second hand, three years later. "At the time, we had a Daum machine, but it just wasn't working out," he reminisces. "It needed recalibrating after every 10 boards. With the MYDATA, we instantly realised that pick-and-place was not so complicated. Surface mounting was definitely something we could offer."
From there, things took off and more and newer MYDATA placement machines were added to keep pace with demand. The next pivotal decision came as the company started to win more and more higher-volume orders, forcing the brothers to consider looking at other SMT equipment suppliers. As Sean explains, however, it was just at that time that MYDATA came out with its DX platform. "It was the perfect solution for us. It gave us the higher speeds we wanted without us needing to change platform or how we worked."
Projects Concern is still growing. An expansion in production space from 2200 to 3600 m² was completed earlier this year. With its high-performance SMT technology and new clean room-like environments, the company is now in line with the very highest international standards.
Agile production
Today, the company offers complete electronic manufacturing services, from through-hole to ultra-fine pitch and BGA. It has a complete MYDATA production solution, including seven pick-and-place machines – two MY100DX-14s, three MY12s and two MY9s. These are configured in five production lines, two of which are dedicated to prototype and NPI work. At the same time, four SMD towers provide component storage close to production.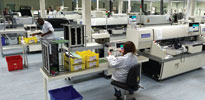 Projects Concern runs five MYDATA SMT assembly lines for volume, NPI and prototype production, supported by two MY500 jet printers.
One of the MY500 jet printers is used in-line, while the other is used off-line for prototype and small batch orders. Keeping everything running smoothly is an integrated software suite, including MYCenter for data preparation and efficient material handling, and MYPlan for job sequence optimisation and planning.
Flynn explains that a cornerstone of the company's production setup is maximising flexibility. "We can run high-volume jobs as needed and still fully support our traditional high-mix, lower-volume customers," he says. "The great thing is we are not stuck with this setup in the same way you are with a dedicated high-volume line. Since everything is MYDATA, we have the flexibility to change the line configuration if we need to in the future."
The current setup matches the company's needs extremely well. Projects Concern is a company that welcomes the opportunity to tackle difficult jobs, such as one customer board that contains 2000 components.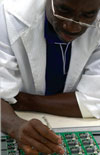 Customers in the military industry are especially demanding, according to Flynn. "They expect 100% yield. If they come with 30 boards they expect to go home with 30 assembled boards, no matter how complicated the design. MY500 is great when it comes to this type of high-tech work. It means we can offer 'right first time' production even for the most difficult applications. We have 100% confidence in our MYDATA equipment."
Value and innovation
Over the years, Sean Flynn has seen a lot of technologies come and go. He is impressed that MYDATA seems able to predict the needs of the marketplace so well. "This has been something of a recurring theme," he says. "Every time we've needed to take our production to the next level, MYDATA has come out with a new innovation that meets our needs."

He believes there is still plenty of potential to be extracted from the company's current production solution. "Fast changeovers and the ability to prepare off-line means it is possible to run machines at virtually full capacity all of the time. Our processes and routines today are pretty efficient, but we can definitely see there is the potential to get an extra 30% to 50% more capacity out of our existing setup. It's good to know we have that in reserve so we can respond quickly to any increase in demand."
That extra capacity may be needed sooner rather than later. With its increased production space, high-performance SMT lines and expertise in high-tech industries, new markets are beginning to open up for Projects Concern – not only throughout Africa, but also in Europe.
"We are very blessed to have come as far as we have", Flynn concludes. "And we are proud to have MYDATA as our partner. No matter what the future has in store, we are confident they can help us succeed."
Credit(s)
Further reading:
Coalition calls on European Commission to postpone SCIP deadline
30 September 2020 , News
A coalition of 40 industry organisations has written a letter to European Commission President Ursula von der Leyen calling for decisive action to solve implementation issues within the EU Waste Framework 
...
Read more...
---
Follow this engineering journey of a 3D-printed boat
30 September 2020, RS Components (SA) , News
RS Components is releasing a 10-episode documentary series – titled SeaQuest – featuring members of its DesignSpark engineering community who embarked on a first-of-its-kind challenge to design, test 
...
Read more...
---
Mouser revamps technical resource centre
30 September 2020, TRX Electronics , News
Mouser Electronics has redesigned its Technical Resource Centre, which contains the global distributor's ever-expanding collection of technical articles, blogs, eBooks, and Methods technology and solutions 
...
Read more...
---
IPC teams up with PSMA on standards and more
30 September 2020 , News
IPC and the Power Sources Manufacturers Association (PSMA) have signed a memorandum of understanding (MoU) pledging to build a strong complementary relationship between the two entities with a focus on 
...
Read more...
---
Battery Technologies Conference goes virtual
30 September 2020 , News
Vukani Communications is back again with the 6th edition of the Battery Technologies Conference, and this time around the gathering is virtual. Topics to be discussed include, but are not limited to:
...
Read more...
---
Oven control system supports IPC CFX
30 September 2020, MyKay Tronics , Manufacturing / Production Technology, Hardware & Services
BTU International, a leading supplier of advanced thermal processing equipment for the electronics manufacturing market, announced that its new Wincon 7.2 supports IPC CFX (Connected Factory Exchange) 
...
Read more...
---
A journey into the automation unknown
31 August 2020 , News
From small-town specialised machine builder to global technology company, Jendamark Automation's business journey has been characterised by calculated leaps into the unknown. And, as South African manufacturers 
...
Read more...
---
Resources for home and building automation
31 August 2020, TRX Electronics , News
Mouser Electronics is expanding its comprehensive range of building automation solutions from Silicon Labs, TE Connectivity (TE), and Littelfuse for the rapidly growing smart home and building automation 
...
Read more...
---
From the editor's desk: Enough of 2020 already
31 August 2020, Technews Publishing , News
Forgive me, but I don't think I'm alone in being a bit all over the place mentally at the moment. So far, two of my colleagues have been diagnosed positive for COVID-19 and have fortunately recovered. 
...
Read more...
---
Tribute to Paul Soteriou
31 August 2020 , News
Paul Soteriou, a man always willing to share what he had with a smile and with a deep-found love for South Africa, passed away earlier this year.
Read more...
---