printer friendly version
LNA for EMI compliance testing
8 October 2014
Test & Measurement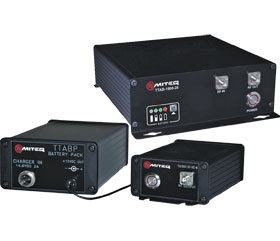 Miteq's TTA series of broadband low-noise amplifiers (LNA) were specifically developed for electromagnetic compliance (EMC) testing.
The latest addition to the range is a battery operated version which allows for up to 10 hours of continuous use on a single charge. This option can be purchased as a separate add-on or supplied integrated into the main LNA unit.
The CE approved devices are enclosed in a small case – 16,5 x 16,5 x 5 cm with battery operation and 13 x 8,9 x 4,8 cm without – suitable for application in the commercial/medical and military bands. They come with a standard three-year warranty and a universal wall plug-in power supply which operates from 50 - 60 Hz / 100 - 240 V a.c..
For more information contact Tobie Muller, Accutronics, 27 (0)11 782 8728, sales@accutronics.co.za, www.accutronics.co.za
Credit(s)
Further reading:
Points to consider when running power supplies from portable generators
23 October 2019, Accutronics , Power Electronics / Power Management
Manufacturers of end systems should specify what class of generator their products should be used with, and should question what class was used if they do see equipment failures.
Read more...
---
DIN-rail programmable transmitter
23 October 2019, Instrotech , Test & Measurement
Calog Instrument's versatile DPM9000 series – a miniature DIN-rail mount programmable isolated transmitter range – boasts high reliability and a versatile, wide range of programmable inputs. With dimensions 
...
Read more...
---
Hands-on learning module
23 October 2019, Altron Arrow , Test & Measurement
The ADALM2000 (M2K) active learning module is an affordable, USB-powered, software-defined instrument that exceeds the capabilities of its predecessor ADALM1000 (M1K). With 12-bit ADCs (analog-to-digital 
...
Read more...
---
Digital multimeter with thermal imager
23 October 2019, RS Components (SA) , Test & Measurement
A digital multimeter (DMM) with a built-in thermal imager has been added to RS Components' RS PRO product range. The RS-9889 allows engineers to identify thermal overload issues in electrical equipment 
...
Read more...
---
Project-based learning for the modern engineer
23 October 2019 , Test & Measurement
Projects that inherently challenge students to use innovative design thinking often involve interacting with an unknown process or device. Students are encouraged to understand the unknown through theory, 
...
Read more...
---
Modular AC-DC power supplies
23 October 2019, Accutronics , Power Electronics / Power Management
TDK announced the addition of the SA modules to the 550-2000 W TDK-Lambda branded QM series of AC-DC modular power supplies. The SA modules are available with 5 V/ 15 A, 12 V/ 12,5 A, 15 V/ 10 A and 24 V/ 6,25 A 
...
Read more...
---
Automotive Ethernet testing software
25 September 2019, Comtest , Test & Measurement
Tektronix has released two new software packages that greatly simplify Automotive Ethernet testing, debug and protocol decode for use with its 5 and 6 Series mixed-signal oscilloscopes (MSO). Using 
...
Read more...
---
4-channel PC-based oscilloscope
28 August 2019, Vepac Electronics , Test & Measurement
The newly developed Model 1330 from Peaktech is a 4-channel PC oscilloscope with 100 MHz bandwidth and 1 GSps sample rate, which is suitable for mobile use on a laptop, and permanent installation in control 
...
Read more...
---
Handheld PoE tester
26 June 2019, Coral-i Solutions , Test & Measurement
Ideal Networks has launched a new handheld tester that eliminates guesswork when installing, maintaining and troubleshooting PoE devices and data cabling. PoE Pro measures and reports PoE class, voltage/voltage 
...
Read more...
---
Debugging probe for STM32 MCUs
31 July 2019, Altron Arrow , Test & Measurement
The STLINK-V3MINI probe, new from STMicroelectronics, combines the features of the STLINK-V3SET with standalone simplicity for faster programming and ease of use. The compact, portable probe can be 
...
Read more...
---