printer friendly version
Future focus at IPC APEX EXPO
EMP Handbook 2015
News
Changing technologies that are driving the electronics industry will take centre stage throughout the IPC APEX EXPO 2015 technical conference and professional development sessions, which will take place February 22 – 26 at the San Diego Convention Centre in San Diego, California.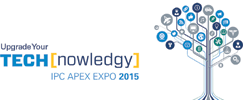 In keeping with the event's theme – 'Upgrade Your Tech-NOW-ledgy' – the technical conference will feature approximately 100 technical papers detailing original research and innovations from industry experts around the world. Subject matter experts will cover topics in the areas of board fabrication and design, electronics assembly and test.
Attendees interested in learning more about best practices in design, lead-free technologies, materials, process improvement, solder-joint reliability, PCB fabrication and materials, quality and reliability and more, can choose from more than 30 professional development courses that go beyond theory to provide practical solutions that can be implemented immediately.
In addition, IPC APEX EXPO features many complementary activities, including: keynotes on the Xbox story with lessons in strategy, team management and entrepreneurship, presented by Robbie Bach, former president of entertainment and devices at Microsoft, Xbox visionary and civic activist; and a look at extraterrestrials and how they fit into the world of science, presented by Stanton Friedman, nuclear physicist, lecturer and UFO researcher; technical BUZZ sessions; poster presentations; and several networking opportunities.
On the show floor, product innovations from more than 440 exhibitors will be on display and the event's highly popular World Championship Hand Soldering Competition will again be featured.
Access to the exhibit hall is free to pre-registrants, a saving of $50 over on-site registration. Attendees who register by 30 January will save 20% off registration fees. In addition, those who register for the all-access package will receive a significant percentage off á la carte options.
More information about IPC APEX EXPO 2015, including details on education and technology, network opportunities, show floor activities, schedule, travel and more is available at www.ipcapexexpo.org
Further reading:
Obituary: Steven James Meyer
January 1957 - January 2022
Technews Publishing News
It is with deep sadness and shock that we announce the sudden death of SA Instrumentation & Control Editor, Steven Meyer. Steven joined Technews in October 2007 in the position of Deputy Editor. His 
...
Read more...
---
ICASA doles out provisional RF spectrum
News
The Independent Communications Authority of South Africa (ICASA) has concluded its analysis of applications for provisional assignment of radio frequency spectrum under the new ICT Covid-19 National State 
...
Read more...
---
productronica's hybrid format a success despite restrictions
News
Following its tried and trusted biennial scheduling, productronica 2021 was held on the fairgrounds of Messe München on 16-19 November. Strict hygiene rules were observed in accordance with Covid-19 protocols, 
...
Read more...
---
Report evaluates market for Li-ion battery recycling
News
In the past, the lack of end-of-life batteries meant that the Li-ion (lithium-ion) recycling market had little opportunity to prosper. The transition to electric vehicles (EVs) is changing this. Recycling 
...
Read more...
---
RFID market research explores 2021 and what to expect for the future
News
Despite a 5% drop in the global RFID market in 2020 compared to 2019 due to the impact of Covid-19, the market has recovered well in 2021. According to the newly released RFID market research report from 
...
Read more...
---
SABS launches local content verification scheme
News
A new certification and grading scheme launched by the South African Bureau of Standards (SABS) intends to harmonise local content and local production for producers and manufacturers, levelling the playing 
...
Read more...
---
DesignSpark to host new activist engineering programme
RS Components (SA) News
RS Components has launched its DesignSpark #ActivistEngineering programme, further strengthening the company's commitment to engage and inspire design engineers across the globe to 'make amazing happen 
...
Read more...
---
October semiconductor sales up 24% over 2020
News
Global sales of semiconductors were $48,8 billion in October 2021, an increase of 24,0% from the October 2020 total of $39,4 billion and 1,1% more than the September 2021 total of $48,3 billion. Announced 
...
Read more...
---
CSIR Learning Factory supports skills development and innovation in 4IR
News
The CSIR has established a Learning Factory to support South African industries in acquiring the skills needed to maximise the benefits of the Fourth Industrial Revolution (4IR). The first online course 
...
Read more...
---
RS Components SA partners with Engineers Without Borders
RS Components (SA) News
The annual Engineering for People Design Challenge as well as the Inspiring and Building Community Leaders programmes kicked off earlier this year. The competition, now in its 10th year, is a year-long 
...
Read more...
---