printer friendly version
Future focus at IPC APEX EXPO
EMP Handbook 2015
News
Changing technologies that are driving the electronics industry will take centre stage throughout the IPC APEX EXPO 2015 technical conference and professional development sessions, which will take place February 22 – 26 at the San Diego Convention Centre in San Diego, California.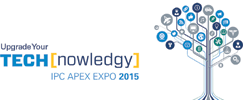 In keeping with the event's theme – 'Upgrade Your Tech-NOW-ledgy' – the technical conference will feature approximately 100 technical papers detailing original research and innovations from industry experts around the world. Subject matter experts will cover topics in the areas of board fabrication and design, electronics assembly and test.
Attendees interested in learning more about best practices in design, lead-free technologies, materials, process improvement, solder-joint reliability, PCB fabrication and materials, quality and reliability and more, can choose from more than 30 professional development courses that go beyond theory to provide practical solutions that can be implemented immediately.
In addition, IPC APEX EXPO features many complementary activities, including: keynotes on the Xbox story with lessons in strategy, team management and entrepreneurship, presented by Robbie Bach, former president of entertainment and devices at Microsoft, Xbox visionary and civic activist; and a look at extraterrestrials and how they fit into the world of science, presented by Stanton Friedman, nuclear physicist, lecturer and UFO researcher; technical BUZZ sessions; poster presentations; and several networking opportunities.
On the show floor, product innovations from more than 440 exhibitors will be on display and the event's highly popular World Championship Hand Soldering Competition will again be featured.
Access to the exhibit hall is free to pre-registrants, a saving of $50 over on-site registration. Attendees who register by 30 January will save 20% off registration fees. In addition, those who register for the all-access package will receive a significant percentage off á la carte options.
More information about IPC APEX EXPO 2015, including details on education and technology, network opportunities, show floor activities, schedule, travel and more is available at www.ipcapexexpo.org
Further reading:
From the editor's desk: Are electromagnetic waves culpable in making us sick?
30 June 2020, Technews Publishing , News
When I started writing my column for this issue, I was determined to come up with a topic and a way to avoid mentioning the 'C' word. I came close – you will only find 'COVID-19' mentioned once or twice 
...
Read more...
---
To fake or not to fake
30 June 2020 , News
Prof. Johan Meyer explores the complex and controversial topic of the potential link between the global rollout of 5G networks and the COVID-19 pandemic.
Read more...
---
Clearing the Static: Curb the spread of COVID-19 with stringent floor hygiene
30 June 2020, Actum Electronics , News
According to the World Health Organisation (WHO), COVID-19 is primarily transmitted from person to person through respiratory droplets that emerge from the nose and mouth when an infected person speaks, 
...
Read more...
---
Personality profile: Warren Mande
30 June 2020, Altron Arrow , News
"It is said that "culture eats strategy for breakfast". Look to join companies whose culture fits your personal belief system."
Read more...
---
Not the end, but a journey
30 June 2020, ExecuKit , News
ExecuKit's Renita Fleischer and Elizna Classen offer local companies a route to help them navigate their way through what has become the 'new normal.'
Read more...
---
Elmatica CEO to vice chair IPC cybersecurity task group
30 June 2020, Elmatica , News
Didrik Bech, CEO of printed circuit broker Elmatica, has been appointed to serve as vice chair for IPC's new cybersecurity task group. The 2-12c Task Group leadership is a representation of IPC as an 
...
Read more...
---
From the editor's desk: Making and sending things to space
29 May 2020, Technews Publishing , News
In this issue, one of the topics we are featuring is the aerospace and military/defence sector. The feature includes an analysis of what it takes to successfully design and manufacture products in this 
...
Read more...
---
Electronics news digest
29 May 2020, Technews Publishing , News
South Africa
• Acting minister of communications and digital technologies, Jackson Mthembu, joined the world in observing World Telecommunication and Information Society Day (WTISD). Proclaimed by the 
...
Read more...
---
Personality profile: David Power
29 May 2020, Cadshop , News
"Aspire to work for a company that you admire, and for a boss that you want to serve, that shares your passion and motivation."
Read more...
---
Designing for military and defence applications
29 May 2020, Omnigo, Kreon Technology , News
No business can stand on its own without strong partnerships and stakeholder relationships. In this regard the military and defence industry is no exception.
Read more...
---