printer friendly version
NEPCON has Asia covered
EMP Handbook 2015
News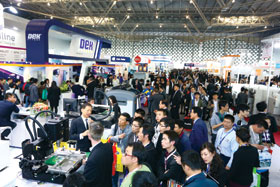 Reed Exhibitions has grown NEPCON to become Asia's leading exhibition brand for the electronics manufacturing sector, with a number of events scheduled for 2015. Although the coverage offered by these events differs somewhat in terms of scope and some of them are co-located with other events to draw in visitors, they all focus primarily on electronics manufacturing technologies and products.
For those interested in networking or experiencing what the Asian market has to offer, the following is a brief guide to the major NEPCON events taking place this year:
China – Shanghai, 21 to 23 April
One of the biggest and longest standing trading and sourcing platforms in Asia, NEPCON China features all major brands in the electronics manufacturing world. The exhibition will cover a floor area of 25 000 square metres, bring together over 500 leading companies from 22 countries and regions, and attract around 21 000 industry leaders and trade professionals.
Malaysia – Penang, 9 to 11 June
NEPCON Malaysia is the single largest sourcing ground for PCB, SMT, testing and measurement, components, semiconductor, automation and support services in Malaysia. Visitors will be able to network with more than 5000 industry players from over 30 countries, and source from more than 300 international suppliers.
Thailand – Bangkok, 24 to 27 June
Over 360 brands of technology providers from 23 countries will come together at NEPCON Thailand, with every profile from upstream to downstream expected to gather under one roof for over 10 000 quality visitors to source new technologies and suppliers.
South China – Shenzhen, 25 to 27 August
NEPCON South China will highlight the application of state-of-the-art technologies and products in electronics manufacturing, from SMT to EMA. Solutions for the industry will be comprehensively showcased, with many industry leaders planning to use the event to launch new products and updated technologies.
Vietnam – Hanoi, 17 to 19 September
Over 100 brands from 10 countries will gather at NEPCON Vietnam to meet 7000 quality buyers. This is the growing Vietnamese market's only exhibition dedicated to SMT, testing technologies, equipment and supporting industries for electronics manufacturing.
Further reading:
Obituary: Steven James Meyer
January 1957 - January 2022
Technews Publishing News
It is with deep sadness and shock that we announce the sudden death of SA Instrumentation & Control Editor, Steven Meyer. Steven joined Technews in October 2007 in the position of Deputy Editor. His 
...
Read more...
---
ICASA doles out provisional RF spectrum
News
The Independent Communications Authority of South Africa (ICASA) has concluded its analysis of applications for provisional assignment of radio frequency spectrum under the new ICT Covid-19 National State 
...
Read more...
---
productronica's hybrid format a success despite restrictions
News
Following its tried and trusted biennial scheduling, productronica 2021 was held on the fairgrounds of Messe München on 16-19 November. Strict hygiene rules were observed in accordance with Covid-19 protocols, 
...
Read more...
---
Report evaluates market for Li-ion battery recycling
News
In the past, the lack of end-of-life batteries meant that the Li-ion (lithium-ion) recycling market had little opportunity to prosper. The transition to electric vehicles (EVs) is changing this. Recycling 
...
Read more...
---
RFID market research explores 2021 and what to expect for the future
News
Despite a 5% drop in the global RFID market in 2020 compared to 2019 due to the impact of Covid-19, the market has recovered well in 2021. According to the newly released RFID market research report from 
...
Read more...
---
SABS launches local content verification scheme
News
A new certification and grading scheme launched by the South African Bureau of Standards (SABS) intends to harmonise local content and local production for producers and manufacturers, levelling the playing 
...
Read more...
---
DesignSpark to host new activist engineering programme
RS Components (SA) News
RS Components has launched its DesignSpark #ActivistEngineering programme, further strengthening the company's commitment to engage and inspire design engineers across the globe to 'make amazing happen 
...
Read more...
---
October semiconductor sales up 24% over 2020
News
Global sales of semiconductors were $48,8 billion in October 2021, an increase of 24,0% from the October 2020 total of $39,4 billion and 1,1% more than the September 2021 total of $48,3 billion. Announced 
...
Read more...
---
CSIR Learning Factory supports skills development and innovation in 4IR
News
The CSIR has established a Learning Factory to support South African industries in acquiring the skills needed to maximise the benefits of the Fourth Industrial Revolution (4IR). The first online course 
...
Read more...
---
Samsung breakthrough demos in-memory computing using MRAM
News
A research breakthrough by Samsung Electronics has resulted in the world's first in-memory computing based on MRAM (magnetoresistive random access memory). The research demonstrates Samsung's advanced 
...
Read more...
---