printer friendly version
NEPCON has Asia covered
EMP Handbook 2015
News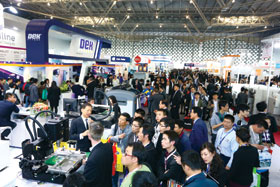 Reed Exhibitions has grown NEPCON to become Asia's leading exhibition brand for the electronics manufacturing sector, with a number of events scheduled for 2015. Although the coverage offered by these events differs somewhat in terms of scope and some of them are co-located with other events to draw in visitors, they all focus primarily on electronics manufacturing technologies and products.
For those interested in networking or experiencing what the Asian market has to offer, the following is a brief guide to the major NEPCON events taking place this year:
China – Shanghai, 21 to 23 April
One of the biggest and longest standing trading and sourcing platforms in Asia, NEPCON China features all major brands in the electronics manufacturing world. The exhibition will cover a floor area of 25 000 square metres, bring together over 500 leading companies from 22 countries and regions, and attract around 21 000 industry leaders and trade professionals.
Malaysia – Penang, 9 to 11 June
NEPCON Malaysia is the single largest sourcing ground for PCB, SMT, testing and measurement, components, semiconductor, automation and support services in Malaysia. Visitors will be able to network with more than 5000 industry players from over 30 countries, and source from more than 300 international suppliers.
Thailand – Bangkok, 24 to 27 June
Over 360 brands of technology providers from 23 countries will come together at NEPCON Thailand, with every profile from upstream to downstream expected to gather under one roof for over 10 000 quality visitors to source new technologies and suppliers.
South China – Shenzhen, 25 to 27 August
NEPCON South China will highlight the application of state-of-the-art technologies and products in electronics manufacturing, from SMT to EMA. Solutions for the industry will be comprehensively showcased, with many industry leaders planning to use the event to launch new products and updated technologies.
Vietnam – Hanoi, 17 to 19 September
Over 100 brands from 10 countries will gather at NEPCON Vietnam to meet 7000 quality buyers. This is the growing Vietnamese market's only exhibition dedicated to SMT, testing technologies, equipment and supporting industries for electronics manufacturing.
Further reading:
From the editor's desk: Are electromagnetic waves culpable in making us sick?
30 June 2020, Technews Publishing , News
When I started writing my column for this issue, I was determined to come up with a topic and a way to avoid mentioning the 'C' word. I came close – you will only find 'COVID-19' mentioned once or twice 
...
Read more...
---
To fake or not to fake
30 June 2020 , News
Prof. Johan Meyer explores the complex and controversial topic of the potential link between the global rollout of 5G networks and the COVID-19 pandemic.
Read more...
---
Clearing the Static: Curb the spread of COVID-19 with stringent floor hygiene
30 June 2020, Actum Electronics , News
According to the World Health Organisation (WHO), COVID-19 is primarily transmitted from person to person through respiratory droplets that emerge from the nose and mouth when an infected person speaks, 
...
Read more...
---
Personality profile: Warren Mande
30 June 2020, Altron Arrow , News
"It is said that "culture eats strategy for breakfast". Look to join companies whose culture fits your personal belief system."
Read more...
---
Not the end, but a journey
30 June 2020, ExecuKit , News
ExecuKit's Renita Fleischer and Elizna Classen offer local companies a route to help them navigate their way through what has become the 'new normal.'
Read more...
---
Elmatica CEO to vice chair IPC cybersecurity task group
30 June 2020, Elmatica , News
Didrik Bech, CEO of printed circuit broker Elmatica, has been appointed to serve as vice chair for IPC's new cybersecurity task group. The 2-12c Task Group leadership is a representation of IPC as an 
...
Read more...
---
From the editor's desk: Making and sending things to space
29 May 2020, Technews Publishing , News
In this issue, one of the topics we are featuring is the aerospace and military/defence sector. The feature includes an analysis of what it takes to successfully design and manufacture products in this 
...
Read more...
---
Electronics news digest
29 May 2020, Technews Publishing , News
South Africa
• Acting minister of communications and digital technologies, Jackson Mthembu, joined the world in observing World Telecommunication and Information Society Day (WTISD). Proclaimed by the 
...
Read more...
---
Personality profile: David Power
29 May 2020, Cadshop , News
"Aspire to work for a company that you admire, and for a boss that you want to serve, that shares your passion and motivation."
Read more...
---
Designing for military and defence applications
29 May 2020, Omnigo, Kreon Technology , News
No business can stand on its own without strong partnerships and stakeholder relationships. In this regard the military and defence industry is no exception.
Read more...
---