printer friendly version
Flash memory with fast serial interface
8 April 2015
DSP, Micros & Memory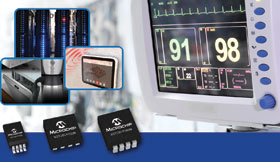 New from Microchip, the SST26VF family of 3 V Serial Quad I/O (SQI) interface memory is available with 16 Mbit, 32 Mbit or 64 Mbit of memory. Manufactured using Microchip's high-performance CMOS SuperFlash technology, they execute sector and block erase commands in just 18 ms, and a full chip erase operation is completed in 35 ms.
The chips' SQI interface is a low-pin-count, high-speed 104 MHz quad-bit address and data multiplex I/O serial interface, which allows for high data throughput in a small package. This interface enables low-latency execute-in-place (XIP) capability with minimal processor buffer memory, reducing the overall design footprint compared to traditional parallel memory interfaces.
The SST26VF family provides faster data throughput than a comparable x16 parallel Flash device, without the associated high cost and high pin-count of parallel Flash. The SQI interface also offers full command-set backward compatibility for the ubiquitous Serial Peripheral Interface (SPI) protocol.
Designed for low power consumption, this memory is ideal for energy-efficient embedded systems. Standby current consumption is 15 μA and active read current at 104 MHz is 15 mA. The combination of 3 V operation with low power consumption and small form factor makes the devices an excellent choice for applications such as servers, printers, cloud computing systems, HDTV, Internet gateways, appliances, security systems and a broad range of other embedded systems.
The SST26VF range boasts excellent quality and reliability, with 100 years of data retention and device endurance of over 100 000 erase/write cycles. Enhanced safety features include software write protection of individual blocks for flexible data/code protection. The upper and lower 64 KBytes of memory are partitioned into smaller, 8 KByte sectors that can both read- and write-lock.
In addition, the ICs include a one-time programmable (OTP), 2 KByte Secure ID area, consisting of a 64-bit, factory-programmed unique ID and a user-programmable block. These features protect against unauthorised access and malicious read, program and erase intentions. The devices also include a JEDEC-compliant Serial Flash Discoverable Parameter (SFDP) table, which contains identifying information about their functions and capabilities for simpler software design.
The three-member SST26VF family is available now for sampling and volume production in multiple package options, including 8-pin SOIC and SOIJ, 16-pin SOIC, 8-contact WDFN and 24-ball TBGA, as well as in die and wafer form. The family comprises the 16-Mbit SST26VF016B, the 32-Mbit SST26VF032B and the 64-Mbit SST26VF064B.
For more information contact Shane Padayachee, Avnet South Africa, +27 (0)11 319 8600, [email protected], www.avnet.co.za
Further reading:
Automotive motion sensor with embedded ML core
Altron Arrow DSP, Micros & Memory
The ASM330LHHX, a six-axis inertial module with embedded machine learning core and dual operating modes, ensures the lowest power consumption and in-sensor event detection.
Read more...
---
SolidRun releases a SoM solution based on a Renesas SoC
EBV Electrolink DSP, Micros & Memory
In partnership with Renesas, SolidRun has released a SoM solution based on the powerful RZ/G2 family of SoCs, which are engineered for AI-enhanced HMI applications.
Read more...
---
ST develops new serial EEPROM class
Altron Arrow DSP, Micros & Memory
This new class of serial EEPROM is a 32-Mbit page-erasable memory that is less expensive than FRAM while offering a lower power consumption.
Read more...
---
New Espressif MCU embeds Wi-Fi 6
iCorp Technologies DSP, Micros & Memory
Espressif Systems has introduced the ESP32-C5, their first dual-band 2,4 and 5 GHz Wi-Fi 6 and Bluetooth 5 low-energy microcontroller unit.
Read more...
---
New chip from ST ideal for use in a 3-phase motor controller
Altron Arrow DSP, Micros & Memory
STMicroelectronics' new STSPIN32G4 is an integrated and flexible motor controller for driving three-phase brushless motors, helping designers choose the most suitable driving mode and at the same time 
...
Read more...
---
An entire chain of trust for system platforms
RS Components (SA) DSP, Micros & Memory
Microchip's CEC1736 Trust Shield family spans silicon, software, tools, a development board and provisioning capabilities that drive the end-to-end platform firmware protection that customers need.
Read more...
---
EFM32PG23 Microcontroller for IoT applications
RS Components (SA) DSP, Micros & Memory
Silicon Labs' EFM32PG23 microcontroller is the ideal combination of excellent low-power performance, precision analog capabilities and security in a small package.
Read more...
---
MG24 Wireless Development Kit
RS Components (SA) DSP, Micros & Memory
Silicon Labs' MG24 development kit is a high-performing wireless SoC with an AI/ML accelerator for battery-powered IoT end devices.
Read more...
---
Mastering the MicroBlaze processor
EBV Electrolink DSP, Micros & Memory
AMD-Xilinx and Adiuvo will present a hands-on workshop on using the MicroBlaze processor on the Spartan-7 evaluation kit to create, develop and deploy an FPGA solution.
Read more...
---
Tiny standalone probe with a USB-C port
Altron Arrow DSP, Micros & Memory
STLINK-V3MINIE from STMicroelectronics is an upgrade on the renowned ST-LINK/V2 family of in-circuit debuggers/programmers with a faster interface speed and USB-C connectivity.
Read more...
---