printer friendly version
Microchip débuts first module for LoRa wireless standard
8 April 2015
Telecoms, Datacoms, Wireless, IoT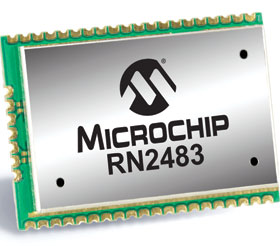 Microchip announced the first in a series of modules for the LoRa technology low-data-rate wireless networking standard, which enables Internet of Things (IoT) and machine-to-machine (M2M) wireless communication with a range of more than 16 kilometres in suburban environments, a battery life exceeding 10 years, and the ability to connect millions of wireless sensor nodes to LoRa gateways.
The 433/868 MHz RN2483 is a European R&TTE Directive Assessed Radio Module that combines a small module form factor of 17,8 x 26,3 x 3 mm with 14 GPIOs, providing the flexibility to connect and control a large number of sensors and actuators while taking up very little space.
The device comes with the LoRaWAN protocol stack, so it can easily connect with the established and rapidly expanding LoRa Alliance infrastructure, including both privately managed local area networks (LAN) and telecom-operated public networks, to create low-power wide area networks (LPWAN) with nationwide coverage.
This stack integration also enables the module to be used with any microcontroller that has a UART interface, including hundreds of Microchip's PIC MCUs. Additionally, the RN2483 features Microchip's simple ASCII command interface for easy configuration and control.
LoRa technology has several advantages over other wireless systems. It utilises a spread-spectrum base modulation that is capable of demodulation with a 20 dB below noise level. This enables high sensitivity with robust network links, improves network efficiency and eliminates interference.
The LoRaWAN protocol's star topology eliminates synchronisation overhead and hops compared to mesh networks, which reduces power consumption and enables multiple concurrent applications to run on the network. LoRa technology also has a much longer range than other wireless protocols, which enables the RN2483 to operate without repeaters, reducing the total cost of ownership. In comparison to 3G and 4G cellular networks, LoRa is far more scalable and cost effective for embedded applications.
With its scalability, robust communication, mobility and the ability to operate in harsh outdoor environments, the RN2483 is well suited for a broad range of low-data-rate wireless monitoring and control designs. Additionally, it provides the ability to secure network communications using AES-128 encryption.
Example IoT and M2M applications include smart cities, such as street lights, parking and traffic sensors; energy measurement smart meters for electricity, water and gas; and industrial/commercial/home automation applications such as HVAC controls, smart appliances, security systems and lighting.
Samples of the RN2483 are available now and it is expected to be widely available for purchase in May, by which time development boards are also expected to be available, allowing designers to utilise Microchip's free MPLAB integrated development environment.
For more information contact Shane Padayachee, Avnet South Africa, +27 (0)11 319 8600, [email protected], www.avnet.co.za
Further reading:
Quectel 4G SMD antenna
iCorp Technologies Telecoms, Datacoms, Wireless, IoT
This wideband LTE/cellular/CDMA SMT antenna from Quectel, operating in the frequency range from 698 to 960 MHz and 1710 to 2690 MHz, delivers high efficiency in all bands when mounted to the device host PCB.
Read more...
---
SIMCom pioneers the LPWA segment with future-proof products
Otto Wireless Solutions Telecoms, Datacoms, Wireless, IoT
With the gradual withdrawal of 2G/3G networks from the market, LPWA has attracted extensive attention from many IoT manufacturers for its low power consumption, long standby time, and low cost.
Read more...
---
Flexible 4G/LTE PCB antenna
RF Design Telecoms, Datacoms, Wireless, IoT
The new 4G/LTE antenna from Taoglas is a flexible antenna operating over the frequency range from 698 MHz to 3 GHz, and which provides a peak gain of 5 dBi.
Read more...
---
Qorvo announces fully integrated UWB module
RF Design Telecoms, Datacoms, Wireless, IoT
Qorvo has announced the DWM3001C, a fully integrated ultra-wideband (UWB) module that enables robust UWB implementation in factory, warehouse, automation and safety systems.
Read more...
---
Earn helium when devices connect to your hotspot
Otto Wireless Solutions Telecoms, Datacoms, Wireless, IoT
Otto Wireless Solutions has announced the A150000 RAK Hotspot Helium Miner v2 which earns helium when devices connect as well as for validating wireless coverage delivered by peers on the network.
Read more...
---
Connectivity for the future with new SIMCom modules
Otto Wireless Solutions Telecoms, Datacoms, Wireless, IoT
With the global phasing out of 2G, SIMCom's new low-cost 4G modules are looking to future-proof your designs by replacing the older 2G modules.
Read more...
---
Cellular module with embedded SIM
RF Design Telecoms, Datacoms, Wireless, IoT
The SARA-R500E LTE-M module from u-blox has an embedded SIM and offers product developers an integrated, robust, and secure solution to connect IoT applications to the cellular network.
Read more...
---
5G-CARMEN project creates 600 km corridor
Telecoms, Datacoms, Wireless, IoT
The project has demonstrated the capability of autonomous vehicles to leverage the 5G cellular network to provide a multi-tenant platform with the goal of enabling self-driving cars.
Read more...
---
GNSS receiver module to extend runtime by 500%
iCorp Technologies Telecoms, Datacoms, Wireless, IoT
Antenova has announced the GNSSNOVA M20071 GNSS receiver module with power consumption reduced five-fold to enable smaller tracker designs, and trackers that could run five times longer.
Read more...
---
Wideband amplifiers operating from 35 to 95 GHz
Conical Technologies Telecoms, Datacoms, Wireless, IoT
Mini-Circuits announced the expansion of lineup of connectorised high-frequency amplifiers to provide support even deeper into the e-band range.
Read more...
---