printer friendly version
Box PC with passive cooling and active heating
8 April 2015
Computer/Embedded Technology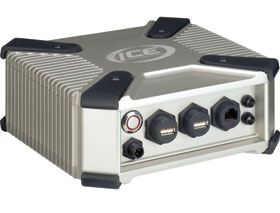 Rugged computing is a must for many new IoT, M2M and big data applications deployed in extreme environmental conditions.
To meet requirements for an embedded computer equipped to operate in temperatures as low as -100°C and immersed in water, ICOP developed the ICE Box, a new modular building block system with IP67 protection and active heating which automatically activates if the temperature drops below a configurable minimum temperature (standard value is -20°C).
The modularity of the system means it can be ordered by OEMs in any desired configuration from batch sizes of just one, including individual I/O covers and laser engraving of the housing. Applications can be found in outdoor, vehicle and marine deployment, as well as in refrigerated warehouses.
Amongst the standard components are around 20 different CPUs with SFF, low-power DM&P Vortex86 processor technology, power supplies as well as numerous I/O extensions for Ethernet and wireless (IoT) interfaces, USB, digital and analog I/O, fieldbusses as well as motion control applications. The interfaces can be mounted on the front or back panel according to requirements, paving the way for highly individual OEM configurations.
The ICE Box is suited to OEMs requiring only small volumes (from batch sizes of one) to around 100 units. If at a later date larger field deployments are required, ICOP can also produce customised components and system housings.
For more information contact www.icoptech.com
Further reading:
Samsung launches GDDR6 RAM module
EBV Electrolink Computer/Embedded Technology
The DRAM is capable of 24 Gbps processing speeds and will significantly advance the graphics performance of AI-based applications and high-performance computing.
Read more...
---
Qualcomm AI stack: a unified AI software solution
Future Electronics Computer/Embedded Technology
Qualcomm has bundled all its AI software offerings into a single package called the Qualcomm AI Stack which will assist developers in deploying AI applications.
Read more...
---
ADLINK launches NVIDIA Jetson-based vision system
Rugged Interconnect Technologies Computer/Embedded Technology
The EOS-JNX-I is a next-generation AI vision system that uses the new NVIDIA module as an optimised development platform that simplifies AI to the edge.
Read more...
---
Quectel announces high-performance 5G smart module
iCorp Technologies Computer/Embedded Technology
The SG560D, an Android smart module that combines 5G and artificial intelligence, is suitable for complex applications such as in-vehicle infotainment and industrial handheld devices.
Read more...
---
Half-duplex transceiver for RS-485
Vepac Electronics Computer/Embedded Technology
The new enhanced transceiver is designed for RS-485 data bus networks and is fully compliant with the TIA/EIA-485A standard.
Read more...
---
ST releases first automotive IMU with embedded ML
Altron Arrow Computer/Embedded Technology
Smart driving moves another step closer to high levels of automation with STMicroelectronics' new machine learning core.
Read more...
---
Rugged plug-in card ideal for sensor-based systems
Rugged Interconnect Technologies Computer/Embedded Technology
Concurrent Technologies' new processor board provides high performance for I/O sensor device needs.
Read more...
---
Standalone H.264 video streaming board
Rugged Interconnect Technologies Computer/Embedded Technology
The XStream-SD4 is an intelligent, standalone, ultra-low latency H.264 streaming solution that accepts 4x NTSC/PAL/RS-170 composite video sources and records and streams them over 100/1000 Mbps Ethernet. 
...
Read more...
---
EBV signs up AI chipmaker Hailo
EBV Electrolink Computer/Embedded Technology
Hailo offers a wide range of AI accelerators, including the innovative Hailo-8 AI processor and high-performance AI acceleration modules in M.2 and Mini PCIe formats.
Read more...
---
Android smart module for AIoT
iCorp Technologies Computer/Embedded Technology
Quectel's SG865W-WF offers the performance and multimedia functions to meet AIoT scenarios where high computing power is required.
Read more...
---