printer friendly version
Local distributor broadening its product spectrum
29 April 2015
News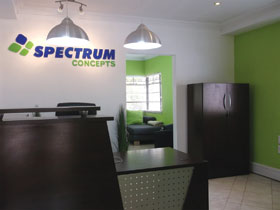 Having built a reputation in the local marketplace for exceptional services levels, South African component distributor Spectrum Concepts is expanding its offering beyond connectors for which it is best known.
It is now 15 years since Bradley Richards started the company, and he believes the right team and systems are now in place to begin supporting a range of antennas, inductors, transformers and protection devices. "We have had many clients over the years ask us to add products to our portfolio but for me it was more important we remain focused, as I did not want to let down any of our clients," he explains. "We are now in an ideal position to extend our renowned service to cover a more extensive product range."
Connecting with the market
During his six years with one of SA's largest component distributors, Richards identified service as an area where customers were being short changed. "It boggled my mind to see how customers had to ask suppliers for confirmation of their orders, delivery and order updates," he says. "I knew there and then that customers not only needed, but deserved, better service."
With this principle in mind, he formed Spectrum Concepts around the turn of the century and set about securing a distribution agreement with US connector specialist Samtec. According to Richards, Samtec was doing very little business in South Africa at that time and was only too happy to form a partnership with his fledgling business, proudly becoming its first product line. This was followed by Spectrum's introduction of the Cambion brand a couple of years later, joined more recently by Mill-Max and Samtec Microelectronics.
Making new connections
Spectrum Concepts' current staff complement of eight, and its established position in permanent premises on Johannesburg's East Rand, are a far cry from the early years when Richards had to sacrifice the entertainment room in his home in favour of office space. As with any new business, clientele was often hard to come by and much of his time was spent calling and visiting potential customers. "You cannot imagine how many times I picked up the phone to make sure it was working," he jokes in hindsight. "I never got too many calls in the beginning."
That gradually changed, though, as word of mouth earned the company a growing base of loyal clients. Its success goes back to its original cornerstone of service, as Richards explains: "I know it might sound cheesy but service is what distinguishes us from other distributors. We acknowledge requests immediately, quote on average within an hour, acknowledge orders immediately and regularly update our clients on the status of their orders."
Credit(s)
Further reading:
RFiber adds high-reliability supplier to its stable
25 August 2021, RFiber Solutions , News
RFiber Solutions has expanded its portfolio by establishing a distribution channel for X-REL Semiconductor's offering into the South African market. RFiber says it is optimistic about the solutions 
...
Read more...
---
New GlobalFoundries fab to be built in Singapore
28 July 2021 , News
GlobalFoundries (GF) is expanding its global manufacturing footprint with the construction of a new semiconductor fabrication plant (fab) on its Singapore campus.  The global demand for semiconductor 
...
Read more...
---
Avnet celebrates 20 years of 'speedboat' business model
28 July 2021, Avnet Abacus, Avnet Silica , News
Avnet EMEA, the regional business organisation of Avnet Inc., is celebrating the 20th anniversary of its 'speedboat' model, which is the term used by Avnet to describe how its individual distribution 
...
Read more...
---
Electronics News Digest
25 August 2021 , News
South Africa
Defence technology company, Denel, has outlined an extensive restructuring plan to become a sustainable and profitable business within the next five years. Part of this plan includes reducing 
...
Read more...
---
Events
25 August 2021 , News
Nepcon Vietnam
15-17 September 2021 Hanoi, Vietnam Covers SMT, testing technologies, equipment and supporting industries for electronics manufacturing. The event will bring together technologies and 
...
Read more...
---
iCorp Technologies – 'We don't sell components, we provide solutions'
25 August 2021, iCorp Technologies , News
"In a year, around 1 trillion electronic chips are made and for every person on the planet, there are 128 chips produced. An ever-increasing demand for a connected world has led to an increase in demand, 
...
Read more...
---
Task group set up to advance TSN interoperability
25 August 2021 , Telecoms, Datacoms, Wireless, IoT, News
Avnu Alliance, the industry consortium driving open, standards-based deterministic networking, announced a new initiative to drive alignment on TSN (time sensitive networking) interoperability in the 
...
Read more...
---
From the Editor's desk: Turning off the 2G taps
25 August 2021, Technews Publishing , News
Update: Following the publication of this article, specifically the part about Cell C, the company reached out to set the record straight on its strategy around the decommissioning of its RAN (radio area 
...
Read more...
---
Company profile: Membrane Switch Technologies
25 August 2021, Membrane Switch Technologies , News
Membrane Switch Technologies' (MST) origins date back to 1983 when Technor/Molex started manufacturing membrane switches in South Africa. Molex was the second largest connector manufacturer in the world 
...
Read more...
---
Research collaboration strengthened between CSIR and UNDP
25 August 2021 , News
The Council for Scientific and Industrial Research (CSIR) and the United Nations Development Programme (UNDP) have committed to strengthening research, development and innovation (RDI) into the fourth 
...
Read more...
---