printer friendly version
Local distributor broadening its product spectrum
29 April 2015
News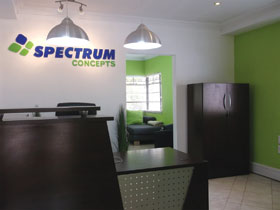 Having built a reputation in the local marketplace for exceptional services levels, South African component distributor Spectrum Concepts is expanding its offering beyond connectors for which it is best known.
It is now 15 years since Bradley Richards started the company, and he believes the right team and systems are now in place to begin supporting a range of antennas, inductors, transformers and protection devices. "We have had many clients over the years ask us to add products to our portfolio but for me it was more important we remain focused, as I did not want to let down any of our clients," he explains. "We are now in an ideal position to extend our renowned service to cover a more extensive product range."
Connecting with the market
During his six years with one of SA's largest component distributors, Richards identified service as an area where customers were being short changed. "It boggled my mind to see how customers had to ask suppliers for confirmation of their orders, delivery and order updates," he says. "I knew there and then that customers not only needed, but deserved, better service."
With this principle in mind, he formed Spectrum Concepts around the turn of the century and set about securing a distribution agreement with US connector specialist Samtec. According to Richards, Samtec was doing very little business in South Africa at that time and was only too happy to form a partnership with his fledgling business, proudly becoming its first product line. This was followed by Spectrum's introduction of the Cambion brand a couple of years later, joined more recently by Mill-Max and Samtec Microelectronics.
Making new connections
Spectrum Concepts' current staff complement of eight, and its established position in permanent premises on Johannesburg's East Rand, are a far cry from the early years when Richards had to sacrifice the entertainment room in his home in favour of office space. As with any new business, clientele was often hard to come by and much of his time was spent calling and visiting potential customers. "You cannot imagine how many times I picked up the phone to make sure it was working," he jokes in hindsight. "I never got too many calls in the beginning."
That gradually changed, though, as word of mouth earned the company a growing base of loyal clients. Its success goes back to its original cornerstone of service, as Richards explains: "I know it might sound cheesy but service is what distinguishes us from other distributors. We acknowledge requests immediately, quote on average within an hour, acknowledge orders immediately and regularly update our clients on the status of their orders."
Credit(s)
Further reading:
Electronics news digest
29 January 2020 , News
South Africa
• More than 2400 people braved pouring rain in Gauteng to attend the 5th Science Forum South Africa (SFSA) at the CSIR International Convention Centre in December. The annual Department 
...
Read more...
---
Appointment: ExecuKit
29 January 2020, ExecuKit , News
ExecuKit has appointed Marshant Benadie in a technical support role.    His duties will include developing business with clients within the electronics distribution and manufacturing industry; managing 
...
Read more...
---
Repro installs new SMT production line
29 January 2020 , News
The company is actively seeking business for this new assembly line, which promises extensive flexibility and high accuracy, and can easily be expanded for higher production volumes.
Read more...
---
AREI's plans for 2020
29 January 2020 , Editor's Choice, News
Erich Nast, chairman of AREI, discusses what the association's plans are to tackle the challenges and opportunities that lie ahead.
Read more...
---
Check out Dataweek's new-look website
29 January 2020, Technews Publishing , Editor's Choice, News
Our technical design elves have been locked away in our basement for months, improving the visual design and functionality of the Dataweek website.
Read more...
---
From the editor's desk: A fresh start, but a sad farewell?
29 January 2020, Technews Publishing , News
A couple of years ago, not many people had heard of Yekani. The company bought a stake in the well-known East London-based satellite decoder maker, Vektronix, and subsequently acquired it in its entirety. When 
...
Read more...
---
Company profile: ETION Create
EMP 2020 Electronics Manufacturing & Production Handbook, ETION Create , News
ETION Create is an original design manufacturer (ODM) that has been in operation for more than 25 years. Originally known as Parsec, the company was founded in 1993, focusing on the design, development 
...
Read more...
---
Company profile: Laser Stencil Technology
EMP 2020 Electronics Manufacturing & Production Handbook, Laser Stencil Technology , News
Since its inception in 2004, Laser Stencil Technology has grown into a prominent figure in the South African electronics manufacturing industry. Having been involved in circuit board manufacturing using 
...
Read more...
---
Company profile: Repro Supplies
EMP 2020 Electronics Manufacturing & Production Handbook , News
Repro Supplies is a systems integration company that specialises in turnkey systems for the mining industry, industrial, traffic and LED markets, both locally as well as internationally. The company was 
...
Read more...
---
Company profile: Saflec
EMP 2020 Electronics Manufacturing & Production Handbook, Saflec , News
Saflec was founded in 1980 as an owner-managed company, designing, manufacturing and marketing security and industrial metal detectors. The staff complement consisted of a handful of key people, but grew 
...
Read more...
---