printer friendly version
Local distributor broadening its product spectrum
29 April 2015
News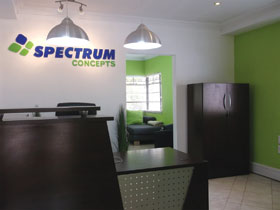 Having built a reputation in the local marketplace for exceptional services levels, South African component distributor Spectrum Concepts is expanding its offering beyond connectors for which it is best known.
It is now 15 years since Bradley Richards started the company, and he believes the right team and systems are now in place to begin supporting a range of antennas, inductors, transformers and protection devices. "We have had many clients over the years ask us to add products to our portfolio but for me it was more important we remain focused, as I did not want to let down any of our clients," he explains. "We are now in an ideal position to extend our renowned service to cover a more extensive product range."
Connecting with the market
During his six years with one of SA's largest component distributors, Richards identified service as an area where customers were being short changed. "It boggled my mind to see how customers had to ask suppliers for confirmation of their orders, delivery and order updates," he says. "I knew there and then that customers not only needed, but deserved, better service."
With this principle in mind, he formed Spectrum Concepts around the turn of the century and set about securing a distribution agreement with US connector specialist Samtec. According to Richards, Samtec was doing very little business in South Africa at that time and was only too happy to form a partnership with his fledgling business, proudly becoming its first product line. This was followed by Spectrum's introduction of the Cambion brand a couple of years later, joined more recently by Mill-Max and Samtec Microelectronics.
Making new connections
Spectrum Concepts' current staff complement of eight, and its established position in permanent premises on Johannesburg's East Rand, are a far cry from the early years when Richards had to sacrifice the entertainment room in his home in favour of office space. As with any new business, clientele was often hard to come by and much of his time was spent calling and visiting potential customers. "You cannot imagine how many times I picked up the phone to make sure it was working," he jokes in hindsight. "I never got too many calls in the beginning."
That gradually changed, though, as word of mouth earned the company a growing base of loyal clients. Its success goes back to its original cornerstone of service, as Richards explains: "I know it might sound cheesy but service is what distinguishes us from other distributors. We acknowledge requests immediately, quote on average within an hour, acknowledge orders immediately and regularly update our clients on the status of their orders."
Credit(s)
Further reading:
Personality profile: Jean Mearns
29 July 2020, WH Circuit , News
"No one works for me, they only work with me, for without each other our team will fail to exceed the expectations of our customers."
Read more...
---
Letter to the editor
29 July 2020 , News
I take exception to the article 'To fake or not to fake' published in the June edition of Dataweek that is clearly based on the principle 'guilty until proven innocent'. I am by no means an expert 
...
Read more...
---
Q&A with Brandon Kuhn and Steve Stafford
29 July 2020 , News
Q: What is the rationale behind the reorganisation? What impact will it have on Avnet's customers in South Africa?    A (Kuhn):
Since 2009, our shared front-end model in South Africa has differed from the 
...
Read more...
---
Avnet EMEA names two new leaders to SA operation
29 July 2020 , News
Avnet has named Steve Stafford and Brandon Kuhn as new leaders in South Africa following the completion of a reorganisation in the region.
Read more...
---
UCT chooses Tektronix instruments for training lab
29 July 2020, Comtest , News
Comtest, local partner to Tektronix, recently assisted the University of Cape Town (UCT) physics department in refurbishing its electrical training laboratory. All of the existing analog oscilloscopes 
...
Read more...
---
New electromagnetic solutions range from Accutronics
29 July 2020, Accutronics , News
Accutronics has been appointed as the reseller for the Electromagnetic Integrated Solutions (EIS) range of products from API Technologies. APITech offers a complete line of coaxial EMI solutions, 
...
Read more...
---
Fighting COVID-19 using TV white space spectrum
29 July 2020 , News
The CSIR has partnered with the Technology Innovation Agency (TIA) to enable local Internet service providers to deploy Television White Space (TVWS) networks, using the CSIR-developed Secondary Geo-Location 
...
Read more...
---
Clearing the Static: ESD wrist straps
29 July 2020, Actum Electronics , News
The human body is the primary source of electrostatic charge generation. In order to control and reduce static charge build-up and prevent electrostatic discharges (ESD), we use grounding systems to ensure 
...
Read more...
---
From the editor's desk: This too shall pass
29 July 2020, Technews Publishing , News
Things were tough enough for the South African electronics manufacturing industry before, but this year has thrown up unprecedented challenges that nobody could have foreseen and which are outside of 
...
Read more...
---
Electronics news digest
29 July 2020 , News
South Africa
• As part of the national data-driven approach to countering COVID-19, the CSIR has developed a platform that monitors human mobility to better understand movement patterns across specific 
...
Read more...
---