printer friendly version
Projects Concern invests in automatic screen printers
29 April 2015 News Manufacturing / Production Technology, Hardware & Services
Projects Concern Manufacturing (PCM), on the cusp of celebrating its 30th anniversary serving the local contract electronics manufacturing market, has expanded its printing capabilities with the purchase of an ASM DEK Horizon iX screen printer.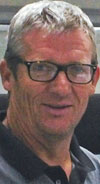 Sean Flynn, MD of Projects Concern Manufacturing.
Sean Flynn, the managing director of PCM, explains that in order to meet the changing needs of customers, there is an increasing demand for a more automated printing process. This spurred the company to venture into the market in search for a credible partner, with a high level of flexibility being a primary requirement.
"We did not really have the need for inline printing until a couple of years ago," he explains. "We were using a group of EKRA semi-automatic printers which were offline and the nature of it was we were doing printing runs in the 50s, 100s and 1000s, so our work did not really warrant an inline printer at that stage. However, one customer needed to produce higher volumes – anything between 50 to 10 000 units a month – and asked us about our future printing plans, as well as the need for post-print inspection. You eventually get to a point where you realise that you are doing everything possible with a semi-automatic printer and it's time for a more automated process."
ASM DEK was chosen as the most suitable supplier because of its reputation, says Flynn: "The company has been around a long time and has a good name in the market. I believe that they will be around for the next 10 to 20 years, whereas a lot of the newer guys may not still be there, and that is a big plus for us."
Before the company proceeded with the purchase of its new printer, ASM DEK's local distributor Zetech facilitated an opportunity for PCM to test the printer with a demo machine. After an almost four-month trial period, Flynn felt ready to make the decision to purchase, but not before he had a helping hand to optimise the system for his purposes. "We had some of the technical guys from ASM DEK come and show us a few tricks," he points out. "This was crucially important as this allowed our team to fully customise the printing process according to our manufacturing needs."
The Horizon iX printer enabled PCM to meet several challenges and is helping the company prepare for the next five to 10 years in electronics manufacturing. This is thanks to a plethora of accuracy, productivity and speed advantages. Speaking on the benefits of the Horizon iX, Flynn says, "The big benefit of the Horizon is the HawkEye 1700 post-print verification tool. It is quicker and more intelligent than competing platforms in the same price range, so that was an added advantage for the printer. The overall quality was superior to anything else and the printer gave us the flexibility that we need. The printer has brought us to a more automated process; it has certainly given us the edge when we want speed, throughput and repeatability."
Looking to the future, Flynn believes PCM has the capabilities to be truly global. As an experienced player in the South African market with a large distribution to local firms, the company unquestionably has the experience required. Flynn is adamant that providers will need to be flexible in order to stay ahead of the changing printing landscape.
As component manufacturers are making things miniscule with multiple points, printers will need to adapt their technology to be far finer. From an accuracy point of view, he envisions future challenges with screens, stencils and depositing paste on to small boards.
Flynn concludes, "We've gone from not owning a single automatic printer other than two MY500 jet printers, to a situation where we now have four printers with three being ASM DEK Horizon iX."
Credit(s)
Further reading:
Personality profile: Jean Mearns
29 July 2020, WH Circuit , News
"No one works for me, they only work with me, for without each other our team will fail to exceed the expectations of our customers."
Read more...
---
Letter to the editor
29 July 2020 , News
I take exception to the article 'To fake or not to fake' published in the June edition of Dataweek that is clearly based on the principle 'guilty until proven innocent'. I am by no means an expert 
...
Read more...
---
Q&A with Brandon Kuhn and Steve Stafford
29 July 2020 , News
Q: What is the rationale behind the reorganisation? What impact will it have on Avnet's customers in South Africa?    A (Kuhn):
Since 2009, our shared front-end model in South Africa has differed from the 
...
Read more...
---
Avnet EMEA names two new leaders to SA operation
29 July 2020 , News
Avnet has named Steve Stafford and Brandon Kuhn as new leaders in South Africa following the completion of a reorganisation in the region.
Read more...
---
UCT chooses Tektronix instruments for training lab
29 July 2020, Comtest , News
Comtest, local partner to Tektronix, recently assisted the University of Cape Town (UCT) physics department in refurbishing its electrical training laboratory. All of the existing analog oscilloscopes 
...
Read more...
---
New electromagnetic solutions range from Accutronics
29 July 2020, Accutronics , News
Accutronics has been appointed as the reseller for the Electromagnetic Integrated Solutions (EIS) range of products from API Technologies. APITech offers a complete line of coaxial EMI solutions, 
...
Read more...
---
Fighting COVID-19 using TV white space spectrum
29 July 2020 , News
The CSIR has partnered with the Technology Innovation Agency (TIA) to enable local Internet service providers to deploy Television White Space (TVWS) networks, using the CSIR-developed Secondary Geo-Location 
...
Read more...
---
Clearing the Static: ESD wrist straps
29 July 2020, Actum Electronics , News
The human body is the primary source of electrostatic charge generation. In order to control and reduce static charge build-up and prevent electrostatic discharges (ESD), we use grounding systems to ensure 
...
Read more...
---
From the editor's desk: This too shall pass
29 July 2020, Technews Publishing , News
Things were tough enough for the South African electronics manufacturing industry before, but this year has thrown up unprecedented challenges that nobody could have foreseen and which are outside of 
...
Read more...
---
Electronics news digest
29 July 2020 , News
South Africa
• As part of the national data-driven approach to countering COVID-19, the CSIR has developed a platform that monitors human mobility to better understand movement patterns across specific 
...
Read more...
---