printer friendly version
Wireless fibre inspection for smart devices
29 April 2015
Test & Measurement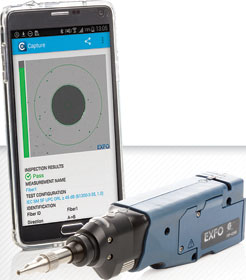 Exfo has added Wi-Fi connectivity to its fully automated test process, along with the flexibility and ease-of-use of Android smart devices, in an effort to make connector certification accessible to anyone, anywhere. The new solution takes the form of the FIP-435B fully automated wireless fibre inspection probe for its portfolio of portable fibre-optic test equipment.
By downloading the ConnectorMax2 mobile application from the Google Play store, smartphone or tablet users can turn their device into a fully-fledged fibre inspection solution, without any compromise on functionality or results accuracy.
Users simply connect the FIP-435B to the connector port, and the probe will automatically detect the connection, locate and centre the fibre image, adjust and optimise the focus and capture, run the pass/fail analysis as per selected standards, and even save and report the results. The whole process takes just slightly longer than cleaning a connector port, making it difficult to justify overlooking this critical step.
The probe is particularly useful in fibre-to-the-antenna (FTTA) applications. Firstly, the automation enables tower crews usually more familiar with copper or RF technology to quickly level up on fibre testing. Secondly, the LED indicator on the probe immediately gives the pass/fail verdict for the connector end-face without even having to look at the smart device screen. This allows climbers to reach the top of the towers with their smartphone in their pocket and with only the FIP-435B in hand.
The probe is self-powered via an onboard rechargeable battery that lasts for a full day in the field; this prevents the unit from draining the smartphone's battery. Free from any wire, any cumbersome battery pack or any external Wi-Fi adaptor, the FIP-435B provides test ergonomics and freedom of operation to the end user to concentrate on the testing tasks. This new wireless series of inspection probes also include a semi-automated version – the FIP-425B – which offers the same features as the FTB-435B with the exception of the autofocus function.
Users can also benefit from smart device connectivity to sync results and reports to cloud servers from any location via e-mail or other communication means available through the mobile device. This enables contractors to integrate and comply with current workflow and processes in the case where operators have already made the switch to smart devices.
For more information contact Chris Nel, Lambda Test Equipment, +27 (0)12 349 1341, chris@lambdatest.co.za, www.lambdatest.co.za
Credit(s)
Further reading:
New range of Tektronix DSOs
30 June 2020, Comtest , Test & Measurement
Comtest has released Tektronix's new TBS2000B series of digital storage oscilloscopes (DSOs) that was developed to meet the performance, usability and affordability needs of both engineers and educators. 
...
Read more...
---
Contactless ESD testing and access control unit
30 June 2020, Actum Group , Test & Measurement
In the electronics manufacturing industry, an electrostatic discharge (ESD) can cause irreparable damage to electronic components. This micro-lightning bolt can burn holes through insulating layers and 
...
Read more...
---
How are IR cameras calibrated and how does ambient temperature affect readings?
30 June 2020, Instrotech , Test & Measurement
Infrared thermometers are calibrated with the help of reference radiation sources, so-called 'black bodies'. These radiant sources are able to produce different temperatures with a high stability.  
...
Read more...
---
Thermal monitor for fever screening
30 June 2020, Actum Group , Test & Measurement
The TCSF256 thermal monitor from Actum Group is a fully automated, plug-and-play fever screening unit. It adopts an infrared radiation measurement technique that can measure body temperature by non-contact 
...
Read more...
---
Uncover EMI issues early with simple pre-compliance tests
30 June 2020, Concilium Technologies , Test & Measurement
An effective pre-compliance testing methodology will reduce test cycle times, which ultimately impacts a company's bottom line.
Read more...
---
The promise of 5G wireless communications
30 June 2020, Lambda Test , Test & Measurement
The deployment of 5G services worldwide is driving a massive increase in fibre densification for the required fronthaul and backhaul links interconnecting radio base stations and web-scale core packet networks.
Read more...
---
Phase noise analyser for precision oscillator characterisation
29 April 2020, Altron Arrow , Test & Measurement
To help research and manufacturing engineers make precise and accurate measurement of frequency signals, including those generated by atomic clocks and other high-performance frequency reference modules 
...
Read more...
---
Ethernet tap for IO Ninja
25 March 2020, RF Design , Test & Measurement
Monitoring network communications of your PC can be accomplished without any specialised hardware – just use the Pcap Sniffer plugin of IO Ninja. The task of tapping into the Ethernet traffic of a non-PC 
...
Read more...
---
Bench-top vector signal generator
29 April 2020, RFiber Solutions , Test & Measurement
The T3267E series bench-top vector signal generator from Transcom Instruments has excellent radio frequency performance and rich signal generating function. It can provide arbitrary wave, continuous 
...
Read more...
---
Tektronix and Coherent Solutions partner for fully integrated optical comms
25 March 2020, Comtest , Test & Measurement
Comtest has announced that technology companies Tektronix and Coherent Solutions have an exclusive partnership agreement to provide fully integrated optical communications platforms to new and existing 
...
Read more...
---