printer friendly version
Win a starter kit for 16-bit PIC MCUs
14 October 2015
News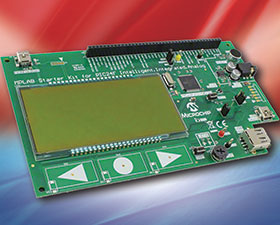 The MPLAB Starter Kit for PIC24F (DM240015) Intelligent Integrated Analog is a comprehensive solution featuring the PIC24F 'GC' family of 16-bit microcontrollers (MCU).
This family features advanced integrated analog which reduces bill-of-materials cost, lowers noise and ensures fast throughput.
The board demonstrates these features of the PIC24FJ128GC010: direct LCD drive, 16-bit sigma-delta analog-to-digital converter (ADC), 12-bit pipeline ADC, 10-bit digital-to-analog converter (DAC), op-amps, CTMU, DMA, USB and XLP low power consumption.
The demonstration code covers LCD display including scrolling text with icons, sine wave audio output, light sensor, temperature
sensor, resistive sensor, watch crystal-based time display, mTouch user input control with visual feedback, bar graph display of sensor and microphone input, and data-logging of 16-bit ADC data to USB drive.
The board features an analog connector designed to insert into a breadboard for easy access to analog peripherals, and an expansion area for adding RF connectivity. It also has an analog header, allowing clean analog signals to be accessed and preserving signal integrity. To complement the header, the board also features onboard sensors such as a light sensor, potentiometer, microphone, temperature and capacitive touch.
Additional features include USB host and device support, RF expandability, audio output via headphone jack, and onboard debugger/programmer.
For a chance to win one of these starter kits, log onto www.microchip-comps.com/dataweek-mplab-pic24f and enter your details into the online entry form.
Further reading:
Quectel masterclass: IoT device application development
iCorp Technologies News
Quectel has announced the latest masterclass in a series of technical webinars titled "Accelerate wireless IoT device application development with Azure RTOS on STM32 MCUs".
Read more...
---
ST announces status of common share repurchase programme
News
The repurchase programme took place over the period from 11 to 15 July 2022 and saw ST repurchasing 210 462 ordinary shares.
Read more...
---
Actum Group leads in the interconnect industry
Actum Electronics News
Actum Group is a specialist importer and distributor of industrial and electronic products in Southern Africa and a leader in the interconnect industry.
Read more...
---
From the editor's desk: Do we have the power?
Technews Publishing News
On a recent trip to Grahamstown in the Eastern Cape I was reminded, quite rudely and abruptly to be honest, of the load shedding that has plagued South Africa for the last few years. Living in KZN, we 
...
Read more...
---
Top five MPU suppliers strengthen market dominance
Editor's Choice News
The new ranking shows that long-time leader in microprocessor units, Intel, has moved downwards closer to half the total worldwide sales in microprocessors.
Read more...
---
New meta-lens revolutionises vacuum UV optics
News
A research team co-led by City University of Hong Kong have successfully developed a novel vacuum ultra-violet (VUV) meta-lens which can generate and focus the UV light.
Read more...
---
Electronics news digest
Technews Publishing Electronic News Digest News
The Semiconductor Industry Association (SIA) has announced global semiconductor industry sales were $51,8 billion in the month of May 2022, an increase of 18,0% over the May 2021 total of $43,9 billion 
...
Read more...
---
EVENTS
Events News
IFA Berlin
2-6 September Berlin, Germany This event aims to present the latest products and innovations in the commercial electronics industry. It will offer a comprehensive overview of the international 
...
Read more...
---
Going beyond with HONOR
MyKay Tronics Editor's Choice News
The tempo of business in China is lightning fast. But if you are responsive and go a step beyond, the rewards can be great. In just 15 days, Mycronic delivered 30 dispensing systems to HONOR.
Read more...
---
Global cellular IoT connections increase 22%
News
A new report says that the global number of cellular IoT subscribers increased by 22% during 2021 and that the number of cellular IoT devices will reach 4,3 billion by 2026.
Read more...
---