printer friendly version
UCT lauds partnership with Concilium
14 October 2015
News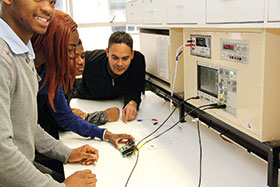 The University of Cape Town, recently ranked as the best on the African continent, is committed to staying at the forefront of research and teaching, and to embrace its mission to produce world class graduates with a love of lifelong learning instilled through an intellectually stimulating environment.
The University's Department of Electrical Engineering's desire to implant the seeds for this love to grow is evident in the commitment to encompass a stimulating, real-world application environment where students will graduate with a lifelong enthusiasm for engineering.
An important facet of this approach is to provide students with the latest measurement tools that will motivate and inspire the students, and expose them to industry standard instruments they will encounter when they transition to industry. Having access to world class technology is one thing, but ease of use is critical to minimise learning curves, thus freeing up more time to complete projects.
The department's 3rd and 4th year general-purpose laboratory is the largest in the faculty, and caters for power electronics, mechatronics, telecoms and general electronics. The lab sees upwards of 200 students a year, is open 24/7 and is also used by post graduate students. The university has established over 25 benches with Keysight (formerly Agilent Electronics Measurement group) oscilloscopes, waveform generators, digital multimeters and power supplies.
Justin Pead, the department's chief technical officer and an MSc graduate himself, understands the need to inspire the students, and with Stephen Schrire – his predecessor, now retired, and the driving force behind the creation of the modern facility – cites a number of reasons why UCT has partnered with Concilium Technologies, Keysight's authorised technology representative in southern Africa.
"The equipment is easy to learn with very intuitive user interfaces and, combined with its high specifications, builds confidence in the students while developing, debugging and troubleshooting their projects," he explains. "The oscilloscopes have hardware flexibility with a built in waveform generator, DMM, logic timing analyser and protocol analyser that all can be added or upgraded through software, rather than hardware, ensuring excellent price/performance. Having the ability to save screenshots to memory sticks is also valuable for the students.
"Their test equipment is robust and reliable, and we have an excellent relationship with Concilium. The local support is responsive to any technical enquiries, and should any failures occur, there is an accredited service partner in South Africa who can repair and calibrate the equipment to the same standards as Keysight."
Credit(s)
Further reading:
Quectel masterclass: IoT device application development
iCorp Technologies News
Quectel has announced the latest masterclass in a series of technical webinars titled "Accelerate wireless IoT device application development with Azure RTOS on STM32 MCUs".
Read more...
---
ST announces status of common share repurchase programme
News
The repurchase programme took place over the period from 11 to 15 July 2022 and saw ST repurchasing 210 462 ordinary shares.
Read more...
---
Actum Group leads in the interconnect industry
Actum Electronics News
Actum Group is a specialist importer and distributor of industrial and electronic products in Southern Africa and a leader in the interconnect industry.
Read more...
---
From the editor's desk: Do we have the power?
Technews Publishing News
On a recent trip to Grahamstown in the Eastern Cape I was reminded, quite rudely and abruptly to be honest, of the load shedding that has plagued South Africa for the last few years. Living in KZN, we 
...
Read more...
---
Top five MPU suppliers strengthen market dominance
Editor's Choice News
The new ranking shows that long-time leader in microprocessor units, Intel, has moved downwards closer to half the total worldwide sales in microprocessors.
Read more...
---
New meta-lens revolutionises vacuum UV optics
News
A research team co-led by City University of Hong Kong have successfully developed a novel vacuum ultra-violet (VUV) meta-lens which can generate and focus the UV light.
Read more...
---
Electronics news digest
Technews Publishing Electronic News Digest News
The Semiconductor Industry Association (SIA) has announced global semiconductor industry sales were $51,8 billion in the month of May 2022, an increase of 18,0% over the May 2021 total of $43,9 billion 
...
Read more...
---
EVENTS
Events News
IFA Berlin
2-6 September Berlin, Germany This event aims to present the latest products and innovations in the commercial electronics industry. It will offer a comprehensive overview of the international 
...
Read more...
---
Going beyond with HONOR
MyKay Tronics Editor's Choice News
The tempo of business in China is lightning fast. But if you are responsive and go a step beyond, the rewards can be great. In just 15 days, Mycronic delivered 30 dispensing systems to HONOR.
Read more...
---
Global cellular IoT connections increase 22%
News
A new report says that the global number of cellular IoT subscribers increased by 22% during 2021 and that the number of cellular IoT devices will reach 4,3 billion by 2026.
Read more...
---