printer friendly version
Alternators for telecoms data centres
14 October 2015
Power Electronics / Power Management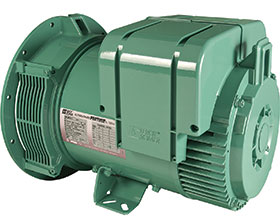 Leroy Somer alternators, available exclusively in southern Africa from Vert Energy, ensure dependable electricity production in diverse industries, including the telecommunications sector.
"Telecommunications plays an increasingly vital part in all aspects of commerce – particularly in data processing centres and base transceiver stations (BTS) – and requires absolute dependency on a reliable power supply," explains Grant Robertson, managing director of Vert Energy. "In the event of a power cut, backup generator units are used to ensure continuous and efficient operation of the network and can maintain power for several days.
"Low-voltage generators, fitted with alternators from the Leroy Somer Partner range, offer reliable solutions that are specially adapted to back up BTS sites in the telecoms industry. These robust alternators ensure an uninterrupted power supply for the continuous reception and transmission of data, power to the computer and storage systems and power for the building's lighting, air conditioning and safety systems."
A data centre, which hosts computer systems and associated components – including telecommunications and storage systems – is the nerve centre of the network. Because data has to be accessible to users at all times, a dependable supply of electricity, without interruption, is critical. Data centres house uninterrupted power supply (UPS) systems that are sensitive to external interference. For this reason, the sizing and selection of the correctly specified alternator is critical.
Vert Energy supplies Leroy Somer Partner alternators, from 250 kVA to 3250 kVA, which are designed to meet the demands of data centres. These energy efficient alternators have low reactance and improved performance with distorting loads, as well as greater starting capacity and the ability to support high load variations. The company also uses specific winding designs to reduce harmonic distortion, with a 2/3 winding pitch or 5/6 winding pitch depending on which harmonic wave needs to be compressed.
Base transceiver stations with relay emitters also require continuous power supply to facilitate dependable radio access for cellphones in their coverage area. In the event of a power cut, one or more backup generator units are used and can maintain power for several days.
Vert Energy's solutions for BTS relays include Leroy Somer Partner alternators covering 8,5 kVA to 80 kVA and with low reactance and reduced sensitivity to distorting loads. This energy efficient range, with more power from the same engine, has a greater starting capacity and is capable of supporting high load variations.
The company also offers a variable DC generator designed especially for this application. The variable speed option optimises fuel consumption, as the engine speed is reduced according to the load requirements. Maintenance charges and associated costs with the delivery of fuel are also reduced. An additional benefit is the need for fewer components used in the rectification from AC to DC as used in a traditional power generation system.
Vert Energy's service to power generation in telecommunications encompasses the supply of dependable components to generator manufacturers, with the support of a repair and maintenance facility throughout the African continent.
For more information contact Ryan Robertson, Vert Energy, +27 (0)11 453 9669, [email protected], www.vertgroup.co.za
Further reading:
650 W fast recovery diodes
RS Components (SA) Power Electronics / Power Management
Rohm has released its 4th-generation 650 V fast recovery diodes (FRDs), balancing forward voltage and reverse-recovery time for high-power industrial and consumer equipment including air conditioners and electric vehicle charging stations.
Read more...
---
Wireless charging IC solution
TRX Electronics Power Electronics / Power Management
The WLC1115 transmitter controller IC is the first highly integrated product of the new WLC family of controllers from Infineon for applications in inductive wireless charging.
Read more...
---
Real-time monitoring of solar power stations
Otto Wireless Solutions Power Electronics / Power Management
WLink's 3G/4G routers remotely monitor and manage power stations in real-time and perform fault diagnosis, power prediction and a daily maintenance routine.
Read more...
---
1,5 A LDO linear regulator from TI
Altron Arrow Power Electronics / Power Management
The TPS7A74 from Texas Instruments is a 1,5 A low-dropout linear regulator with programmable soft-start for a wide variety of applications.
Read more...
---
eFuse with transient overcurrent blanking timer
RS Components (SA) Power Electronics / Power Management
The TPS25981xx family of eFuses from Texas Instruments is a robust defence against overloads, short circuits, voltage surges and excessive inrush current.
Read more...
---
New low-cost 60 W PSU
Vepac Electronics Power Electronics / Power Management
The new VCB60 series of 60 W PSUs from XP Power addresses the need for high-quality easy-to-use power solutions at attractive price points.
Read more...
---
New series of high-power pure sine wave inverters
Current Automation Power Electronics / Power Management
The NTS/NTU-2200/3200 series pure sine wave inverters by Meanwell now have the ability to use lithium batteries as well as lead acid as the DC power source.
Read more...
---
Fully programmable motor controllers
Altron Arrow Power Electronics / Power Management
The MOTIX IMD70xA programmable motor controllers from Infineon are now available in one package to power the next generation of battery-powered applications.
Read more...
---
New power converter family from Traco
Conical Technologies Power Electronics / Power Management
Traco Power has announced the release of their new TMR 12WI converter family featuring isolated 12W DC/DC converter modules with regulated outputs.
Read more...
---
Bourns releases new series of power inductors
Electrocomp Power Electronics / Power Management
Constructed with a magnetic-silica coating to the perimeter of the inductor winding to provide effective shielding, these inductors release lower magnetic field radiation compared to non-shielded inductors.
Read more...
---