printer friendly version
Locally made embedded controller
14 October 2015
Computer/Embedded Technology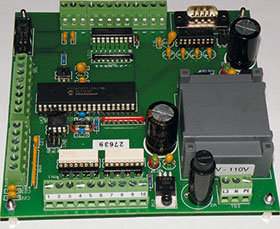 The locally manufactured MSC0108 single-board controller offers flexible, cost effective control via BASIC programming. Compared to a programmable logic controller (PLC), it provides programming flexibility over and above the use of simplistic ladder logic or statement lists, as well as speed benefits: simple I/O manipulation will run at several hundred kilohertz, enabling motion control to be effected without a separate add-on motion controller.
Measuring 130 x 130 mm, the controller features a power supply that can be driven directly from mains power; RS-232 programming/communications port; LCD display port; 8 opto-isolated digital inputs with isolated 12 V supply; and 8 Darlington NPN digital outputs. It is powered by a 40-pin 18F452 Microchip processor and provides direct access to 6 analog processor inputs (10-bit, 0 – 5 V), I²C interface for I/O extension etc, and I²C 24LC512 memory on board. All semiconductors are socketed for easy field repair.
The onboard processor is pre-programmed with a bootloader ready for the Melabs (BASIC) programming environment. Using the Melabs compiler facilitates fast, structured code development and produces fast, optimised machine-ready code which is downloaded via the RS-232 serial port. After programming, the serial port is available to enable the board to communicate with other devices.
For more information contact Glyn Craig, Techlyn, +27 (0)11 835 1174, [email protected]
Further reading:
AMD Xilinx online training: Vivaldo ML tools
EBV Electrolink Computer/Embedded Technology
The webinar will explore the features of SystemVerilog that are useful for RTL synthesis using Vivado ML Tools and how the RTL SystemVerilog language constructs have been optimised for productivity and reliability.
Read more...
---
Galleon releases a rugged 100GbE recorder
Rugged Interconnect Technologies Computer/Embedded Technology
The XSR 100GbE recorder is the latest addition to Galleon Embedded Computing's line-up of innovative military embedded solutions and is perfect for applications in unmanned systems, surveillance and reconnaissance.
Read more...
---
Samsung launches GDDR6 RAM module
EBV Electrolink Computer/Embedded Technology
The DRAM is capable of 24 Gbps processing speeds and will significantly advance the graphics performance of AI-based applications and high-performance computing.
Read more...
---
Qualcomm AI stack: a unified AI software solution
Future Electronics Computer/Embedded Technology
Qualcomm has bundled all its AI software offerings into a single package called the Qualcomm AI Stack which will assist developers in deploying AI applications.
Read more...
---
ADLINK launches NVIDIA Jetson-based vision system
Rugged Interconnect Technologies Computer/Embedded Technology
The EOS-JNX-I is a next-generation AI vision system that uses the new NVIDIA module as an optimised development platform that simplifies AI to the edge.
Read more...
---
Quectel announces high-performance 5G smart module
iCorp Technologies Computer/Embedded Technology
The SG560D, an Android smart module that combines 5G and artificial intelligence, is suitable for complex applications such as in-vehicle infotainment and industrial handheld devices.
Read more...
---
Half-duplex transceiver for RS-485
Vepac Electronics Computer/Embedded Technology
The new enhanced transceiver is designed for RS-485 data bus networks and is fully compliant with the TIA/EIA-485A standard.
Read more...
---
ST releases first automotive IMU with embedded ML
Altron Arrow Computer/Embedded Technology
Smart driving moves another step closer to high levels of automation with STMicroelectronics' new machine learning core.
Read more...
---
Rugged plug-in card ideal for sensor-based systems
Rugged Interconnect Technologies Computer/Embedded Technology
Concurrent Technologies' new processor board provides high performance for I/O sensor device needs.
Read more...
---
Standalone H.264 video streaming board
Rugged Interconnect Technologies Computer/Embedded Technology
The XStream-SD4 is an intelligent, standalone, ultra-low latency H.264 streaming solution that accepts 4x NTSC/PAL/RS-170 composite video sources and records and streams them over 100/1000 Mbps Ethernet. 
...
Read more...
---