printer friendly version
Gateway for 6LoWPAN networks
4 November 2015
Telecoms, Datacoms, Wireless, IoT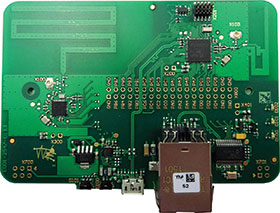 RS Components is extending its portfolio of wireless network products designed for Internet of Things (IoT) applications with the availability of the 6LoWPAN IoT Gateway from WEPTECH elektronik.
The 6LoWPAN (IPv6 over Low-Power Wireless Personal Area Network) gateway board functions as a border router in a 6LoWPAN-based network and connects a wireless IPv6-based network to the Internet. The board facilitates the routing procedures necessary to integrate an IPv6 mesh network comprising small wireless low-power devices into the global IP network. It enables users to connect up to 32 6LoWPAN child nodes to the network.
In addition to offering native IPv6 (bridge mode) operation, the gateway uses the plug-and-play NAT64 IPv6-to-IPv4 translator mechanism, enabling the addressing of IPv4-based servers from any 6LoWPAN node. Therefore sensor data from the radio network can be transmitted to servers located anywhere on the Internet.
In terms of hardware, the board is based on Texas Instruments' ARM Cortex-M3-powered CC2538 microcontroller that provides an AES and SHA encryption engine and embeds 512 KB of Flash memory and 32 KB of RAM. The board provides dual-band operation with two radio interfaces: the CC2538 MCU integrates an 802.15.4-compliant radio interface in the 2,4 GHz band; and an extra sub-gigahertz transceiver (TI's CC1200) allows use in the 868 or 915 MHz frequency bands. The Internet connection is enabled via the Microchip ENC28J60a Ethernet controller IC. The board also offers a USB 2.0 port, which also serves as the 5 V power supply interface.
Two versions of the gateway are available: the first with a table-top/wall-mount enclosure with dimensions of 110 x 76 x 29,5 mm, which is ideal for use in industrial control, home automation and 6LoWPAN sensor networks; and a second version without enclosure targeted for use as a development platform.
Free software for the board is based on the open source Contiki operating system with the source code available for download via Github.
For more information contact RS Components, +27 (0)11 691 9300, sales.za@rs-components.com, www.rsonline.co.za
Credit(s)
Further reading:
Follow this engineering journey of a 3D-printed boat
30 September 2020, RS Components (SA) , News
RS Components is releasing a 10-episode documentary series – titled SeaQuest – featuring members of its DesignSpark engineering community who embarked on a first-of-its-kind challenge to design, test 
...
Read more...
---
V2X transceiver modules
30 September 2020, RF Design , Telecoms, Datacoms, Wireless, IoT
The VERA-P3 Series from u-blox are automotive grade 802.11p V2X (vehicle-to-everything) transceiver modules that operate in the 5,9 GHz frequency band. These automotive-grade modules are based on the 
...
Read more...
---
Voltage tuneable notch filter bank
30 September 2020, RFiber Solutions , Telecoms, Datacoms, Wireless, IoT
Atlanta Micro's AM3129 is a miniature voltage-tuneable notch filter bank covering the 1,0 to 6,0 GHz frequency range in a 4 mm QFN package. Six notch filters and two bypass paths with SP8T switches on 
...
Read more...
---
Permanent mounting MIMO antenna for Wi-Fi
30 September 2020, RF Design , Telecoms, Datacoms, Wireless, IoT
The Ultima MA530 MIMO antenna from Taoglas is a low-profile, heavy-duty, fully IP67 waterproof external M2M antenna for use in transportation and remote monitoring applications. It provides high efficiency 
...
Read more...
---
SPST RF switch for high-performance aperture tuning
30 September 2020, Hi-Q Electronics , Telecoms, Datacoms, Wireless, IoT
Skyworks has introduced the SKY59272-707LF, a single-pole, single-throw (4xSPST) switch designed for antenna tuning applications that require ultra-low off-capacitance and low on-resistance. This device 
...
Read more...
---
Applications for RF electromechanical relay switches
30 September 2020, RF Design , Telecoms, Datacoms, Wireless, IoT
RF electromechanical switches are a key active device in many signal chains, including time-domain duplex communications and pulsed radar applications. Such switches can be as simple as a 3-port toggle 
...
Read more...
---
Diplexer for GNSS L1 and L2
31 August 2020, RF Design , Telecoms, Datacoms, Wireless, IoT
The Taoglas DXP.01.A is a diplexer for GNSS L1 and L2. This advanced compact SAW diplexer is for use in any navigation system application using the GPS/GALILEO L1, GLONASS L2 and BeiDou B2 bands. The 
...
Read more...
---
Grounding jumpers for management of high-power busbars
31 August 2020, RS Components (SA) , Circuit & System Protection
RS Components (RS) has introduced Molex's Triton grounding jumpers for the safe management of high-power busbars. Unique to the industry, the range is UL-certified to deliver quality, safety and reliability.  
...
Read more...
---
New digital storage oscilloscope
31 August 2020, RS Components (SA) , Test & Measurement
RS Components is now stocking the Tektronix TBS1000C digital storage oscilloscope. Affordable, compact and easy-to-use, the TBS1000C comes with enhanced user interface and courseware, proving a great 
...
Read more...
---
Quectel unveils SA800U-WF premium smart module to enable computing and multimedia applications on Android OS devices
31 August 2020, iCorp Technologies , Telecoms, Datacoms, Wireless, IoT
Quectel Wireless solutions has launched its SA800U-WF premium smart module which features a built-in Android 9.0 or 10.0 operating system (OS). The new module features a high performance, low power 64-bit 
...
Read more...
---