printer friendly version
Windows 10 for the Internet of Things era
4 November 2015
Computer/Embedded Technology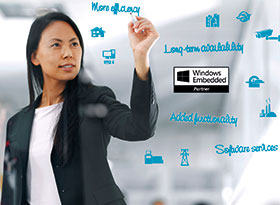 The era of the Internet of Things (IoT) has brought with it an opportunity for manufacturers unparalleled in recent times. Forward-thinking OEMs (original equipment manufacturers) are already planning, developing and building devices, products and solutions with the always-on world in mind.
It is estimated that by 2020, in excess of 25 billion devices will be connected to the Internet. Will you be ready to capitalise on the demands that the IoT brings and to handle the massive volumes of data being generated? In a market that IDC estimates will be worth $7,2 trillion, how will you leverage the IoT to create innovative ways of providing services, managing assets and developing new products in your business?
A major consideration for any device manufacturer is the embedded software platform, which must be reliable and available – with support – for many years. This article provides an overview of the Windows 10 IoT platform and the benefits of an operating system already installed on millions of devices, as well as a reminder that even though Windows 10 offers some great new features, one need not rush into making a changeover, as existing versions of Windows Embedded software, such as Windows 7 and Windows 8, still have long-term availability in embedded editions.
How can Windows 10 help OEMs?
Windows 10 IoT is designed to help OEMs develop products and solutions that help end customers to not only deploy leading edge solutions, but to also capture, analyse and use data to differentiate their businesses, reduce costs, optimise operations, improve customer satisfaction and drive growth. With offerings that span the entire data lifecycle, from analytics and integration through to data management and security, the Windows 10 ecosystem has moved embedded software forwards beyond the expectations of many analysts and observers.
With the launch of Windows 10, Microsoft has unified its embedded and regular Windows software around a common internal core. This is important as it enables OEMs to embed and manage IoT functionality in them all, using one development environment. Therefore, regardless of whether manufacturing small footprint devices, mobile or handheld products, through to industrial equipment, Windows 10 IoT is aiming to be the embedded operating system of choice.
The ability to develop across a diverse range of form-factors, devices and platforms allows OEMs to minimise complexity and cost, whilst reducing time to market and therefore enabling a higher level of competitiveness.
Leveraging the cloud
In the world where everything is connected and 'always on', we are increasingly reliant upon the cloud and cloud-enabled business solutions. Windows 10 IoT not only consolidates development and deployment into one environment, it also leverages its connection to Microsoft Azure to deliver secure, cloud-based analytics, business intelligence and other services that OEMs can potentially monetise, generating additional revenue streams.
OEMs looking to keep pace with the rapid changes that the IoT age is bringing must look to embrace the power of the cloud and the connectedness of all devices. Windows 10 IoT provides the logical platform on which to develop for now and for the future, safe in the knowledge that it is supported and will be continually developed by a major global provider.
If you're not yet ready for Windows 10, don't panic!
There is good news too, for those not yet ready or able to move to the latest release from Microsoft, in that Windows Embedded 7 and 8 are still going strong and will be supported for many years to come. Of course, it's also worth remembering that OEMs with fixed function devices, products and solutions that are built on standard Windows 7 and 8, need not rush into making changes straight away, as they can continue to develop on these platforms through embedded licensing for many years, thereby extending the life of current designs.
As most people will be aware, standard Windows 7 and 8 are now end-of-life (EOL). This poses a significant risk to those that haven't planned their way forward, as support stops and other issues arise such as lack of patches and security updates. However the embedded versions of Windows 7 and 8 provide the security and peace of mind to know that solutions will be fully supported for years to come.
POS complications
In the case of retail – and point of sale (POS) in particular – the situation is more urgent, though. The loss of security support due to the EOL brings with it the further issue of loss of PCI compliance. Without it, retailers will be forced to bear the cost of charge-backs and have their ability to process credit card payments suspended. And the responsibility does not end with the merchant, in that the OEM or provider of the device could be held responsible for the infringement. This is something that simply cannot be allowed to happen and therefore requires urgent action.
The extended availability of the Windows Embedded suite means that for products with a long lifespan and/or development cycle, there is protection and support for the short and medium term. Windows Embedded offers a significant lifeline to those that have yet to plan the way forward from the 7 and 8 operating systems.
The fact is that Windows Embedded and Windows 10 IoT provide a solid platform for existing new and legacy products and also pave the way for the demands of the 'connected everything' era. Moving forward, Windows 10 will be at the heart of millions of solutions and products, from managing sensors and mechanical systems, digital signage, through to all levels of industrial automation and managing the applications and analytics.
Meanwhile, OEMs can rest assured that Avnet Embedded will support their needs, ensuring that the right products and services are available, whilst providing the services and expertise to enable OEMs to be competitive in a rapidly changing world.
For more information contact Carl Van der Merwe, Avnet South Africa, +27 (0)11 319 8617, carl.vandermerwe@avnet.eu, www.avnet.co.za
Credit(s)
Further reading:
BC200 Boxed Rugged Industrial Configurable PC
31 August 2020, Rugged Interconnect Technologies , Computer/Embedded Technology
• Based on proven 3U CompactPCI.Serial technologies • The system is user configurable for unlimited solutions supporting: • 4HP/8HP Processor boards configured with I/O side cards • 4HP/8HP Peripheral 
...
Read more...
---
USB Type-C charging controllers
29 July 2020, Avnet Silica , Power Electronics / Power Management
Designers can overcome the challenges of implementing USB-C Power Delivery (PD) with the MAX77958 USB-C PD controller and the MAX77962 28 W buck-boost charger from Maxim Integrated Products. As portable 
...
Read more...
---
Data recorder qualified for aerospace
31 August 2020, Rugged Interconnect Technologies , Computer/Embedded Technology
The Galleon G1 microRecorder is a powerful gigabit and 10Gb Ethernet recorder in an extremely small enclosure. It is designed to meet the most severe environmental conditions without compromising on functionality 
...
Read more...
---
High accuracy inclinometer with machine learning core
30 September 2020, Avnet Silica , Analogue, Mixed Signal, LSI
The IIS2ICLX from STMicroelectronics is a high accuracy, low power, 2-axis digital inclinometer for use in applications such as industrial automation and structural health monitoring. It features a 
...
Read more...
---
11th Gen Intel Core processors with new design options
30 September 2020, Avnet Silica , Computer/Embedded Technology
In parallel with the 11th Gen Intel Core processor launch (code named Tiger Lake), congatec has launched both its first COM-HPC Client size A module and a next generation COM Express Compact Computer-on-Module. 
...
Read more...
---
PCIe board for wireless applications
29 July 2020, Rugged Interconnect Technologies , Computer/Embedded Technology
Pentek introduced an addition to the Quartz RFSoC architecture family, the Model 7050, an eight-channel A/D and D/A converter, PCIe double-wide board based on the Xilinx Zynq UltraScale+ RFSoC. The Model 
...
Read more...
---
Sensor bridge for 1-Wire protocol
31 August 2020, Avnet Silica , Telecoms, Datacoms, Wireless, IoT
Designers expanding connections to remote sensor networks can now reduce complexity and cost to the industry's lowest levels with the DS28E18 1-Wire to I
2
C/SPI bridge from Maxim Integrated Products. By 
...
Read more...
---
Smallest automotive maXTouch controllers
29 July 2020, Altron Arrow, Avnet Silica , DSP, Micros & Memory
To help enhance and ease today's driving experience, automotive manufacturers are implementing additional touch displays beyond the centre infotainment display (CID). Supporting the application of these 
...
Read more...
---
Configured computing systems and individual elements
29 July 2020, Vepac Electronics , Computer/Embedded Technology
Verotec has a selection of configured systems plus individual elements such as backplanes, power supplies and cooling products, which are compliant with the PICMG/VITA specifications, and supported by 
...
Read more...
---
Pentek accelerates real-time recording
29 July 2020, Rugged Interconnect Technologies , Computer/Embedded Technology
Pentek has introduced a new addition to the Talon series of recorders, the Model RTR 2757 4U 19-inch rackmount recorder. This new recorder complements Pentek's Quartz RFSoC products that stream digitised 
...
Read more...
---