printer friendly version
Stratix 10 FPGAs and SoCs
25 November 2015 Programmable Logic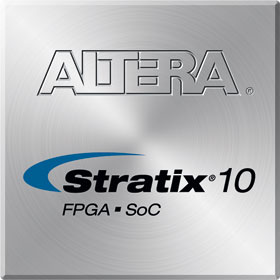 Altera lifted the veil on Stratix 10 FPGAs and SoCs, its next generation of high-end programmable logic devices. Leveraging the company's HyperFlex fabric architecture built on the Intel 14 nm Tri-Gate process, it provides two times higher core performance over previous generation FPGAs.
Combining what it claims as the industry's highest performance, highest density FPGA with advanced embedded processing capabilities, GPU-class floating point computation performance and heterogeneous 3D SiP integration, Altera empowers its customers to address design challenges in the next generation of communications, data centre, IoT infrastructure, military and high-performance computing systems.
HyperFlex introduces registers throughout all core interconnect routing segments, enabling Stratix 10 FPGAs and SoCs to benefit from proven performance-enhancing design techniques such as register retiming, pipelining and other design optimisation techniques which are not practical in conventional FPGA architectures. The HyperFlex architecture allows designers to eliminate critical paths and routing delays, and rapidly close timing on their designs.
All members of the Stratix 10 family leverage heterogeneous 3D SiP integration to combine a high-density monolithic FPGA core fabric (up to 5,5M logic elements) with other advanced components, thereby increasing their scalability and flexibility. A monolithic core fabric maximises device utilisation and performance by avoiding the connectivity issues of competing homogeneous devices that use multiple FPGA dice to deliver higher densities.
Initial devices in the lineup use Intel's proprietary EMIB (Embedded Multi-die Interconnect Bridge) technology to integrate high-speed serial transceiver and protocol tiles with monolithic core logic. All densities in the family will be available with an integrated 64-bit ARM quad-core Cortex-A53 hard processor system (HPS) with a rich feature set of peripherals, including a system memory management unit, external memory controllers and high-speed communication interfaces.
At the core of Stratix 10's security capabilities is an innovative Secure Design Manager (SDM), which delivers sector-based authentication and encryption, multi-factor authentication and physically unclonable function (PUF) technology. This level of security makes it an ideal solution for use in military, cloud security and IoT infrastructure, where multi-layered security and partitioned IP protection are paramount.
For more information contact EBV Electrolink, +27 (0)21 402 1940, capetown@ebv.com, www.ebv.com
Credit(s)
Further reading:
MIFARE DESFire EV3 IC
30 June 2020, EBV Electrolink , Telecoms, Datacoms, Wireless, IoT
NXP Semiconductors announced its new MIFARE DESFire EV3 IC that ushers in next-generation performance, advanced security and seamless integration of mobile services for a new era of security and connectivity 
...
Read more...
---
FPGA development suite for Pentek recorders
30 June 2020, Rugged Interconnect Technologies , Programmable Logic
Pentek's ArchiTek FPGA Development Suite is a new product for adding custom IP to select Pentek Talon recording systems. ArchiTek is a comprehensive development environment that enables engineers to add 
...
Read more...
---
ON Semi expands portfolio for industrial motor drives
29 April 2020, EBV Electrolink , Power Electronics / Power Management
Motor drive systems are proliferating along with industrial automation and robotics. These systems require energy efficiency, precise measurement, accurate control, and high reliability within harsh industrial 
...
Read more...
---
USB-C PD 3.0 controllers
29 May 2020, EBV Electrolink , Power Electronics / Power Management
ON Semiconductor has announced a pair of novel devices that are fully compliant with the USB-C PD 3.0 standard. The FAN6390 adaptive charging controller brings ease of integration of the USB-C PD 3.0 programmable 
...
Read more...
---
Ultra-sensitive NIR image sensor
29 May 2020, EBV Electrolink , Opto-Electronics
ams recently introduced the CMOS Global Shutter Sensor (CGSS) near-infrared (NIR) image sensor, CGSS130, complementing its recently announced 3D system. The CGSS130 enables 3D optical sensing applications 
...
Read more...
---
Wireless MCUs for smart homes and buildings
29 April 2020, EBV Electrolink , Telecoms, Datacoms, Wireless, IoT
NXP Semiconductors introduced the K32W061/41, its new family of ultra-low-power, multiprotocol wireless microcontrollers (MCUs). The new devices complement the company's recently introduced pin-compatible 
...
Read more...
---
Switchers for high-power LED displays
25 March 2020, EBV Electrolink , Power Electronics / Power Management
Power Integrations' InnoSwitch3-MX isolated switcher IC family has been expanded with the addition of three new PowiGaN devices. As part of a chipset with Power Integrations' InnoMux controller IC, the 
...
Read more...
---
NXP streamlines development with Microsoft Azure RTOS
29 April 2020, EBV Electrolink , Computer/Embedded Technology
NXP Semiconductors expanded its partnership with Microsoft to bring Microsoft Azure RTOS, a comprehensive real-time operating system (RTOS), to a broader range of processing solutions from its EdgeVerse 
...
Read more...
---
Advanced electronics help explore the sun
25 March 2020, ASIC Design Services , Programmable Logic
3D Plus has developed, in collaboration with CEA (France), gamma ray detectors for STIX instrument on board the Solar Orbiter. The mission was launched on 10 February 2020 from Cape Canaveral in Florida 
...
Read more...
---
NXP releases new digital key solution
25 March 2020, EBV Electrolink , Telecoms, Datacoms, Wireless, IoT
NXP Semiconductors announced a new automotive digital key solution that enables smartphones, key fobs and other mobile devices to securely communicate, store, authenticate and share digital keys with 
...
Read more...
---