printer friendly version
Poynting antenna setting sail for the Rio Olympics
13 July 2016
News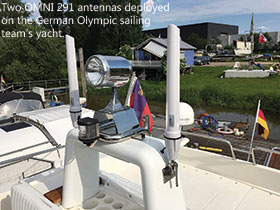 A South African high-tech company is rapidly expanding across the globe, thanks to a combination of patented technology and a reputation for high-quality manufacturing.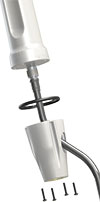 Exploded view of the OMNI 291 antenna.
Poynting Antennas, which is headquartered in Midrand, announced that its rapid growth in Europe has culminated in a strategic partnership with the German Olympic sailing team. The team will use Poynting's cutting-edge OMNI 291 marine and coastal antenna for its land-to-vessel communications during the 2016 Summer Olympic Games in Brazil later this year."Our partnership with the German Olympic team is a welcome confirmation of our market acceptance in the highly competitive European market," stated Michael Howard, CEO of Poynting Antennas.
Howard recently returned from a visit to Finland, where he met with many of the large industrial automation and telecommunication companies from several countries in Europe, including Scandinavia. These include Communica Data Distribution AB (Sweden), Emcom (Norway), Mobile World Communications Oy (Finland), ime mobile solutions (Germany), Mixe Communication Solutions (the Netherlands), Westbase Technology (UK) and BaLAN (Turkey) – all members of the Vadnet cooperative.
"Our locally designed antennas are highly rated for their unique combination of design, performance and quality manufacturing. Poynting's South African designed antennas are considered to be reliable, innovative, high-quality products in Europe, and customers welcome the speed at which we can provide customised solutions," said Howard.
Across the North Sea, Poynting has experienced similar success. Its range of cellular and specialised antennas has not only won it a significant market in Britain, but earned it a position as a technical partner of the Bloodhound Supersonic Car (Bloodhound SSC) team. The company recently designed a specialised, high-gain antenna that will live-stream the 1000 mph world record attempt from inside the vehicle in 2017.
Olympic medals require hard work and dedication
Poynting Antennas has grown significantly since it was started by Professor André Fourie with a group of fellow researchers and MSc and PhD students from the University of the Witwatersrand in 2001. The company rapidly expanded, thanks to a range of products that included highly specialised antennas used in electronic warfare, and it soon had a global customer base.
The patented antennas and specialised knowledge quickly grew Poynting into a mid-sized company, which was listed on the Johannesburg Stock Exchange in 2008. Even before its listing, it already earned around 50% of its revenue in export sales and it started establishing itself abroad as an antenna designer, manufacturer and specialised communication consultant.
"The large group of researchers who joined us from the university and our early international customer base have influenced the culture at Poynting Antennas from our start-up days," explained Dr Fourie, executive chairman and product specialist. "Today we still invest heavily in research and development, and we make sure our products fit the needs of our global clients. I am very excited about some of the revolutionary products that we have planned in the next few years."
In 2014, Poynting Antennas was spun off from the listed entity, leaving the listed Alaris to focus on the development and production of defence-based products and the unlisted Poynting Antennas to focus on commercial antenna development.
Since its rebirth as an unlisted company, the company's investment in R&D has led to the introduction of a host of new products, including the 5-in-1 mobile antenna, the OMNI-291, the MagiCube secure enclosures for cellular base stations, and a range of intrinsically safe antennas for use in high-risk areas such as underground mining.
"Over the past decade, Poynting Antennas has helped firmly establish South Africa as a hub for advanced cellular and related antenna design. The country's rapid uptake of cellular technology has made it a development hotbed for antennas, placing Poynting at the forefront of many areas of antenna design," said Fourie.
For its next phase of development, the company is focusing on specialised antennas for mobility – including cars, busses and agricultural equipment – and expanding its range of intrinsically safe antennas for use in specialised applications.
"Apart from our new product development, we will continue to advance our product offering in the machine-to-machine and fixed wireless (LTE) markets. The demand for these products is growing and driving our focus to expand into new markets, including the North American market and the Middle East," Howard said.
He also expressed his satisfaction with the company's successful European expansion and establishment of a presence in Europe, where Poynting Europe's sales have exceeded initial expectations for the first and second quarters of 2016. Tjeerd Huitema, head of Poynting Europe, remains focused and confident that sales will continue to grow with the new offering of products coming up in the next 12 months. "Our products are seen to be of very high quality which is important to guarantee reliability at all times," he said.
The OMNI 291 is a high-gain, multiband and omnidirectional marine and coastal antenna. It covers all current and several new data frequencies in all bands from 450 MHz to 2700 MHz, making it ideal for sea to land communications between the competition yacht, the coach's motorboat and land-based operations. Participation in the Olympic sailing competitions between 8 and 18 August 2016 will mark one of the first commercial outings for the antenna, and follows extensive testing with the German sailing team and ime mobile solutions.
Covering GSM, UMTS, WCDMA, Wi-Fi and 4G/LTE bands in addition to 450 MHz ranges, the antenna's ultra-wide range was made possible thanks to patented Poynting technologies that utilise multiple dipoles and a unique data feed network. The antenna has also been designed for simultaneous dual communications with a Wi-Fi modem and signal repeater, using a two-way splitter.
For more information contact Michael Howard, Poynting Antennas, +27 (0)12 657 0050, www.poynting.tech
Credit(s)
Further reading:
Electronics news digest
29 January 2020 , News
South Africa
• More than 2400 people braved pouring rain in Gauteng to attend the 5th Science Forum South Africa (SFSA) at the CSIR International Convention Centre in December. The annual Department 
...
Read more...
---
Appointment: ExecuKit
29 January 2020, ExecuKit , News
ExecuKit has appointed Marshant Benadie in a technical support role.    His duties will include developing business with clients within the electronics distribution and manufacturing industry; managing 
...
Read more...
---
Repro installs new SMT production line
29 January 2020 , News
The company is actively seeking business for this new assembly line, which promises extensive flexibility and high accuracy, and can easily be expanded for higher production volumes.
Read more...
---
AREI's plans for 2020
29 January 2020 , Editor's Choice, News
Erich Nast, chairman of AREI, discusses what the association's plans are to tackle the challenges and opportunities that lie ahead.
Read more...
---
Check out Dataweek's new-look website
29 January 2020, Technews Publishing , Editor's Choice, News
Our technical design elves have been locked away in our basement for months, improving the visual design and functionality of the Dataweek website.
Read more...
---
From the editor's desk: A fresh start, but a sad farewell?
29 January 2020, Technews Publishing , News
A couple of years ago, not many people had heard of Yekani. The company bought a stake in the well-known East London-based satellite decoder maker, Vektronix, and subsequently acquired it in its entirety. When 
...
Read more...
---
Company profile: ETION Create
EMP 2020 Electronics Manufacturing & Production Handbook, ETION Create , News
ETION Create is an original design manufacturer (ODM) that has been in operation for more than 25 years. Originally known as Parsec, the company was founded in 1993, focusing on the design, development 
...
Read more...
---
Company profile: Laser Stencil Technology
EMP 2020 Electronics Manufacturing & Production Handbook, Laser Stencil Technology , News
Since its inception in 2004, Laser Stencil Technology has grown into a prominent figure in the South African electronics manufacturing industry. Having been involved in circuit board manufacturing using 
...
Read more...
---
Company profile: Repro Supplies
EMP 2020 Electronics Manufacturing & Production Handbook , News
Repro Supplies is a systems integration company that specialises in turnkey systems for the mining industry, industrial, traffic and LED markets, both locally as well as internationally. The company was 
...
Read more...
---
Company profile: Saflec
EMP 2020 Electronics Manufacturing & Production Handbook, Saflec , News
Saflec was founded in 1980 as an owner-managed company, designing, manufacturing and marketing security and industrial metal detectors. The staff complement consisted of a handful of key people, but grew 
...
Read more...
---