printer friendly version
Speed record attempt to be live streamed by locally made antenna
10 August 2016
News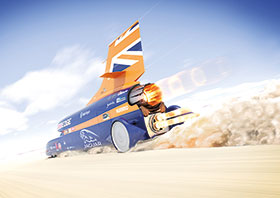 The world's fastest car will be heading to South Africa in October 2017 for its first high-speed run, which means that it is all systems go for the Bloodhound SSC project team at Poynting Antennas. The South African company designed, tested and built the tailfin antenna that will live stream both the 2017 attempt and the ultimate record breaking attempt sometime in 2018.
"Our antenna has been tested and approved by the team from Bloodhound SSC and it is fitted to the current vehicle. Now begins a process of careful disassembly, documenting and re-fitment of all components on the vehicle before any dynamic tests can begin," says Michael Howard, CEO of Poynting Antennas.
The custom-designed, cross polarised and water cooled antenna nestles in a small compartment on the tailfin of the vehicle. It has been tested on Hakskeenpan (in the Northern Cape) using a supercharged Jaguar XKR and an L39 fighter jet trainer, but it has not had an opportunity to be tested on the vehicle.
"Our first in-car test will come in June 2017, when the Bloodhound SSC team tests the car in the town of Newquay, Cornwall in England. Here the car will be tested at a relatively slow 354 km/h to evaluate all components and test the data stream of in-car telematics and live-streaming video from our antenna," explains Dr Andre Fourie, founder and executive chairman of Poynting Antennas.
After the UK-based tests the car, crew and equipment will be shipped to Hakskeenpan for a dry run in October 2017. During this run, the car will drive at 800 mph or 1287,48 km/h, breaking the current world record of 763,035 mph and setting the scene for a final run of 1000 mph somewhere in 2018.
"It will be exactly 20 years since Andy Green broke the world land speed record in the Thrust supersonic car in October 1997 and so much has changed, says Howard. This time, thanks to the Poynting antenna, we will be able to live stream the 800 mph and 1000 mph record runs from inside the cabin to anywhere in the world," says Howard.
For more information contact Michael Howard, Poynting Antennas, +27 (0)12 657 0050, www.poynting.tech
Credit(s)
Further reading:
SAAB Avionics approves Elmatica auditor for PCB subcontractors
29 January 2020, Elmatica , News
Expanding on its international relationship with SAAB Avionics, printed circuit board supplier Elmatica's Jan Pedersen successfully completed the Part 21, Subpart G training, regarding auditing of printed 
...
Read more...
---
Electronics news digest
29 January 2020 , News
South Africa
• More than 2400 people braved pouring rain in Gauteng to attend the 5th Science Forum South Africa (SFSA) at the CSIR International Convention Centre in December. The annual Department 
...
Read more...
---
Appointment: ExecuKit
29 January 2020, ExecuKit , News
ExecuKit has appointed Marshant Benadie in a technical support role.    His duties will include developing business with clients within the electronics distribution and manufacturing industry; managing 
...
Read more...
---
Repro installs new SMT production line
29 January 2020 , News
The company is actively seeking business for this new assembly line, which promises extensive flexibility and high accuracy, and can easily be expanded for higher production volumes.
Read more...
---
AREI's plans for 2020
29 January 2020 , Editor's Choice, News
Erich Nast, chairman of AREI, discusses what the association's plans are to tackle the challenges and opportunities that lie ahead.
Read more...
---
Check out Dataweek's new-look website
29 January 2020, Technews Publishing , Editor's Choice, News
Our technical design elves have been locked away in our basement for months, improving the visual design and functionality of the Dataweek website.
Read more...
---
From the editor's desk: A fresh start, but a sad farewell?
29 January 2020, Technews Publishing , News
A couple of years ago, not many people had heard of Yekani. The company bought a stake in the well-known East London-based satellite decoder maker, Vektronix, and subsequently acquired it in its entirety. When 
...
Read more...
---
Actum Group merges its brands under one roof
29 January 2020, Actum Electronics , News
Over the years, Actum Group has been built through partnerships, collaborations and acquisitions of leading companies with a long history and rich legacy in the industry. These companies include Actum 
...
Read more...
---
Company profile: ETION Create
EMP 2020 Electronics Manufacturing & Production Handbook, ETION Create , News
ETION Create is an original design manufacturer (ODM) that has been in operation for more than 25 years. Originally known as Parsec, the company was founded in 1993, focusing on the design, development 
...
Read more...
---
Company profile: Laser Stencil Technology
EMP 2020 Electronics Manufacturing & Production Handbook, Laser Stencil Technology , News
Since its inception in 2004, Laser Stencil Technology has grown into a prominent figure in the South African electronics manufacturing industry. Having been involved in circuit board manufacturing using 
...
Read more...
---