printer friendly version
No-frills industrial routers gaining prominence
9 November 2016
Telecoms, Datacoms, Wireless, IoT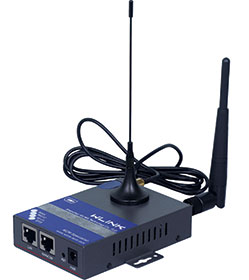 Over the past three years the WLINK R200, R210, R220 and R520 ranges of industrial mobile routers have been incorporated into the South African telecommunications industry, servicing applications ranging from vending machines to self-service kiosks to PLC systems to traffic management systems and mobile hotspots.
The various combinations of supported technologies include LTE, HSPA, Wi-Fi, GPS, dual-SIM, RS232, I/Os and OpenWRT. With such a feature rich portfolio of supported technologies, certain applications will inevitably end up deploying routers that have excess or non-utilised features for their current systems. Features that are supported on devices, particularly on electronic devices, that are never utilised by the user or system, results in a higher cost of deployment of these systems.
The WL-R100 range of industrial routers has now been launched in South Africa to address the growing requirement for affordable 3G and LTE industrial connectivity devices focused on maximising online mobile connectivity for networks or devices. By utilising only the fundamental components from the design of the existing range of router boards, a simple, effective, low-cost 3G and LTE solution has been developed.
The reliability of the mobile connectivity provided by the router is achieved through a heartbeat message sent from the router to a configured destination address available on the Internet or network. The router automatically creates a mobile connection with a valid SIM card, and to maintain an uninterrupted Internet connection the router can be set to send an ICMP ping to a public server address such as google. If the ICMP ping is not responded to after retrying a user configurable number of times, the router can reboot its connection or the entire system to act as a self-managed connectivity mechanism.
Similarly, for private APN network deployments, a private server can be used as the destination for the routers to check their network connectivity status. The robustness of this keep-alive method stems from the fact that it is a real-time network throughput test which does not rely on network status management but rather a response from another device – which can be at a completely different location – across the Internet.
The WL-R100 routers support a single 10/100 Mbps Ethernet port which is suitable for PCs, network switches, access points and M2M devices. By connecting a network switch onto the single Ethernet port on the router, multiple network clients can be added to the network, which complements a scalable system deployment approach. This can be particularly useful to sites that have long distances between network clients, where multiple scaled-down routers and networks can be deployed as opposed to single large networks covering the full site with a single more expensive mobile connectivity gateway.
A simple connectivity gateway is the perfect companion for sites utilising high-power 5,8 GHz Wi-Fi networks, as the networking infrastructure costs are carried with the high-power 5,8 GHz equipment which results in each piece of equipment being the core focus to the technology it adds to the overall system.
Serviced-based applications requiring mobile connectivity often require a level of remote management for their systems. Many 'standard' SIM card providers restrict remote access to the device behind a SIM card as a means of providing a security layer for the device. This does not assist with remotely managing networks and devices. Unrestricted public SIM cards, however, also present a problem for remote management in that the IP address assigned by the network to the SIM card is dynamic and as such each cellular reconnect will retrieve a new IP address for the router. To overcome dynamic IP address assignment by the network the router offers two reporting features: dynamic domain name server (DDNS) updates and M2M server.
DDNS updates provide users with a means of configuring a DDNS service provider account onto the router which allows system administrators to view dynamic IP addresses on routers through their service provider dashboard. This also enables accessing the router remotely via a domain name which never changes – as though the user were connected locally at the site.
M2M server is a free client-server support application which allows system administrators to host their own server platform to manage deployed routers that have been configured to report into the server. The M2M platform provides the capability of remotely accessing the router similarly to the DDNS method, but rather through the current IP address assigned to the router which is reported on the platform. The M2M platform also offers extended information reporting such as the signal strength of routers in the field.
The single (3G) and dual (LTE) external antenna interfaces supported on the routers enable installers to position and align antennas according to the site the routers are deployed at. M2M system administrators are able to verify signal quality at new installations in order to maximise the full capability of the speeds available on the mobile networks.
The ability to have a low-cost mobile connectivity device which is self-managed and to be able to remotely access the device when required, enables system administrators using a WL-R100 to spend less time concerned with their system connectivity so that more time can be focused on the application service being offered.
The entire M2M back-end management platform is offered as a free service, which, when coupled with the highly competitive pricing for the WLINK router hardware and the technical support offered by Otto Wireless Solutions, has seen WLINK's industrial routers becoming a popular choice in the South African market.
For more information contact Chris Viveiros, Otto Wireless Solutions, +27 (0)11 791 1033, chris@otto.co.za, www.otto.co.za
Credit(s)
Further reading:
RF variable attenuator
29 January 2020, RF Design , Telecoms, Datacoms, Wireless, IoT
The 4209-30-63-1 from API Technologies - Weinschel is a solid-state programmable attenuator that operates from 0,1 to 30 GHz. It has an attenuation range from 0 to 63 dB with a step size of 0,5 dB and 
...
Read more...
---
GaN is breaking barriers for RF power amplifiers
29 January 2020, Altron Arrow , Telecoms, Datacoms, Wireless, IoT
The increasing demand for higher data rates in telecommunications and higher resolution in industrial systems is pushing the frequency of operation higher for the electronics that support them. Many of 
...
Read more...
---
V2X: The future of vehicle communications
29 January 2020, Avnet South Africa , Editor's Choice, Telecoms, Datacoms, Wireless, IoT
A recent report by Juniper Research forecasts that more than 62 million vehicles will be capable of vehicle-to-vehicle communication by 2023; up from just over 1,1 million in 2019.
Read more...
---
PCIe 2.0 packet switches
29 January 2020, Altron Arrow , Telecoms, Datacoms, Wireless, IoT
Diodes Incorporated announced the PI7C9X2G304EVQ and PI7C9X2G404EVQ PCIe 2.0 packet switches, offering 3-ports/4-lanes and 4-ports/4-lanes, respectively. The packet switches are automotive-compliant for 
...
Read more...
---
High-performance IoT SoCs with dual processors
29 January 2020, RF Design , Telecoms, Datacoms, Wireless, IoT, Editor's Choice
Nordic Semiconductor's new nRF5340 high-end multiprotocol system-on-chip (SoC) is the first member of its next generation of nRF5 Series SoCs. The nRF5340 builds on Nordic's proven and globally adopted 
...
Read more...
---
STM32 system-on-chip for LoRa
29 January 2020, Avnet South Africa , Telecoms, Datacoms, Wireless, IoT
Powering the search for sustainability through smart infrastructure and logistics, smart industry and smart living, STMicroelectronics has revealed the world's first LoRa system-on-chip (SoC) for connecting 
...
Read more...
---
Prototyping board for IoT equipment
29 January 2020, Hi-Q Electronics , Telecoms, Datacoms, Wireless, IoT
Renesas Electronics recently launched the RL78/G14 fast prototyping board – a low-cost, function-rich board to enable rapid product development for IoT endpoint equipment. The company also introduced 
...
Read more...
---
IP67 rated antenna for all cellular bands
29 January 2020, RF Design , Telecoms, Datacoms, Wireless, IoT
The Taoglas GSA.8835 is a fully IP67-rated waterproof 5G/4G external adhesive-mount antenna designed for use with all cellular modules worldwide, including new 5G bands. With extended wideband cellular 
...
Read more...
---
High-accuracy antenna for GPS
29 January 2020, iCorp Technologies , Telecoms, Datacoms, Wireless, IoT
The PB40D9 antenna from Unictron is a high-performance solution for high-accuracy, centimetre-level tracking in telematics applications, especially designed for precision dual-frequency positioning on 
...
Read more...
---
Oil-dielectric RF termination loads
29 January 2020, Comtest , Telecoms, Datacoms, Wireless, IoT
For maximum process repeatability and consistency, modern plasma applications require precise RF power regulation and control. A key component in ensuring accurate and repeatable RF power delivery to 
...
Read more...
---