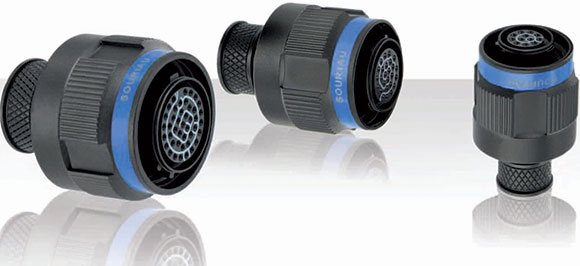 Souriau has released a new range of 38999 Series III connectors with integrated backshell, answering the growing need in the aviation and defence industries for smaller, lighter components.
The new model provides superior electrical continuity and higher signal protection due to the reduced number of interfaces, while the entire integrated connector decreases costs and simplifies logistics.
The mating interface of the 38999 Series III connector fully complies with MIL-DTL-38999 SIII and EN 3645, meaning that it can be used in place of standard plugs. It is compatible with VG 95343 and MIL-I-81765 accessories and is available in over 90 layouts. The rear interface features a milling pattern that accommodates the broadest range of clamps/ground braid connections, and an optimised groove for heat-shrink sleeves or overmoulding needs.
Featuring a temperature range of -55°C to +175°C (or up to 200°C, depending on the shell material specified) and IP67 rating when sealed, the connectors have an endurance of 500 mating / unmating cycles, and the plugs are available in 9 sizes from 09 to 25.
For more information contact Hiconnex, +27 (0)12 661 6779, info@hiconnex.co.za, www.hiconnex.co.za