printer friendly version
Actum: Building on reputation in the local electronics sector
EMP 2017 Electronics Manufacturing & Production Handbook
News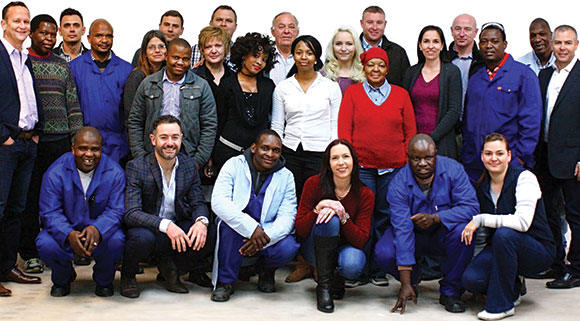 As a niche importer and distributor of quality components and instrumentation products, the Actum Group has built up a solid reputation in the local
electronics sector, by embarking on a diversification and expansion strategy that recently saw it acquire Dowson & Dobson Industrial.
The Actum Group comprises two main divisions. Actum Electronics focuses on electronic components, while Actum Industrial encompasses industrial products, pneumatics and professional tooling. "All these businesses have been well-established brands in their respective markets," Kevin Klaff, director of the Actum Group, explains.
"When we acquired Actum Electronics in 2004, we took over what was a relatively niche importer of electronic components. At that time it had already been established in the market for 35 years, with an excellent reputation in the local electronics sector," he notes.
In 2006, Actum acquired Altico Static Control Products, a specialist in static control solutions for the electronic manufacturing, telecoms and military markets. Altico is the sole provider in the South African market of a complete range of ESD (electrostatic discharge) products and solutions. Its offering in the ESD space is comprehensive, ranging from ESD inspections and audits to complete ESD facility installation and encompassing ESD consumables. According to Actum co-director Greg Barron, Altico is the only business in the industry that offers such a complete service offering. "Our experience allows us to kit out an ESD facility from a shell through to production phase," he states.
In 2007, Actum acquired Connecta, a connectivity components supplier to the electronics, military, mining and industrial markets. This diversified the Actum Group further into the industrial and mining sectors. Both these businesses had been in operation for more than 25 years and fitted the requirement for good-quality niche products with a strong brand name.
The acquisition of Peter Jones Electronic Equipment, a leader in the diagnostic, analytical and process instrumentation industry, continued this expansion apace in 2012. This was an important step as it elevated the Actum Group's product range from a component level to an integrated solutions offering. "We acquire brands that fit within our scope of expertise, and that complement the group's vision. Our expansion goals are focused mainly on acquiring businesses with a similar model," Barron explains.
The Actum Group is striving to take all of its brands to what it describes as the next level, through improved customer relations, better stockholding and faster response times. "Our vision is to provide our clients with the best quality industrial and electronic products," Klaff emphasises. "Quality is a given across our entire product range, as all of our principals are global leaders in their respective markets. It is this focus on quality, together with our enhanced customer communications, that will continue to differentiate us in the marketplace."
Looking to the future, Barron concludes that the Actum Group will continue to focus on expanding its dedicated technical sales team, offering customised product and solutions packages to its extensive customer base.
For more information contact Kevin Klaff, Actum Group, +27 (0)11 608 3001, kevin@actum.co.za, www.actum.co.za
Credit(s)
Further reading:
Personality profile: Jean Mearns
29 July 2020, WH Circuit , News
"No one works for me, they only work with me, for without each other our team will fail to exceed the expectations of our customers."
Read more...
---
Letter to the editor
29 July 2020 , News
I take exception to the article 'To fake or not to fake' published in the June edition of Dataweek that is clearly based on the principle 'guilty until proven innocent'. I am by no means an expert 
...
Read more...
---
Q&A with Brandon Kuhn and Steve Stafford
29 July 2020 , News
Q: What is the rationale behind the reorganisation? What impact will it have on Avnet's customers in South Africa?    A (Kuhn):
Since 2009, our shared front-end model in South Africa has differed from the 
...
Read more...
---
Avnet EMEA names two new leaders to SA operation
29 July 2020 , News
Avnet has named Steve Stafford and Brandon Kuhn as new leaders in South Africa following the completion of a reorganisation in the region.
Read more...
---
UCT chooses Tektronix instruments for training lab
29 July 2020, Comtest , News
Comtest, local partner to Tektronix, recently assisted the University of Cape Town (UCT) physics department in refurbishing its electrical training laboratory. All of the existing analog oscilloscopes 
...
Read more...
---
New electromagnetic solutions range from Accutronics
29 July 2020, Accutronics , News
Accutronics has been appointed as the reseller for the Electromagnetic Integrated Solutions (EIS) range of products from API Technologies. APITech offers a complete line of coaxial EMI solutions, 
...
Read more...
---
Fighting COVID-19 using TV white space spectrum
29 July 2020 , News
The CSIR has partnered with the Technology Innovation Agency (TIA) to enable local Internet service providers to deploy Television White Space (TVWS) networks, using the CSIR-developed Secondary Geo-Location 
...
Read more...
---
Clearing the Static: ESD wrist straps
29 July 2020, Actum Electronics , News
The human body is the primary source of electrostatic charge generation. In order to control and reduce static charge build-up and prevent electrostatic discharges (ESD), we use grounding systems to ensure 
...
Read more...
---
From the editor's desk: This too shall pass
29 July 2020, Technews Publishing , News
Things were tough enough for the South African electronics manufacturing industry before, but this year has thrown up unprecedented challenges that nobody could have foreseen and which are outside of 
...
Read more...
---
Electronics news digest
29 July 2020 , News
South Africa
• As part of the national data-driven approach to countering COVID-19, the CSIR has developed a platform that monitors human mobility to better understand movement patterns across specific 
...
Read more...
---