printer friendly version
Handheld digital magnifier
EMP 2017 Electronics Manufacturing & Production Handbook
Test & Measurement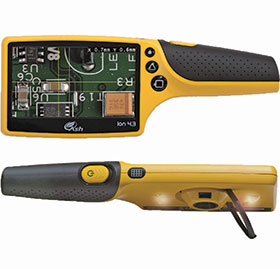 The Ion 4.3 from Ash Technologies is a handheld digital magnifier which provides crystal clear images for the user. It is used for tasks such as visual inspection, quality control, repair and rework, and digital image recording and documentation storage.
The Ion's display delivers unrivalled sharp, bright and high contrast images. Its impressive colour display and wide viewing angle provides comfortable use in awkward-to-access places and in poor lighting conditions. Its unique dimensioning grids and cursors enhance the capability and efficiency of decision making for inspection operators and technicians.
With its 4,3" screen, delivering a resolution of 480 x 272 pixels, zoom of x7 to x14 for close-up work, and ease of use with a micro-USB for downloading of captured images, the Ion 4.3 is the perfect companion for a variety of engineering roles.
For more information contact Chris Viveiros, Otto Wireless Solutions, +27 (0)11 791 1033, chris@otto.co.za, www.otto.co.za
Credit(s)
Further reading:
Double pulse test software for Tektronix AFG
29 January 2020, Comtest , Test & Measurement
Comtest announced the availability of Tektronix' new software plugin for its AFG31000 arbitrary function generator (AFG), making it possible to perform crucial double pulse testing in less than a minute, 
...
Read more...
---
Battery charge/discharge test system
29 January 2020, Conical Technologies , Test & Measurement
The ITS5300 battery charge and discharge test system from ITECH is designed for a variety of power batteries including lead acid, nickel hydrogen, lithium batteries, supercapacitors, hydrogen fuel cells 
...
Read more...
---
DIN-rail programmable transmitter
23 October 2019, Instrotech , Test & Measurement
Calog Instrument's versatile DPM9000 series – a miniature DIN-rail mount programmable isolated transmitter range – boasts high reliability and a versatile, wide range of programmable inputs. With dimensions 
...
Read more...
---
Hands-on learning module
23 October 2019, Altron Arrow , Test & Measurement
The ADALM2000 (M2K) active learning module is an affordable, USB-powered, software-defined instrument that exceeds the capabilities of its predecessor ADALM1000 (M1K). With 12-bit ADCs (analog-to-digital 
...
Read more...
---
Digital multimeter with thermal imager
23 October 2019, RS Components (SA) , Test & Measurement
A digital multimeter (DMM) with a built-in thermal imager has been added to RS Components' RS PRO product range. The RS-9889 allows engineers to identify thermal overload issues in electrical equipment 
...
Read more...
---
Otto Wireless launches Mipot LoRaWAN modules
23 October 2019, Otto Wireless , Telecoms, Datacoms, Wireless, IoT
Otto Wireless Solutions has been appointed as a distributor for Mipot Spa, an Italian-based company specialising in the R&D, design, manufacture and sale of ISM-band RF wireless modules, aimed specifically 
...
Read more...
---
Project-based learning for the modern engineer
23 October 2019 , Test & Measurement
Projects that inherently challenge students to use innovative design thinking often involve interacting with an unknown process or device. Students are encouraged to understand the unknown through theory, 
...
Read more...
---
Automotive Ethernet testing software
25 September 2019, Comtest , Test & Measurement
Tektronix has released two new software packages that greatly simplify Automotive Ethernet testing, debug and protocol decode for use with its 5 and 6 Series mixed-signal oscilloscopes (MSO). Using 
...
Read more...
---
4-channel PC-based oscilloscope
28 August 2019, Vepac Electronics , Test & Measurement
The newly developed Model 1330 from Peaktech is a 4-channel PC oscilloscope with 100 MHz bandwidth and 1 GSps sample rate, which is suitable for mobile use on a laptop, and permanent installation in control 
...
Read more...
---
Handheld PoE tester
26 June 2019, Coral-i Solutions , Test & Measurement
Ideal Networks has launched a new handheld tester that eliminates guesswork when installing, maintaining and troubleshooting PoE devices and data cabling. PoE Pro measures and reports PoE class, voltage/voltage 
...
Read more...
---