printer friendly version
PXIe instruments for advanced wideband research
22 March 2017
Test & Measurement
Keysight Technologies announced 10 new PXIe instruments, including a new arbitrary waveform generator (AWG) that includes three highly synchronised channels for precise tuning of IQ waveforms and envelope tracking, as well as the industry's first full-featured PXI oscilloscope.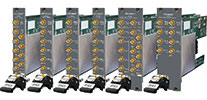 The AWG and oscilloscopes provide up to 1 GHz bandwidth to support complex baseband IQ signal generation and analysis for evaluating emerging 5G and aerospace and defence wideband technologies.
"Keysight, through proprietary chip technologies, is producing very high performance instruments in modular form factors, and the release of these 10 new ones is evidence of that," says Steve Alves, marketing director at Keysight's southern African partner, Concilium Technologies. "The scope, for example, boasts full-blown X-Series scope performance rather than simply being a digitiser with a scope GUI."
The new PXI offering includes AWGs and digitisers that allow engineers to build onto the instrument's core capabilities or insert custom algorithms into the onboard FPGAs. A graphical design environment makes it easy to add customisation required for emerging technologies, research and design, while accessing the full performance and speed of the FPGA. The M3xxxA AWGs and digitisers use the FPGA and PXI reference clock to provide real-time sequencing and multi-channel/multi-module synchronisation to support advanced multi-channel applications like multi-user beamforming technologies and quantum computing.
Ideal for creating digitally modulated waveforms for wideband communication systems and high resolution waveforms for radar and satellite test, the M9336A PXIe AWG includes multiple independent or synchronised signal outputs. It provides advanced performance in a single-slot PXIe module including 16-bit resolution, up to 1 GHz modulation bandwidth, and individual channel control of gain, offset and skew. Engineers can generate industry-standard and custom waveforms for the AWG by using Signal Studio, MATLAB, Waveform Creator or other tools, and easily integrate them into multiple application development environments.
The M9243A PXIe oscilloscope is built with Keysight's InfiniiVision oscilloscope technology, providing up to 1 GHz bandwidth for quick analysis and troubleshooting of wideband signals. With a 1 million waveforms per second update rate and advanced probing technology, the oscilloscope enables troubleshooting of random and intermittent signals not easily seen with digitiser technology. Powerful features include cursors and markers, advanced triggering, waveform averaging, masks and 31 selectable measurements. When the scope is combined with 89600 VSA software, engineers can demodulate and evaluate complex IQ waveforms with a full 1 GHz bandwidth.
For more information contact Lizzy Mabaso, Concilium Technologies, +27 (0)12 678 9200, info@concilium.co.za, www.concilium.co.za
Credit(s)
Further reading:
Ethernet tap for IO Ninja
25 March 2020, RF Design , Test & Measurement
Monitoring network communications of your PC can be accomplished without any specialised hardware – just use the Pcap Sniffer plugin of IO Ninja. The task of tapping into the Ethernet traffic of a non-PC 
...
Read more...
---
Bench-top vector signal generator
29 April 2020, RFiber Solutions , Test & Measurement
The T3267E series bench-top vector signal generator from Transcom Instruments has excellent radio frequency performance and rich signal generating function. It can provide arbitrary wave, continuous 
...
Read more...
---
Tektronix and Coherent Solutions partner for fully integrated optical comms
25 March 2020, Comtest , Test & Measurement
Comtest has announced that technology companies Tektronix and Coherent Solutions have an exclusive partnership agreement to provide fully integrated optical communications platforms to new and existing 
...
Read more...
---
Vector network analyser training kit
26 February 2020, Comtest , Test & Measurement
Pico Technology has added significant functionality and value to its low-cost, high-performance vector network analyser (VNA), by joining the NI/AWR Connected Partner community. The PicoVNA interface 
...
Read more...
---
Better phase noise measurement for Infiniium UXR scopes
26 February 2020, Concilium Technologies , Test & Measurement
Keysight Technologies and Silicon Labs announced a collaboration that streamlines the validation of timing solutions critical in the development of system-level designs for wireless communications, high-speed 
...
Read more...
---
Eliminate risk with proper calibration
26 February 2020, Concilium Technologies , Test & Measurement
Proper calibration lowers cost of test by reducing the number of incorrect decisions made, by improving instrument performance.
Read more...
---
Double pulse test software for Tektronix AFG
29 January 2020, Comtest , Test & Measurement
Comtest announced the availability of Tektronix' new software plugin for its AFG31000 arbitrary function generator (AFG), making it possible to perform crucial double pulse testing in less than a minute, 
...
Read more...
---
Battery charge/discharge test system
29 January 2020, Conical Technologies , Test & Measurement
The ITS5300 battery charge and discharge test system from ITECH is designed for a variety of power batteries including lead acid, nickel hydrogen, lithium batteries, supercapacitors, hydrogen fuel cells 
...
Read more...
---
DIN-rail programmable transmitter
23 October 2019, Instrotech , Test & Measurement
Calog Instrument's versatile DPM9000 series – a miniature DIN-rail mount programmable isolated transmitter range – boasts high reliability and a versatile, wide range of programmable inputs. With dimensions 
...
Read more...
---
Hands-on learning module
23 October 2019, Altron Arrow , Test & Measurement
The ADALM2000 (M2K) active learning module is an affordable, USB-powered, software-defined instrument that exceeds the capabilities of its predecessor ADALM1000 (M1K). With 12-bit ADCs (analog-to-digital 
...
Read more...
---