printer friendly version
Electronics news digest
19 September 2012
News
Overseas
Business
Analog Devices announced financial results for its third quarter of fiscal year 2012, which ended 4 August. Revenue totalled $683 million, approximately 1% higher than the preceding quarter but 10% below last year's third quarter figure. Net income was $170 million, or $0,56 per diluted share, compared with $163 million, or $0,53 per diluted share, in 2Q12 and $220 million, or $0,71 per diluted share, in 3Q11. The company's board of directors also declared a cash dividend of $0,30 per outstanding share of common stock.
Companies
After Cypress Semiconductor extended its tender offer to acquire all of the outstanding stock of Ramtron for $2,88 per share in cash, Ramtron announced that its board of directors will carefully review and consider the offer.
Arrow Electronics announced that Microchip Technology's broad range of embedded semiconductors and solutions is now available through Arrow's components portfolio, under a global distribution agreement between the companies. The local market will be serviced by Arrow through its South African branch, Arrow Altech Distribution.
Xilinx announced the acquisition of embedded Linux solutions provider PetaLogix. The move seeks to serve the trend of Linux solutions becoming must-haves for a growing number of embedded applications relying on Xilinx programmable technologies. Financial details were not disclosed.
Private equity firm KKR is reportedly in talks to acquire a controlling interest in the troubled Japanese semiconductor giant Renesas. Renesas' stock value surged following news of the offer, which is equivalent to roughly $1,3 billion.
Integrated Device Technology has been chosen by Intel to develop an integrated transmitter and receiver chipset for its wireless charging technology based on resonance technology. Intel aims to deliver validated reference designs that are targeted for deployment in Ultrabooks, all-in-one PCs, smartphones and standalone chargers.
* FCI, a leading supplier of connectors and interconnect systems, has given its 'Outstanding Performance in High Service Level Distribution within Europe' award to RS Components for the second year running. RS now offers more than 1500 FCI parts.
Industry
Following a lacklustre period of average annual market growth in the semiconductor industry, a significant upturn is in store for the next five years, according to IC Insights. Table 1 compares the cumulative average growth rates (CAGRs) for the total semiconductor market and for several key product segments.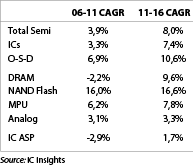 Table 1
The worldwide automotive market has managed to remain surprisingly buoyant, despite poor consumer confidence, and has even registered some growth during the first two quarters of 2012, Databeans has reported. As shown in Table 2, the market for semiconductor products in this industry is set to grow strongly over the next five years, driven by trends like increased wireless connectivity, energy savings, safety and electric and hybrid electric vehicles.

Table 2
In a move that may have a significant impact on the global electronics manufacturing industry, the government of Chinese city Shenzhen is reportedly considering raising its minimum wage rate by around 13% next year. As a result, the region, where much electronics manufacturing (of notebooks in particular) takes place, may become less desirable as a manufacturing destination.
According to IDTechEx, the market for piezoelectric energy harvesters is set to grow substantially in the coming years, with technology investment expected to rise to $145 million in 2018. Thereafter, it will create a $667 million market by 2022. The number of units are expected to rise from 100 million this year – predominately used in cigarette lighters – to 300 million units in 2022.
Weakening economic conditions are spurring reduced demand for PCs and related electronic components, prompting IHS to downgrade its forecast for 2012 global semiconductor market chip revenue. Global semiconductor revenue is now expected to decline slightly for the year, contracting by 0,1%, according to preliminary results from iSuppli. The previous IHS forecast called for marginal growth of less than 3%. This will mark the first annual decline for the global semiconductor industry since 2009.
Technology
Science journal Nanotechnology has published a paper highlighting the work of Korean researchers at Sunchon National University and Paru Printed Electronics Research Institute, in developing an affordable tag for near-field communication (NFC). Known as a 'rectenna', the device can be manufactured for as little as one American penny apiece and can be powered by the energy given off by a smartphone's radio waves. The rectenna is manufactured using printing technology and can be placed on objects such as price tags, signs and logos.
Scientists at Sweden's Umeå University have produced organic light-emitting electrochemical cells (LECs) using an inexpensive printing process (pictured below), allowing them to be produced as large-area, extremely thin light-emitting devices for informative displays and, potentially, lighting applications.

LG's chemical division, LG Chem, has developed a flexible type of lithium-ion battery that takes the form of a cable a few millimetres in diameter. Thanks to its flexibility, the battery can be applied to a vast number of untapped applications, and can even be tied in knots, as pictured below.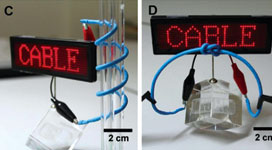 The next electronic wonder material may come not from a breakthrough in nanotechnology but from Mother Nature. Produced from wood pulp, nanocrystalline cellulose (NCC) is strong, light, transparent and conducts electricity. NCC production is expected to become a $600 billion industry by 2020, and the material is already being used by IBM to create computer components.
Further reading:
Plan your media strategy with Technews Publishing
23 October 2019, Technews Publishing , News
Dear Marketer, Have you ever looked back on a year and wondered how you survived it? For the majority of South Africans, 2019 started benignly enough, cosily wrapped in the blanket of Ramaphoria that 
...
Read more...
---
From the editor's desk: Getting charged up for the new year
25 November 2019, Technews Publishing , News
The Springboks' Rugby World Cup triumph in Japan couldn't have come at a better time for South Africa, as the country was in desperate need of a jolt of positive energy going into the festive season. 
...
Read more...
---
Battery Technologies Conference 2019
25 November 2019 , News, Editor's Choice
Batteries are a critical enabler of the Fourth Industrial Revolution, powering technology in products from laptops and handheld devices to electric vehicles and renewable energy storage.
Read more...
---
Boom, doom and gloom, or something completely different?
25 November 2019, Technews Publishing , News, Editor's Choice
As the end of 2019 looms, it's time to look ahead to what next year might have in store, and reflect on the year gone by. And what a year it's been.
Read more...
---
Actum Group remains resilient and optimistic for 2020
25 November 2019, Actum Electronics , News
Running a profitable business in South Africa is not for the fainthearted. With the national treasury downgrading this year's growth forecast from 1,5% to 0,5%, and state-owned entities like Eskom negotiating 
...
Read more...
---
Additional renewable energy development zones proposed
25 November 2019 , News
The second phase of the Strategic Environmental Assessment (SEA) for wind and solar photovoltaic (PV) energy in South Africa proposes three additional Renewable Energy Development Zones (REDZs) for wind 
...
Read more...
---
Locally developed electronic circuit builder for students
25 November 2019, K Measure , News, Editor's Choice
K Measure, creator of the award-winning Seebox engineering education solution, has created a new innovation to enable quick and easy electronic circuit-building. The SeeBlocks electronic circuit creator 
...
Read more...
---
Clearing the Static:Topic 9: Time to audit your ESD environment
25 November 2019, Actum Electronics , News
Now that we are nearing the end of the year, it is a good time to audit your existing static control products and procedures. The first line of defence should be your antistatic floor, since this is the 
...
Read more...
---
Winning hackathon entry curbs cell tower battery theft
25 November 2019 , News
The fourth annual TADHackJHB was held at MTN's head office in Fairland, Johannesburg, on 12 and 13 October, with a cell tower protection app emerging as the winner. The theme for the 2019 global TADHack 
...
Read more...
---
Products of the Year 2019
25 November 2019 , News
SmartServer IoT by Adesto
BAW-based chips for comms infrastructure
Cellular modules for LPWA applications
SoCs and software for smart home and IIoT
Secure element for IoT authentication
MPU for embedded 
...
Read more...
---