printer friendly version
Millimetre-wave network analyser solution
14 June 2017
Test & Measurement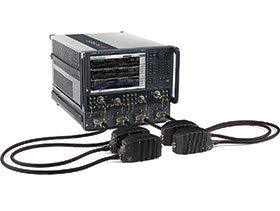 Keysight Technologies announced a broadband millimetre-wave network analyser solution that delivers system-level accuracy up to 120 GHz. The new Keysight N5290/91A solutions produce metrology-grade results that enable leading-edge developers to confidently characterise their millimetre-wave designs.
The new solution enhances device characterisation and modelling by delivering exceptional stability and accuracy for on-wafer and connectorised measurements. Magnitude stability is less than 0,015 dB and phase accuracy is less than 0,15 degrees over a 24-hour period.
The calibration capabilities are based on an improved-accuracy database that supports a 1,0 mm calibration kit (85059B) and a 1,0 mm verification kit (85059V). With this foundation, the new broadband millimetre-wave solution provides measurement results that are traceable to national metrology institutes.
Core elements of the system are a Keysight PNA or PNA-X network analyser, along with N5293A Series compact frequency extenders and the N5292A test-set controller. To simplify benchtop measurements, engineers can mount the frequency extenders on an optional desktop positioner.
Ruggedised 1,0 mm test ports ensure repeatable connections that improve calibration uncertainty and therefore system-level measurement precision. Users can apply automatic fixture de-embedding to connectorised measurements or perform calibration at the probe tips during on-wafer measurements.
The optional 900 Hz start frequency, with Options 205 or 425, enables engineers to characterise the low-frequency performance of their devices. This is especially useful when measuring the low-loss transmission line structures that are commonly used in high-speed digital applications.
Keysight collaborated with solution partner Cascade Microtech to provide a complete wafer measurement solution (WMS) based on the N5290/91A and the Keysight W8580BP WaferPro Express Core Measurement Bundle (software, drivers and database). The WMS program provides guaranteed configuration, installation and support to reduce risk and accelerate time to first measurement.
The broadband millimetre-wave solution also supports a variety of Keysight's proven measurement applications. Examples include complete characterisation of amplifiers and frequency converters (gain compression software option), measurements of mixers and frequency converters (scalar mixer software option), and calibrated multi-channel spectrum measurements (extended spectrum analyser software option).
Keysight is also introducing a multi-touch user interface (UI) for all models in the PNA Series of network analysers. Updates to the UI include a 12,1" widescreen display; easy access to frequently used functions; quick setups using touch-activated tabbed softkeys and dialogue menus; and intuitive single- and multi-touch gestures to drag-and-drop or magnify traces.
For more information contact Lizzy Mabaso, Concilium Technologies,+27 (0)12 678 9200, info@concilium.co.za, www.concilium.co.za
Credit(s)
Further reading:
Approval for industry-first 3GPP Release 16 protocol conformance test
Coral-i Solutions Test & Measurement
The Conformance Agreement Group (CAG) operated by the Global Certification Forum (GCF) approved the industry's first Release 16 Protocol Conformance tests for 5G New Radio (NR) at the CAG#68 meetings 
...
Read more...
---
Keysight delivers easily accessible e-learning content
Concilium Technologies Test & Measurement
Recently premiered by Keysight Technologies, Keysight University is an interactive online platform for engineers to learn about test and measurement fundamentals, engineering design tips and best practices 
...
Read more...
---
Modular, portable 5G RF spectrum analyser
Test & Measurement
EXFO recently introduced the 5GPro spectrum analyser, representing what it claims is the only modular, field-focused RF testing solution providing accurate visibility into 4G/LTE and 5G NR environments 
...
Read more...
---
eBook: Engineering for advanced radar and EM spectrum operations
Concilium Technologies Technical Literature
As nations and their military forces are progressing toward a new era of modernisation, their technological advancements leave no stone unturned for the dominance of the electromagnetic (EM) spectrum. 
...
Read more...
---
New Microchip in-circuit emulator
Altron Arrow Test & Measurement
Embedded engineers seeking complete analysis of projects for rapid development require easy-to-use yet powerful emulation hardware. Microchip Technology has accordingly announced the MPLAB ICE 4 next-generation 
...
Read more...
---
RF receiver for spectrum regulators
Measuretest Test & Measurement
CRFS announced the launch of a new high-performance RF receiver, the RFeye Node 40-8, specifically designed to meet the needs of communications regulators. With a 40 MHz instantaneous bandwidth and 9 kHz 
...
Read more...
---
Single-instrument test solution for 5G IoT verification
Coral-i Solutions Test & Measurement
Anritsu has introduced the radio communication test station MT8000A 5G entry model, a single-instrument solution that supports multiple radio access technologies (RATs) of LTE through 5G NR. The 5G entry 
...
Read more...
---
Mixed-signal oscilloscopes with flexible resolutions
Comtest Test & Measurement
Pico Technology released the PicoScope 6000E Series FlexRes oscilloscopes, featuring eight channels with 500 MHz bandwidth, 16 digital channels and resolution of 8, 10 or 12 bits. The products work with 
...
Read more...
---
Critical airborne system testing from a single device
Measuretest Test & Measurement
New from Viavi Solutions is the AVX-10K flight line test set, enabling comprehensive performance verification testing of critical airborne systems from a simple-to-use device. The instrument helps avionics 
...
Read more...
---
PTP wander measurement for improved 5G network synchronisation
Coral-i Solutions Test & Measurement
Anritsu has added a function for PTP wander – a metric for evaluating frequency variations as low as 10 Hz with respect to the PTP (precision time protocol) network time synchronisation error – to the 
...
Read more...
---