printer friendly version
Millimetre-wave network analyser solution
14 June 2017
Test & Measurement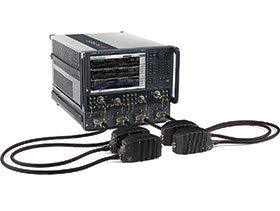 Keysight Technologies announced a broadband millimetre-wave network analyser solution that delivers system-level accuracy up to 120 GHz. The new Keysight N5290/91A solutions produce metrology-grade results that enable leading-edge developers to confidently characterise their millimetre-wave designs.
The new solution enhances device characterisation and modelling by delivering exceptional stability and accuracy for on-wafer and connectorised measurements. Magnitude stability is less than 0,015 dB and phase accuracy is less than 0,15 degrees over a 24-hour period.
The calibration capabilities are based on an improved-accuracy database that supports a 1,0 mm calibration kit (85059B) and a 1,0 mm verification kit (85059V). With this foundation, the new broadband millimetre-wave solution provides measurement results that are traceable to national metrology institutes.
Core elements of the system are a Keysight PNA or PNA-X network analyser, along with N5293A Series compact frequency extenders and the N5292A test-set controller. To simplify benchtop measurements, engineers can mount the frequency extenders on an optional desktop positioner.
Ruggedised 1,0 mm test ports ensure repeatable connections that improve calibration uncertainty and therefore system-level measurement precision. Users can apply automatic fixture de-embedding to connectorised measurements or perform calibration at the probe tips during on-wafer measurements.
The optional 900 Hz start frequency, with Options 205 or 425, enables engineers to characterise the low-frequency performance of their devices. This is especially useful when measuring the low-loss transmission line structures that are commonly used in high-speed digital applications.
Keysight collaborated with solution partner Cascade Microtech to provide a complete wafer measurement solution (WMS) based on the N5290/91A and the Keysight W8580BP WaferPro Express Core Measurement Bundle (software, drivers and database). The WMS program provides guaranteed configuration, installation and support to reduce risk and accelerate time to first measurement.
The broadband millimetre-wave solution also supports a variety of Keysight's proven measurement applications. Examples include complete characterisation of amplifiers and frequency converters (gain compression software option), measurements of mixers and frequency converters (scalar mixer software option), and calibrated multi-channel spectrum measurements (extended spectrum analyser software option).
Keysight is also introducing a multi-touch user interface (UI) for all models in the PNA Series of network analysers. Updates to the UI include a 12,1" widescreen display; easy access to frequently used functions; quick setups using touch-activated tabbed softkeys and dialogue menus; and intuitive single- and multi-touch gestures to drag-and-drop or magnify traces.
For more information contact Lizzy Mabaso, Concilium Technologies,+27 (0)12 678 9200, info@concilium.co.za, www.concilium.co.za
Credit(s)
Further reading:
Ethernet tap for IO Ninja
25 March 2020, RF Design , Test & Measurement
Monitoring network communications of your PC can be accomplished without any specialised hardware – just use the Pcap Sniffer plugin of IO Ninja. The task of tapping into the Ethernet traffic of a non-PC 
...
Read more...
---
Bench-top vector signal generator
29 April 2020, RFiber Solutions , Test & Measurement
The T3267E series bench-top vector signal generator from Transcom Instruments has excellent radio frequency performance and rich signal generating function. It can provide arbitrary wave, continuous 
...
Read more...
---
Tektronix and Coherent Solutions partner for fully integrated optical comms
25 March 2020, Comtest , Test & Measurement
Comtest has announced that technology companies Tektronix and Coherent Solutions have an exclusive partnership agreement to provide fully integrated optical communications platforms to new and existing 
...
Read more...
---
Vector network analyser training kit
26 February 2020, Comtest , Test & Measurement
Pico Technology has added significant functionality and value to its low-cost, high-performance vector network analyser (VNA), by joining the NI/AWR Connected Partner community. The PicoVNA interface 
...
Read more...
---
Better phase noise measurement for Infiniium UXR scopes
26 February 2020, Concilium Technologies , Test & Measurement
Keysight Technologies and Silicon Labs announced a collaboration that streamlines the validation of timing solutions critical in the development of system-level designs for wireless communications, high-speed 
...
Read more...
---
Eliminate risk with proper calibration
26 February 2020, Concilium Technologies , Test & Measurement
Proper calibration lowers cost of test by reducing the number of incorrect decisions made, by improving instrument performance.
Read more...
---
Double pulse test software for Tektronix AFG
29 January 2020, Comtest , Test & Measurement
Comtest announced the availability of Tektronix' new software plugin for its AFG31000 arbitrary function generator (AFG), making it possible to perform crucial double pulse testing in less than a minute, 
...
Read more...
---
Battery charge/discharge test system
29 January 2020, Conical Technologies , Test & Measurement
The ITS5300 battery charge and discharge test system from ITECH is designed for a variety of power batteries including lead acid, nickel hydrogen, lithium batteries, supercapacitors, hydrogen fuel cells 
...
Read more...
---
DIN-rail programmable transmitter
23 October 2019, Instrotech , Test & Measurement
Calog Instrument's versatile DPM9000 series – a miniature DIN-rail mount programmable isolated transmitter range – boasts high reliability and a versatile, wide range of programmable inputs. With dimensions 
...
Read more...
---
Hands-on learning module
23 October 2019, Altron Arrow , Test & Measurement
The ADALM2000 (M2K) active learning module is an affordable, USB-powered, software-defined instrument that exceeds the capabilities of its predecessor ADALM1000 (M1K). With 12-bit ADCs (analog-to-digital 
...
Read more...
---