printer friendly version
Celebrating 20 years of disruptive electronics
19 July 2017
News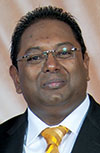 Nechan Naicker.
We use the term 'disruptive technologies' loosely these days, but actually disruptive technologies have been around forever, most notably since the invention of gun powder, motorised vehicles and, of course, personal computers. Gun powder forced change, motorised vehicles propelled change, and personal computers enabled change.
In electronics, the use of computers for PCB design enabled engineers to cut development time to a fraction of what it used to be. It resulted in more complex designs, and it enabled hordes of creative thinkers to explode the world scene with innovative technology solutions unimagined even two decades prior.
Electronic design automation (EDA) is a subset of computer-aided design (CAD) software tools, with EDA tools used for designing electronic systems such as printed circuit boards (PCB). Since the PCB is the fundamental component in any electronics product, advances in PCB design would directly result in upscaling the electronics solutions available. Development of EDA CAD tools disrupted an electronics industry that was previously reliant on 'PCB draughtsmen' to manually design circuits using self-adhesive 'dot and tape' applied to Mylar sheets (see Figure 1). The manual process was laborious and time consuming to say the least.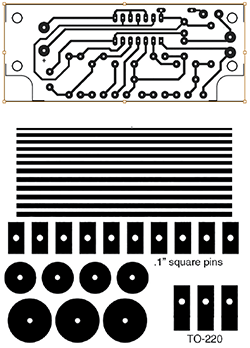 Figure 1. Dot and tape layout.
The user-friendly EDA tools emerging in the '90s enabled many more engineers to expose their creative talent while drastically reducing product development cycles. Of course, today we have a dynamic global electronics industry where time-to-market is crucial to survival, in a world where electronics is dominating almost everything we touch.
It is with this background that EDA Technologies was founded in 1997. As with many startups, the company was a one-man-band which operated from a 'garden table' using an early-generation personal computer with a hard disk limit of 20 megabytes, and using P-CAD DOS. Today, as the company celebrates its 20th anniversary, it is an established force in the local industry with dozens of current clients who have travelled on the 20-year journey with the company. EDA Technologies has successfully designed many hundreds of PCBs for a large variety of world-leading products, and in many cases has spearheaded latest PCB technologies for the first time in Africa.
EDA Technologies is the value-added reseller of Altium Designer in southern Africa. Altium Designer is the world's first unified platform for designing PCBs in one environment from schematic to PCB, and is currently the most widely used PCB CAD software in the world. As CAD systems evolved, EDA Technologies has always been an early adopter of disruptive tools. Many moons ago, before Altium emerged, EDA Technologies sold and supported PCAD, Tango, AccelEDA and Specctra. Today, the company helps many hundreds of local engineers to fully utilise the latest CAD tools to create their world-leading electronics products.
Another area where the company has been at the forefront is training the local industry in advanced electronics subjects, such as high-speed digital design, EMC compliance, thermal management of electronics systems, design-for-manufacturability, and IPC designer certification. Numerous experts from around the world have been brought to South Africa in an effort to ensure that SA's technological levels are up to date with global developments. Having trained close to a thousand individuals since 1997, EDA Technologies can proudly claim to have played an instrumental role in skills development, enhancing the local talent pool so that we can compete on a global scale, successfully.
With a rich history of PCB design, up-to-date training, an in-depth knowledge of EDA CAD tools, and a wealth of experience in all PCB technologies, EDA Technologies prides itself on being a class leader in the industry. Whether products require super high-speed design, form factor miniaturisation, large-scale commercialisation, or just developing a ground-breaking product, EDA Technologies has the abilities and experience to assist local innovators and companies now and into the future, and a 20-year track record to prove it.
Seven years ago in July of 2010, EDA Technologies entered into an ambitious agreement to represent Nordic Circuits AB Group (NCAB) exclusively in South Africa. NCAB is the world's largest PCB supplier, with headquarters in Sweden and factories and offices around the world. That journey with NCAB can only be described as amazing, both for EDA Technologies and for South Africa.
Partnering with a PCB supplier who is globally renowned for the highest quality PCBs and for the most advanced PCB technologies under one roof, was a smart move. NCAB has since become a household name with all local electronics companies that are serious about reliability, consistency and reputation. Today, NCAB is a preferred brand by numerous SA contract manufacturers, with some products reaching hundreds of thousands in quantity without a single reject.
In 2015, the PCB manufacture business unit merged with Cirtech Electronics, a Cape Town PCB manufacturer also with a rich history of serving local companies with PCBs. The merged entity was re-branded as Cirtech EDA, and today Cirtech EDA is a formidable force in the PCB supply chain where companies can find solutions to all PCB needs under one roof. In addition to supplying bareboard PCBs, Cirtech EDA offers extensive support through technical support and webinars to help customers design their PCBs right-the-first-time. So whether it is flex-rigid technology, embedded capacitance PCBs, blind-and-buried drill stacks, or any of the latest technologies, South African engineers and companies can compete with the best in the world.
What next? Futurists predict the disruptive technologies that will the greatest impact on our lives include the Internet of Things (IoT), augmented reality (AR), autonomous transport, artificial intelligence (AI), amongst others. EDA Technologies is already working with local companies to help them design products around such exciting technologies.
But this is just the tip of the Kilimanjaro. Expect a plethora of products that will change the way we get through the day. EDA Technologies has employed some of the most talented and experienced engineers in the country while it fosters an internal environment of continuous progress, hence the company is geared up to embark on any ambitious electronics product development to disrupt (or rather improve) the way things are done.
I am an ardent supporter of the SA electronics sector, and have done my best to help many companies and individuals get to market faster and with the least pain. As a qualified IPC CID+ engineer, I have never been afraid to share the electronics knowledge I have acquired over the last 28 years in the industry, and have trained many people face-to-face and through webinars.
Recently, I was appointed as a Technical Program Committee member of DesignCon USA, one of the world's foremost forums for engineers and designers, based in Silicon Valley, California. The knowledge and experience derived from this participation filters through to the SA industry, so that we can compete with the best of the best in the world. I was also nominated in June 2017 as the Chairman of the Advisory Committee of the Technology Station in Electronics (TSE), an initiative of government's Department of Science and Technology (DST) to stimulate electronics development in South Africa by supporting businesses with training and mentoring, as well as electronics design and manufacturing services leading to commercialisation.
Two decades of existence is no small feat for any company. EDA Technologies has weathered many storms and challenges over the past two decades. I wish to thank our loyal customers for the amazing memories and for an exciting journey thus far.
What matters most now is that EDA Technologies is still devoted to fostering and nurturing partnerships for success through its comprehensive service offering. The order book is healthy, the prospects are enticing, and the possibilities are endless.
Disruptive electronics can only really be made possible through stable partnerships for success. Here's to the next 20 years.
What happened in 1997
• Diana, Princess of Wales is killed in a car crash in Paris.
• Mike Tyson bites Evander Holyfield's ear during a boxing match.
• A civil jury panel finds OJ Simpson guilty.
• The first successful cloned mammal, Dolly the sheep, is revealed.
• Tiger Woods at 21 years old becomes the youngest ever golfer to win the US Masters.
• The comet, Hale-Bopp has its closest approach to earth.
• Mars Pathfinder lands on the surface of Mars.
• Blockbuster movie Titanic is released.
• The base version of the Wi-Fi standard 802.11 is first released.
• EDA Technologies is founded in July 1997.
For more information contact Nechan Naicker, EDA Technologies, +27 (0)12 665 0375, nechan@edatech.co.za, www.edatech.co.za
Credit(s)
Further reading:
From the editor's desk: Are electromagnetic waves culpable in making us sick?
30 June 2020, Technews Publishing , News
When I started writing my column for this issue, I was determined to come up with a topic and a way to avoid mentioning the 'C' word. I came close – you will only find 'COVID-19' mentioned once or twice 
...
Read more...
---
To fake or not to fake
30 June 2020 , News
Prof. Johan Meyer explores the complex and controversial topic of the potential link between the global rollout of 5G networks and the COVID-19 pandemic.
Read more...
---
Clearing the Static: Curb the spread of COVID-19 with stringent floor hygiene
30 June 2020, Actum Electronics , News
According to the World Health Organisation (WHO), COVID-19 is primarily transmitted from person to person through respiratory droplets that emerge from the nose and mouth when an infected person speaks, 
...
Read more...
---
Personality profile: Warren Mande
30 June 2020, Altron Arrow , News
"It is said that "culture eats strategy for breakfast". Look to join companies whose culture fits your personal belief system."
Read more...
---
Not the end, but a journey
30 June 2020, ExecuKit , News
ExecuKit's Renita Fleischer and Elizna Classen offer local companies a route to help them navigate their way through what has become the 'new normal.'
Read more...
---
Elmatica CEO to vice chair IPC cybersecurity task group
30 June 2020, Elmatica , News
Didrik Bech, CEO of printed circuit broker Elmatica, has been appointed to serve as vice chair for IPC's new cybersecurity task group. The 2-12c Task Group leadership is a representation of IPC as an 
...
Read more...
---
From the editor's desk: Making and sending things to space
29 May 2020, Technews Publishing , News
In this issue, one of the topics we are featuring is the aerospace and military/defence sector. The feature includes an analysis of what it takes to successfully design and manufacture products in this 
...
Read more...
---
Electronics news digest
29 May 2020, Technews Publishing , News
South Africa
• Acting minister of communications and digital technologies, Jackson Mthembu, joined the world in observing World Telecommunication and Information Society Day (WTISD). Proclaimed by the 
...
Read more...
---
Personality profile: David Power
29 May 2020, Cadshop , News
"Aspire to work for a company that you admire, and for a boss that you want to serve, that shares your passion and motivation."
Read more...
---
Designing for military and defence applications
29 May 2020, Omnigo, Kreon Technology , News
No business can stand on its own without strong partnerships and stakeholder relationships. In this regard the military and defence industry is no exception.
Read more...
---