printer friendly version
Altair student day inspires STEM interest
16 August 2017
News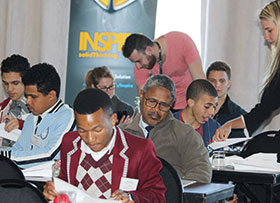 Altair South Africa recently hosted a group of potential engineering students as part of its STEM (Science, Technology, Engineering and Maths) initiative to expose them to the opportunities available in the engineering field.
The company offers software in five categories related to Computer Aided Engineering (CAE) and High Performance Computing (HPC).
"The main criterion to attend the day was obviously an interest in studying engineering. The project has grown exponentially since we started three years ago, with over 60 learners joining us this year," explains Gronum Smith, country manager of Altair SA.
The invitation was extended to all schools in the area including Malibu High, Oval Engineering School, Paul Roos Gymnasium, Kayamandi High, Cloetesville High and Rhenish Girls High in Stellenbosch, and Parel Vallei, Strand High and Hottentots Holland in the Somerset West area. "This year we tested their analytical skills with practical sessions, which they seemed to enjoy, along with all the presentations," said Gronum.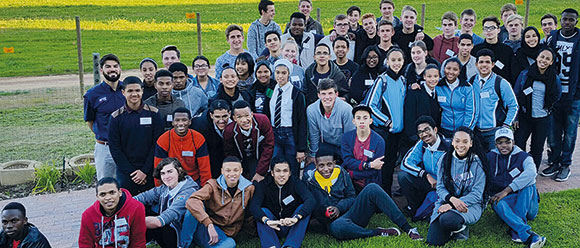 The keynote speaker was Christopher Maxwell from Bloodhound SSC, who spoke about the technology behind building a car to go faster than 1000 mph, which resulted in lots of questions from the audience. Other presentations, along with those from Altair, focused on each engineering discipline including aeronautical (SA National Space Agency), industrial (University of Stellenbosch), mechatronics (Greenchain Engineering), civil (By Design), chemical (Veolia) and electrical/software (Alphawave).
Feedback from the pupils was positive and many of them appreciated the value of such a day. The common thread throughout the day by all the presenters was to work hard, be passionate, take risks, be entrepreneurial and realise that learning never ends.
"One pupil's comment at the end of the day of 'I had never considered mechanical engineering but had decided during the mechanical engineering session that it is my chosen career and I just wanted to say thank you for that' definitely makes a day like this worthwhile," concludes Gronum.
For more information contact Altair South Africa, +27 (0)21 831 1500, [email protected], www.altair.co.za
Further reading:
Quectel masterclass: IoT device application development
iCorp Technologies News
Quectel has announced the latest masterclass in a series of technical webinars titled "Accelerate wireless IoT device application development with Azure RTOS on STM32 MCUs".
Read more...
---
ST announces status of common share repurchase programme
News
The repurchase programme took place over the period from 11 to 15 July 2022 and saw ST repurchasing 210 462 ordinary shares.
Read more...
---
Actum Group leads in the interconnect industry
Actum Electronics News
Actum Group is a specialist importer and distributor of industrial and electronic products in Southern Africa and a leader in the interconnect industry.
Read more...
---
From the editor's desk: Do we have the power?
Technews Publishing News
On a recent trip to Grahamstown in the Eastern Cape I was reminded, quite rudely and abruptly to be honest, of the load shedding that has plagued South Africa for the last few years. Living in KZN, we 
...
Read more...
---
Top five MPU suppliers strengthen market dominance
Editor's Choice News
The new ranking shows that long-time leader in microprocessor units, Intel, has moved downwards closer to half the total worldwide sales in microprocessors.
Read more...
---
New meta-lens revolutionises vacuum UV optics
News
A research team co-led by City University of Hong Kong have successfully developed a novel vacuum ultra-violet (VUV) meta-lens which can generate and focus the UV light.
Read more...
---
Electronics news digest
Technews Publishing Electronic News Digest News
The Semiconductor Industry Association (SIA) has announced global semiconductor industry sales were $51,8 billion in the month of May 2022, an increase of 18,0% over the May 2021 total of $43,9 billion 
...
Read more...
---
EVENTS
Events News
IFA Berlin
2-6 September Berlin, Germany This event aims to present the latest products and innovations in the commercial electronics industry. It will offer a comprehensive overview of the international 
...
Read more...
---
Going beyond with HONOR
MyKay Tronics Editor's Choice News
The tempo of business in China is lightning fast. But if you are responsive and go a step beyond, the rewards can be great. In just 15 days, Mycronic delivered 30 dispensing systems to HONOR.
Read more...
---
Global cellular IoT connections increase 22%
News
A new report says that the global number of cellular IoT subscribers increased by 22% during 2021 and that the number of cellular IoT devices will reach 4,3 billion by 2026.
Read more...
---