printer friendly version
Locally-made fixed-wireless router
16 August 2017
News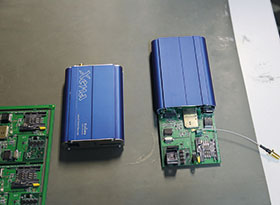 Huge Software and Technologies, a sister company of Huge Telecom – the provider of full suite telephony services to corporate organisations and residential homes – has successfully developed its own fixed-wireless router for making telephone calls.
Fittingly called the Huge Router, the device is specially developed to carry calls to the radios of various mobile network operators in conjunction with a SIM card. It is able to completely emulate a standard telephone line, allowing it to make outbound telephone calls and receive inbound telephone calls.
Resolution Circle, a subsidiary company of the University of Johannesburg, was briefed to manufacture the printed circuit boards (PCBs) of the Huge Router. Engineers at Resolution Circle agreed to provide Huge Software and Technologies with a turnkey solution, including the manufacture of the printed circuit boards, the assembly of the finished product and the packaging. The Huge Router has already been installed at clients.
According to Dr Wiehan Le Roux, group senior manager, engineering at Resolution Circle "It takes us approximately 30 minutes to assemble and package the Huge Router – 12 minutes to surface mount the components onto the PCB, 5 minutes to inspect the surface mount quality, 10 minutes to test the PCB and assemble the router, and 3 minutes to package it."
A business development manager within the Huge Group of companies, Rajen Pillay, says, "The Huge Router replaces fixed line infrastructure over the last mile and eliminates the risk of the negative impact of copper cable theft, which is a common occurrence in South Africa. It made perfect sense for us to acquire the intellectual property behind the Huge Router, which we did over a year ago, and to perfect it in-house with the assistance of Resolution Circle. This has given us a double benefit: first, complete control over our last mile network and second, favourable cost reductions."
The 'last mile' is a term commonly used to describe the physical connection between a customer and a telephone network. The importance of the last mile is that whoever owns it, owns the service delivery to the customer. This is the underlying strength of the Huge Telecom business model: Huge Telecom has over the past 24 years built a significant last mile network.
Huge Software and Technologies has received widespread market acceptance of the Huge Router from its reseller network of business partners, with very positive feedback having been received on the overall quality and functionality. Huge Software and Technologies has also commissioned Resolution Circle to develop the successor to the Huge Router, which will incorporate 3G technology and connectivity to the GSM networks as well as Session Initiation Protocol (SIP) technology to the PABX.
For more information contact Eleanor Wardrop, Huge Telecom, +27 (0)11 603 6000; Wiehan le Roux, Resolution Circle, +27 (0)10 020 3777, [email protected], www.resolutioncircle.co.za
Further reading:
Quectel masterclass: IoT device application development
iCorp Technologies News
Quectel has announced the latest masterclass in a series of technical webinars titled "Accelerate wireless IoT device application development with Azure RTOS on STM32 MCUs".
Read more...
---
ST announces status of common share repurchase programme
News
The repurchase programme took place over the period from 11 to 15 July 2022 and saw ST repurchasing 210 462 ordinary shares.
Read more...
---
Actum Group leads in the interconnect industry
Actum Electronics News
Actum Group is a specialist importer and distributor of industrial and electronic products in Southern Africa and a leader in the interconnect industry.
Read more...
---
From the editor's desk: Do we have the power?
Technews Publishing News
On a recent trip to Grahamstown in the Eastern Cape I was reminded, quite rudely and abruptly to be honest, of the load shedding that has plagued South Africa for the last few years. Living in KZN, we 
...
Read more...
---
Top five MPU suppliers strengthen market dominance
Editor's Choice News
The new ranking shows that long-time leader in microprocessor units, Intel, has moved downwards closer to half the total worldwide sales in microprocessors.
Read more...
---
New meta-lens revolutionises vacuum UV optics
News
A research team co-led by City University of Hong Kong have successfully developed a novel vacuum ultra-violet (VUV) meta-lens which can generate and focus the UV light.
Read more...
---
Electronics news digest
Technews Publishing Electronic News Digest News
The Semiconductor Industry Association (SIA) has announced global semiconductor industry sales were $51,8 billion in the month of May 2022, an increase of 18,0% over the May 2021 total of $43,9 billion 
...
Read more...
---
EVENTS
Events News
IFA Berlin
2-6 September Berlin, Germany This event aims to present the latest products and innovations in the commercial electronics industry. It will offer a comprehensive overview of the international 
...
Read more...
---
Going beyond with HONOR
MyKay Tronics Editor's Choice News
The tempo of business in China is lightning fast. But if you are responsive and go a step beyond, the rewards can be great. In just 15 days, Mycronic delivered 30 dispensing systems to HONOR.
Read more...
---
Global cellular IoT connections increase 22%
News
A new report says that the global number of cellular IoT subscribers increased by 22% during 2021 and that the number of cellular IoT devices will reach 4,3 billion by 2026.
Read more...
---