printer friendly version
Locally-made fixed-wireless router
16 August 2017
News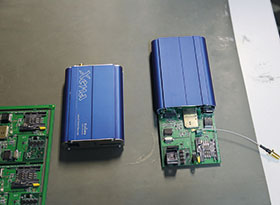 Huge Software and Technologies, a sister company of Huge Telecom – the provider of full suite telephony services to corporate organisations and residential homes – has successfully developed its own fixed-wireless router for making telephone calls.
Fittingly called the Huge Router, the device is specially developed to carry calls to the radios of various mobile network operators in conjunction with a SIM card. It is able to completely emulate a standard telephone line, allowing it to make outbound telephone calls and receive inbound telephone calls.
Resolution Circle, a subsidiary company of the University of Johannesburg, was briefed to manufacture the printed circuit boards (PCBs) of the Huge Router. Engineers at Resolution Circle agreed to provide Huge Software and Technologies with a turnkey solution, including the manufacture of the printed circuit boards, the assembly of the finished product and the packaging. The Huge Router has already been installed at clients.
According to Dr Wiehan Le Roux, group senior manager, engineering at Resolution Circle "It takes us approximately 30 minutes to assemble and package the Huge Router – 12 minutes to surface mount the components onto the PCB, 5 minutes to inspect the surface mount quality, 10 minutes to test the PCB and assemble the router, and 3 minutes to package it."
A business development manager within the Huge Group of companies, Rajen Pillay, says, "The Huge Router replaces fixed line infrastructure over the last mile and eliminates the risk of the negative impact of copper cable theft, which is a common occurrence in South Africa. It made perfect sense for us to acquire the intellectual property behind the Huge Router, which we did over a year ago, and to perfect it in-house with the assistance of Resolution Circle. This has given us a double benefit: first, complete control over our last mile network and second, favourable cost reductions."
The 'last mile' is a term commonly used to describe the physical connection between a customer and a telephone network. The importance of the last mile is that whoever owns it, owns the service delivery to the customer. This is the underlying strength of the Huge Telecom business model: Huge Telecom has over the past 24 years built a significant last mile network.
Huge Software and Technologies has received widespread market acceptance of the Huge Router from its reseller network of business partners, with very positive feedback having been received on the overall quality and functionality. Huge Software and Technologies has also commissioned Resolution Circle to develop the successor to the Huge Router, which will incorporate 3G technology and connectivity to the GSM networks as well as Session Initiation Protocol (SIP) technology to the PABX.
For more information contact Eleanor Wardrop, Huge Telecom, +27 (0)11 603 6000; Wiehan le Roux, Resolution Circle, +27 (0)10 020 3777, wiehanleroux@resolutioncircle.co.za, www.resolutioncircle.co.za
Further reading:
Coalition calls on European Commission to postpone SCIP deadline
30 September 2020 , News
A coalition of 40 industry organisations has written a letter to European Commission President Ursula von der Leyen calling for decisive action to solve implementation issues within the EU Waste Framework 
...
Read more...
---
Follow this engineering journey of a 3D-printed boat
30 September 2020, RS Components (SA) , News
RS Components is releasing a 10-episode documentary series – titled SeaQuest – featuring members of its DesignSpark engineering community who embarked on a first-of-its-kind challenge to design, test 
...
Read more...
---
Mouser revamps technical resource centre
30 September 2020, TRX Electronics , News
Mouser Electronics has redesigned its Technical Resource Centre, which contains the global distributor's ever-expanding collection of technical articles, blogs, eBooks, and Methods technology and solutions 
...
Read more...
---
IPC teams up with PSMA on standards and more
30 September 2020 , News
IPC and the Power Sources Manufacturers Association (PSMA) have signed a memorandum of understanding (MoU) pledging to build a strong complementary relationship between the two entities with a focus on 
...
Read more...
---
Battery Technologies Conference goes virtual
30 September 2020 , News
Vukani Communications is back again with the 6th edition of the Battery Technologies Conference, and this time around the gathering is virtual. Topics to be discussed include, but are not limited to:
...
Read more...
---
A journey into the automation unknown
31 August 2020 , News
From small-town specialised machine builder to global technology company, Jendamark Automation's business journey has been characterised by calculated leaps into the unknown. And, as South African manufacturers 
...
Read more...
---
Resources for home and building automation
31 August 2020, TRX Electronics , News
Mouser Electronics is expanding its comprehensive range of building automation solutions from Silicon Labs, TE Connectivity (TE), and Littelfuse for the rapidly growing smart home and building automation 
...
Read more...
---
From the editor's desk: Enough of 2020 already
31 August 2020, Technews Publishing , News
Forgive me, but I don't think I'm alone in being a bit all over the place mentally at the moment. So far, two of my colleagues have been diagnosed positive for COVID-19 and have fortunately recovered. 
...
Read more...
---
Tribute to Paul Soteriou
31 August 2020 , News
Paul Soteriou, a man always willing to share what he had with a smile and with a deep-found love for South Africa, passed away earlier this year.
Read more...
---
Personality profile: Brian Andrew
31 August 2020, RS Components (SA) , News
With a father who is a civil engineer and an older brother who is a chemical engineer, you could say engineering was in the DNA of Brian Andrew.
Read more...
---