printer friendly version
Microwave cables and assemblies
16 August 2017
Interconnection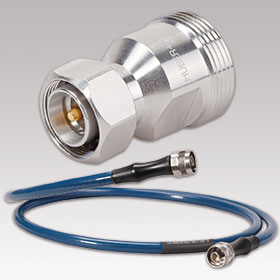 Huber & Suhner has developed a new range of semi-rigid RF/microwave cables and assemblies that offer ultra-high speed of more than 26 GHz. Key products in the range are the high-quality flexible SucoFlex 126E coaxial cable assemblies, which are designed to provide enhanced optimal performance at up to 26,5 GHz (depending on connector interface choice) with excellent return loss.
The cables are ideal for applications that require electrical stability and low loss, such as in test and measurement and defence systems. They also feature a blue polyurethane (PUR) outer jacket, which offers excellent chemical and abrasion resistant properties and advanced protection in the most hostile environments, including those with wide temperature ranges from –40°C to +85°C. The high-grade assemblies are available in various lengths and connector types, including 500 and 1000 mm lengths.
The range now also includes the Minibend 50 SMA plug-to-plug cable assemblies. These are designed for applications requiring low-profile connections between RF modules within communication systems. Available in 3, 6 and 12 inch versions, the triple shielded cables have a robust high-temperature FEP outer jacket, stainless steel outer braid and an aluminium/polyimide barrier tape.
Also available are the TLP-P 11716 high-flex test leads, which are 50 TL-P passive intermodulation (PIM) test assemblies. They are constructed from chemical-, oil- and abrasion-resistant TPU armoured cable for protection in hostile environments, and also include moulded protection between connector and cable supporting IP67 ingress protection, when mated correctly. The optimised 4 GHz test leads are available in many various lengths and connector configurations.
Alternative test leads include the Sucotest ST18A armoured cable assemblies, which are 50 flexible leads that offer excellent electrical performance combined with low insertion loss, stability and exceptional return loss. Ideal for heavy duty and outdoor applications up to 18 GHz, the assemblies are designed for a range of applications including the testing of wireless communication infrastructure and are available in a variety of lengths and connector configurations.
The portfolio also includes IP68-rated black silicone universal weather protection boots for LISCA jumper cable assemblies. They are designed to protect jumpers between antennas and remote radio heads from the ingress of water, contamination and corrosion.
Credit(s)
Further reading:
650 W fast recovery diodes
RS Components (SA) Power Electronics / Power Management
Rohm has released its 4th-generation 650 V fast recovery diodes (FRDs), balancing forward voltage and reverse-recovery time for high-power industrial and consumer equipment including air conditioners and electric vehicle charging stations.
Read more...
---
What is an RF launch?
Spectrum Concepts Interconnection
As signal speeds increase, each part of the signal path getting to and from the device needs to work to higher frequencies, and strategies that worked in the past no longer suffice. A Samtec webinar will demystify this topic.
Read more...
---
eFuse with transient overcurrent blanking timer
RS Components (SA) Power Electronics / Power Management
The TPS25981xx family of eFuses from Texas Instruments is a robust defence against overloads, short circuits, voltage surges and excessive inrush current.
Read more...
---
High-speed high-density connectors from Withwave
RFiber Solutions Interconnection
The high-speed high density open pin field array connectors have excellent higher bandwidth applications and are capable of data throughput of up to 112 Gbps.
Read more...
---
Build a high-speed board-to-board mated set in under a minute
Spectrum Concepts Interconnection
The latest implementation of Samtec's Solutionator now covers the high-speed board-to-board products with the High-Speed Board-to-Board Solutionator to present a full mated set solution.
Read more...
---
Low-PIM cable assembly application considerations
RF Design Interconnection
Given the diverse range of applications for coaxial cable assemblies, these cables are not one-size-fits-all. This article discusses three main types, low-PIM, low-loss, and phase-stable coaxial cable assemblies.
Read more...
---
Short body USB-A with no compromise on performance
Electrocomp Interconnection
The all-new USB1125 connector from GCT with a minimal PCB footprint of just 13mm2 is 25% smaller than full-size equivalents.
Read more...
---
An entire chain of trust for system platforms
RS Components (SA) DSP, Micros & Memory
Microchip's CEC1736 Trust Shield family spans silicon, software, tools, a development board and provisioning capabilities that drive the end-to-end platform firmware protection that customers need.
Read more...
---
The new VITA 90 landing page
Interconnection
Samtec has launched its new landing page for the small form factor VITA 90 standard comprising rugged modules with a focus on size, weight and power.
Read more...
---
EFM32PG23 Microcontroller for IoT applications
RS Components (SA) DSP, Micros & Memory
Silicon Labs' EFM32PG23 microcontroller is the ideal combination of excellent low-power performance, precision analog capabilities and security in a small package.
Read more...
---