printer friendly version
IoT development boards
16 August 2017
Telecoms, Datacoms, Wireless, IoT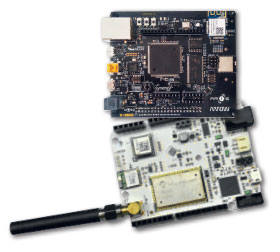 RS Components is extending its portfolio of high-quality development boards with the introduction of two new SmartEverything solutions from Arrow. The SmartEverything Lion IoT development system-on-module (SoM) board and the SmartEverything Aris IoT board both offer support for Internet of Things (IoT) application development.
The Lion SoM board is based on an Arduino form-factor board that features a Microchip LoRa module, which enables low-data-rate communications to be made over long distances. LoRa enables data from devices such as onboard sensors and actuators to be connected to the cloud to update data and control information for M2M and IoT applications. Features of the board include the low-power Microchip ARM Cortex-M0+ powered CPU along with Microchip crypto-authentication; a 868 MHz antenna; a Telit GPS module with embedded antenna; and MEMS accelerometer and gyroscope sensors which provide extra functionality for tracking and monitoring performance.
The Aris board is a complete hardware/software platform built around the high-performance Renesas Synergy S7 Series microcontroller, which features an ARM Cortex-M4 processor running at 240 MHz with 4 MB of code Flash and 640 KB SRAM memory. The board is an all-purpose tool with an Arduino R3 compatible footprint and connections, as well as Arduino extension shields that can be used for implementing extra functionality hardware features.
Aris communicates with other devices and the cloud via Ethernet 10/100 or USB, and offers wireless connectivity via Wi-Fi, Bluetooth Smart (BLE) and NFC protocols. Sensing capability includes temperature and humidity devices, and motion detection is provided by an accelerometer and two-axis gyroscope connected via the SPI bus. Other onboard devices include 512 MB of serial Flash and 32 MB of SDRAM memory, as well as an energy harvesting NFC Forum Type 2 tag with field detection pin and I2C interface, and a multi-touch 4/5-wire resistive touchscreen controller with proximity sensing. The board also provides interaction and access via the GPIO pins, LEDs and pushbuttons. Development process functions for the boards include the onboard J-Link debugger, support for crypto-bootloaders, and over-the-air (OTA) firmware updates. Engineers are able to focus on application development using the various helpful features available on the Aris platform, including the Renesas Eclipse Embedded Studio (e2 Studio), which is the implemented integrated development environment (IDE).
The Arrow SmartEverything LION SoM and Arrow SmartEverything ARIS IoT board are available now from RS.
For more information contact RS Components, +27 (0)11 691 9300, sales.za@rs-components.com, www.za.rs-online.com
Credit(s)
Further reading:
Follow this engineering journey of a 3D-printed boat
30 September 2020, RS Components (SA) , News
RS Components is releasing a 10-episode documentary series – titled SeaQuest – featuring members of its DesignSpark engineering community who embarked on a first-of-its-kind challenge to design, test 
...
Read more...
---
V2X transceiver modules
30 September 2020, RF Design , Telecoms, Datacoms, Wireless, IoT
The VERA-P3 Series from u-blox are automotive grade 802.11p V2X (vehicle-to-everything) transceiver modules that operate in the 5,9 GHz frequency band. These automotive-grade modules are based on the 
...
Read more...
---
Voltage tuneable notch filter bank
30 September 2020, RFiber Solutions , Telecoms, Datacoms, Wireless, IoT
Atlanta Micro's AM3129 is a miniature voltage-tuneable notch filter bank covering the 1,0 to 6,0 GHz frequency range in a 4 mm QFN package. Six notch filters and two bypass paths with SP8T switches on 
...
Read more...
---
Permanent mounting MIMO antenna for Wi-Fi
30 September 2020, RF Design , Telecoms, Datacoms, Wireless, IoT
The Ultima MA530 MIMO antenna from Taoglas is a low-profile, heavy-duty, fully IP67 waterproof external M2M antenna for use in transportation and remote monitoring applications. It provides high efficiency 
...
Read more...
---
SPST RF switch for high-performance aperture tuning
30 September 2020, Hi-Q Electronics , Telecoms, Datacoms, Wireless, IoT
Skyworks has introduced the SKY59272-707LF, a single-pole, single-throw (4xSPST) switch designed for antenna tuning applications that require ultra-low off-capacitance and low on-resistance. This device 
...
Read more...
---
Applications for RF electromechanical relay switches
30 September 2020, RF Design , Telecoms, Datacoms, Wireless, IoT
RF electromechanical switches are a key active device in many signal chains, including time-domain duplex communications and pulsed radar applications. Such switches can be as simple as a 3-port toggle 
...
Read more...
---
Diplexer for GNSS L1 and L2
31 August 2020, RF Design , Telecoms, Datacoms, Wireless, IoT
The Taoglas DXP.01.A is a diplexer for GNSS L1 and L2. This advanced compact SAW diplexer is for use in any navigation system application using the GPS/GALILEO L1, GLONASS L2 and BeiDou B2 bands. The 
...
Read more...
---
Grounding jumpers for management of high-power busbars
31 August 2020, RS Components (SA) , Circuit & System Protection
RS Components (RS) has introduced Molex's Triton grounding jumpers for the safe management of high-power busbars. Unique to the industry, the range is UL-certified to deliver quality, safety and reliability.  
...
Read more...
---
New digital storage oscilloscope
31 August 2020, RS Components (SA) , Test & Measurement
RS Components is now stocking the Tektronix TBS1000C digital storage oscilloscope. Affordable, compact and easy-to-use, the TBS1000C comes with enhanced user interface and courseware, proving a great 
...
Read more...
---
Quectel unveils SA800U-WF premium smart module to enable computing and multimedia applications on Android OS devices
31 August 2020, iCorp Technologies , Telecoms, Datacoms, Wireless, IoT
Quectel Wireless solutions has launched its SA800U-WF premium smart module which features a built-in Android 9.0 or 10.0 operating system (OS). The new module features a high performance, low power 64-bit 
...
Read more...
---