printer friendly version
Programmable DC power supply
16 August 2017
Power Electronics / Power Management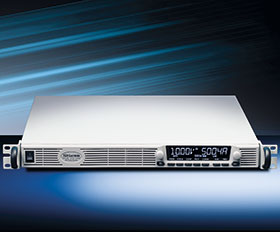 TDK announced the introduction of the TDK-Lambda Genesys+ series of high power density programmable DC power supplies; the 5 kW, 1U model is the first in the series. Utilising digital signal processing technology, these units address a very broad market, including component, aerospace and automotive testing, semiconductor fabrication, water treatment, plating and solar array simulation.
Housed in a 19" (483 mm) wide rack package, the 5 kW model offers high power density and weighs less than 7 kg. Five voltage models are available initially: 0-10 V/ 500 A, 0-20 V/ 250 A, 0-30 V/ 170 A, 0-300 V/ 17 A and 0-600 V/ 8,5 A.
The units can operate in constant current, constant voltage or constant power modes and offer internal resistance simulation. They can accept three-phase 170 to 265 V a.c., 342 to 460 V a.c. or wide range 342 to 528 V a.c. inputs, with active power factor correction. Operating efficiencies are up to 93%.
In addition to doubling the power density over the existing Genesys 5 kW 2U series, the Genesys+ offers many other advancements. These include a high contrast, wide viewing angle LCD display with user controllable brightness and dimming functions for improved readability and display life. Faster up and down programming response times speed up operation with user adjustable voltage and current slew rate control.
Two user programmable output control pins (open drain) are available to activate external devices, such as load disconnect relays. Arbitrary waveform profiles, such as car battery simulation at vehicle startup, of up to 100 steps can be generated. These are stored in four memory cells and activated by commands from the communication ports or the front panel controls.
A new advanced parallel master/slave system, unique to TDK-Lambda, allows a multi PSU system to achieve dynamic response and ripple and noise performance comparable to that of a single power supply. Up to four Genesys+ units can be connected in parallel very simply by connecting a single data link cable between units and connecting the DC outputs in parallel. The master and slave units auto configure by detecting the parallel data connection and set their parameters accordingly. The master unit becomes the single point for programming, measurement and status of the total current of the paralleled system.
The new series is compatible with both the TDK-Lambda Genesys and Z+ models, using the same communication protocols and signals. All functions can be programmed via the front panel or remotely using the LAN (LXI 1.5), USB 2.0 or RS-232/485 communications interfaces, which are provided as standard (SCPI compliant). An isolated analog control and monitoring interface (0-5 V or 0-10 V scale) is also provided, and an optional GPIB (IEEE488) is available.
The Genesys+ design incorporates the Anybus CompactCom interface platform to enable various interface options as they are introduced, e.g. Devicenet, Ethercat, Modbus and Profibus. A full package of software drivers, waveform creator and virtual front panel GUI is provided.
Safety features include safe/auto restart and last setting memory, and built-in protective functions such as over-voltage protection, under-voltage, fold-back protection and over-temperature protection. The series conforms to the industrial environment IEC/EN61326-1 standard for conducted EMI, radiated EMI and EMC immunity.
For more information contact Tobie Muller, Accutronics, +27 (0)11 782 8728, tmuller@accutronics.co.za, www.accutronics.co.za
Credit(s)
Further reading:
Maintaining backup battery systems for maximum usage and reliability
30 September 2020, Comtest , Power Electronics / Power Management
Standby battery backup systems play a critical role in keeping essential operations functional in the event of a utility outage. Facilities like data centres, hospitals, airports, utilities, oil and gas 
...
Read more...
---
Double the power output from new Tadiran battery
30 September 2020, Altron Arrow , Power Electronics / Power Management
Tadiran has developed the latest in its PulsesPlus HLC battery range, doubling the power output of its previous offering. Recently the company launched the C-type HLC which represented a huge improvement 
...
Read more...
---
Bidirectional DC power supply for lab testing
30 September 2020, Conical Technologies , Power Electronics / Power Management
The new IT-M3400 bidirectional DC power supply from ITECH integrates the features of a bidirectional power supply and a regenerative load. It inherits the advantages of high power density and modular 
...
Read more...
---
Global analysis of the solid-state battery market
30 September 2020 , Power Electronics / Power Management
The rapid growth of the electric vehicle market has driven the development, manufacture and sales of batteries, especially lithium-ion batteries. In the meantime, market research firm IDTechEx has identified 
...
Read more...
---
Solar lithium storage system
30 September 2020, Vepac Electronics , Power Electronics / Power Management
The US2000 Plus is a latest-generation lithium storage unit. Combining enhanced safety with a long service life – even when at low levels of charge on a regular basis – it meets the demanding requirements 
...
Read more...
---
Cost optimised power supplies
30 September 2020, Current Automation , Power Electronics / Power Management
The Dimension CP-Series from PULS are cost optimised power supplies without compromising quality, reliability and performance. The most noteworthy features of the CP10.241–R1/-R2 units are their high 
...
Read more...
---
1 kW programmable DC power supplies
30 September 2020, Accutronics , Power Electronics / Power Management
TDK-Lambda announced the introduction of the G1kW and GH1kW series of 1U high programmable DC power supplies. These new products further expand the GENESYS+ series, offering up to 1000 W output power 
...
Read more...
---
DC-DC converters certified for railway radio
30 September 2020, Vepac Electronics , Power Electronics / Power Management
In addition to the existing certificates for the compliance of EMC characteristics according to EN 50121-3-2, MTM Power can now also prove compliance with the technical regulation EMV 06 – verification 
...
Read more...
---
Cosel expands microprocessor controlled power supplies offering
30 September 2020, Vepac Electronics , Power Electronics / Power Management
Cosel has announced the addition of a 3000 W AC/DC enclosed power supply for industrial and demanding semiconductors applications. Designed with advanced built-in digital microprocessor technology, the 
...
Read more...
---
Boost charger for 2-cell series lithium-ion battery
29 July 2020, NuVision Electronics , Power Electronics / Power Management
The MP2672 from Monolithic Power Systems is a highly integrated, flexible switch-mode battery charger IC for a lithium-ion battery with two cells in series, which is used in a wide range of portable applications. When 
...
Read more...
---