printer friendly version
Programmable DC power supply
16 August 2017
Power Electronics / Power Management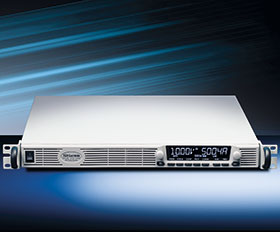 TDK announced the introduction of the TDK-Lambda Genesys+ series of high power density programmable DC power supplies; the 5 kW, 1U model is the first in the series. Utilising digital signal processing technology, these units address a very broad market, including component, aerospace and automotive testing, semiconductor fabrication, water treatment, plating and solar array simulation.
Housed in a 19" (483 mm) wide rack package, the 5 kW model offers high power density and weighs less than 7 kg. Five voltage models are available initially: 0-10 V/ 500 A, 0-20 V/ 250 A, 0-30 V/ 170 A, 0-300 V/ 17 A and 0-600 V/ 8,5 A.
The units can operate in constant current, constant voltage or constant power modes and offer internal resistance simulation. They can accept three-phase 170 to 265 V a.c., 342 to 460 V a.c. or wide range 342 to 528 V a.c. inputs, with active power factor correction. Operating efficiencies are up to 93%.
In addition to doubling the power density over the existing Genesys 5 kW 2U series, the Genesys+ offers many other advancements. These include a high contrast, wide viewing angle LCD display with user controllable brightness and dimming functions for improved readability and display life. Faster up and down programming response times speed up operation with user adjustable voltage and current slew rate control.
Two user programmable output control pins (open drain) are available to activate external devices, such as load disconnect relays. Arbitrary waveform profiles, such as car battery simulation at vehicle startup, of up to 100 steps can be generated. These are stored in four memory cells and activated by commands from the communication ports or the front panel controls.
A new advanced parallel master/slave system, unique to TDK-Lambda, allows a multi PSU system to achieve dynamic response and ripple and noise performance comparable to that of a single power supply. Up to four Genesys+ units can be connected in parallel very simply by connecting a single data link cable between units and connecting the DC outputs in parallel. The master and slave units auto configure by detecting the parallel data connection and set their parameters accordingly. The master unit becomes the single point for programming, measurement and status of the total current of the paralleled system.
The new series is compatible with both the TDK-Lambda Genesys and Z+ models, using the same communication protocols and signals. All functions can be programmed via the front panel or remotely using the LAN (LXI 1.5), USB 2.0 or RS-232/485 communications interfaces, which are provided as standard (SCPI compliant). An isolated analog control and monitoring interface (0-5 V or 0-10 V scale) is also provided, and an optional GPIB (IEEE488) is available.
The Genesys+ design incorporates the Anybus CompactCom interface platform to enable various interface options as they are introduced, e.g. Devicenet, Ethercat, Modbus and Profibus. A full package of software drivers, waveform creator and virtual front panel GUI is provided.
Safety features include safe/auto restart and last setting memory, and built-in protective functions such as over-voltage protection, under-voltage, fold-back protection and over-temperature protection. The series conforms to the industrial environment IEC/EN61326-1 standard for conducted EMI, radiated EMI and EMC immunity.
For more information contact Tobie Muller, Accutronics, +27 (0)11 782 8728, [email protected], www.accutronics.co.za
Credit(s)
Further reading:
650 W fast recovery diodes
RS Components (SA) Power Electronics / Power Management
Rohm has released its 4th-generation 650 V fast recovery diodes (FRDs), balancing forward voltage and reverse-recovery time for high-power industrial and consumer equipment including air conditioners and electric vehicle charging stations.
Read more...
---
Wireless charging IC solution
TRX Electronics Power Electronics / Power Management
The WLC1115 transmitter controller IC is the first highly integrated product of the new WLC family of controllers from Infineon for applications in inductive wireless charging.
Read more...
---
Real-time monitoring of solar power stations
Otto Wireless Solutions Power Electronics / Power Management
WLink's 3G/4G routers remotely monitor and manage power stations in real-time and perform fault diagnosis, power prediction and a daily maintenance routine.
Read more...
---
1,5 A LDO linear regulator from TI
Altron Arrow Power Electronics / Power Management
The TPS7A74 from Texas Instruments is a 1,5 A low-dropout linear regulator with programmable soft-start for a wide variety of applications.
Read more...
---
eFuse with transient overcurrent blanking timer
RS Components (SA) Power Electronics / Power Management
The TPS25981xx family of eFuses from Texas Instruments is a robust defence against overloads, short circuits, voltage surges and excessive inrush current.
Read more...
---
New low-cost 60 W PSU
Vepac Electronics Power Electronics / Power Management
The new VCB60 series of 60 W PSUs from XP Power addresses the need for high-quality easy-to-use power solutions at attractive price points.
Read more...
---
New series of high-power pure sine wave inverters
Current Automation Power Electronics / Power Management
The NTS/NTU-2200/3200 series pure sine wave inverters by Meanwell now have the ability to use lithium batteries as well as lead acid as the DC power source.
Read more...
---
Fully programmable motor controllers
Altron Arrow Power Electronics / Power Management
The MOTIX IMD70xA programmable motor controllers from Infineon are now available in one package to power the next generation of battery-powered applications.
Read more...
---
New power converter family from Traco
Conical Technologies Power Electronics / Power Management
Traco Power has announced the release of their new TMR 12WI converter family featuring isolated 12W DC/DC converter modules with regulated outputs.
Read more...
---
Bourns releases new series of power inductors
Electrocomp Power Electronics / Power Management
Constructed with a magnetic-silica coating to the perimeter of the inductor winding to provide effective shielding, these inductors release lower magnetic field radiation compared to non-shielded inductors.
Read more...
---