printer friendly version
Handheld digital storage oscilloscopes
13 September 2017
Test & Measurement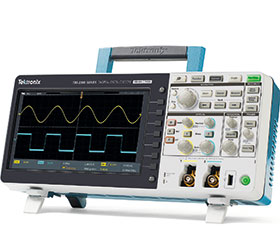 RS Components has introduced the Tektronix TBS2000 series of digital storage oscilloscopes. The TBS2000 captures and displays an extended signal range as it offers 10 vertical and 15 horizontal divisions rather than the 8 vertical and 10 horizontal divisions typically provided by most oscilloscopes.
The series also offers dedicated controls that provide quick access to important settings, enabling better and faster evaluation of designs. The range targets engineers, technicians and scientists in industrial, academic, and research and development environments. Applications include circuit debugging and testing in the manufacturing and radio broadcast equipment areas.
The series is designed for easy operation and quick hands-on learning and comes with a 9" WVGA colour display that offers more room for measurement results and menu information. The sophisticated product also enables enhanced signal analysis with new on-waveform cursor readouts and 32 automated measurements, each with informative tips to help choose the right option quickly, as well as an FFT function for thorough waveform analysis. The TBS2000 also features a 20 million point record length on all channels and a sampling rate of up to 1 GSps.
The instrument's TekVPI probe interface supports active, differential and current probes with automatic scaling and units, and works with traditional BNC connections, but also enables wide application coverage with the latest active voltage probes and current probes. Other features of the TBS2000 series include: USB2.0 ports on the front and rear panels for quick and easy data storage and connection to a PC; a Wi-Fi interface for wireless communications; and an LXI-compliant 10/100Base-T Ethernet port for remote control via a LAN.
The TBS2072 unit in the series is supplied with a 100 MHz 10x passive probe (one per analog channel), documentation CD with programmer manual, installation and safety manual, power cord, calibration certificate documenting traceability to National Metrology Institute(s) and ISO 9001 quality system registration. Replacement probes are also available, as well as other compatible probes including high-voltage passive, differential voltage, high-voltage differential, active voltage and current probes. Other accessories include the TekVPI to TekProbe BNC adaptor, soft transit case, and GPIB-to-USB adaptor.
Credit(s)
Further reading:
XinaBox – Reaching for the stars
25 March 2020, RS Components (SA) , News
From collecting data in sub-zero Antarctica to rapid circuit prototyping on the International Space Station this South African company is reinventing the way we approach IoT while inspiring students to follow STEM careers.
Read more...
---
Vector network analyser training kit
26 February 2020, Comtest , Test & Measurement
Pico Technology has added significant functionality and value to its low-cost, high-performance vector network analyser (VNA), by joining the NI/AWR Connected Partner community. The PicoVNA interface 
...
Read more...
---
Better phase noise measurement for Infiniium UXR scopes
26 February 2020, Concilium Technologies , Test & Measurement
Keysight Technologies and Silicon Labs announced a collaboration that streamlines the validation of timing solutions critical in the development of system-level designs for wireless communications, high-speed 
...
Read more...
---
Eliminate risk with proper calibration
26 February 2020, Concilium Technologies , Test & Measurement
Proper calibration lowers cost of test by reducing the number of incorrect decisions made, by improving instrument performance.
Read more...
---
Robotics and coding essential for SA youth
26 February 2020, RS Components (SA) , News
To many, robotic and computer coding are reserved for techies, geeks and sci-fi movies. Nowadays these terms are fast becoming the norm in society and households alike. There is no denying the fact that 
...
Read more...
---
Double pulse test software for Tektronix AFG
29 January 2020, Comtest , Test & Measurement
Comtest announced the availability of Tektronix' new software plugin for its AFG31000 arbitrary function generator (AFG), making it possible to perform crucial double pulse testing in less than a minute, 
...
Read more...
---
Battery charge/discharge test system
29 January 2020, Conical Technologies , Test & Measurement
The ITS5300 battery charge and discharge test system from ITECH is designed for a variety of power batteries including lead acid, nickel hydrogen, lithium batteries, supercapacitors, hydrogen fuel cells 
...
Read more...
---
Printer for professional 3D printing
EMP 2020 Electronics Manufacturing & Production Handbook, RS Components (SA) , Manufacturing / Production Technology, Hardware & Services
The Ultimaker S5 3D printer targets the professional end of the market across a number of applications, and meets engineering requirements from the creation of prototypes to full end-use, industrial-grade 
...
Read more...
---
Beware! Identity is the new gold – and criminals know it
23 October 2019, RS Components (SA) , News
Stolen identity is a highly potent tool for fraudsters, as a recent Carte Blanche insert featuring RS Components revealed. A buyer approached us to procure equipment on credit to the tune of R1,5 million. 
...
Read more...
---
DIN-rail programmable transmitter
23 October 2019, Instrotech , Test & Measurement
Calog Instrument's versatile DPM9000 series – a miniature DIN-rail mount programmable isolated transmitter range – boasts high reliability and a versatile, wide range of programmable inputs. With dimensions 
...
Read more...
---