printer friendly version
Wits researchers demonstrate quantum teleportation of light
15 November 2017 News Electronics Technology
Quantum communication over long distances is seen as the future of information security and has been demonstrated in free space and fibre with two-dimensional states, recently over distances exceeding 1200 km between satellites. But using only two states reduces the information capacity of the photons, so the link is secure but slow. To make it secure and fast requires a higher-dimensional alphabet, for example, using patterns of light, of which there are an infinite number. One such pattern set is the orbital angular momentum (OAM) of light.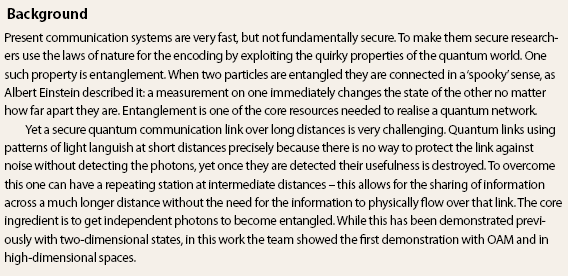 Increased bit rates can be achieved by using OAM as the carrier of information. However, such photon states decay when transmitted over long distances, for example due to mode coupling in fibre or turbulence in free space, thus requiring a way to amplify the signal. Unfortunately, such 'amplification' is not allowed in the quantum world, but it is possible to create an analogy, called a quantum repeater, akin to optical fibre repeaters in classical optical networks.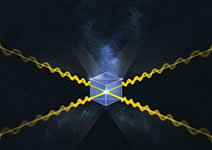 Figure 1. The core element of the quantum repeater is a cube of glass. The researchers put two independent photons in, and as long as they could detect two photons coming out the other side they knew that they could perform entanglement swapping.
An integral part of a quantum repeater is the ability to entangle two photons that have never interacted – a process referred to as entanglement swapping. This is accomplished by interfering two photons from independent entangled pairs, resulting in the remaining two photons becoming entangled. This allows the establishment of entanglement between two distant points without requiring one photon to travel the entire distance, thus reducing the effects of decay and loss. It also means that a line of sight is not necessary between the two places.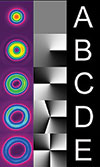 Figure 2. An alphabet of OAM modes. OAM modes are sometimes called twisted light as the light appears as a ring with a vortex in the middle. The light can be twisted once, twice, three times and so on to create a high-dimensional alphabet.
An outcome of this is that the information of one photon can be transferred to the other, a process called teleportation. Like in the science fiction series, Star Trek, where people are 'beamed' from one place to another, information is teleported from one place to another. If two photons are entangled and the value of one of them is changed, the other one automatically changes too. This happens even though the two photons are never connected and, in fact, are in two completely different places.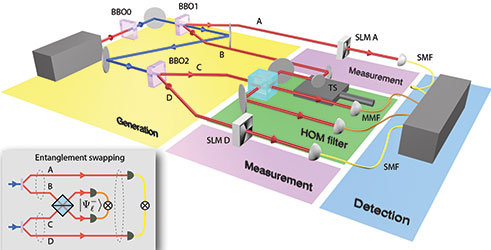 Figure 3. A schematic of the experiment. Four photons are created, one pair from each entanglement source (BBO). One from each pair (B and C) are brought together on a beam splitter. When all four photons are measured together one finds that photons A and D, which previously were independent, are now entangled.
In this latest work, the team performed the first experimental demonstration of entanglement swapping and teleportation for orbital angular momentum (OAM) states of light. They showed that quantum correlations could be established between previously independent photons, and that this could be used to send information across a virtual link. Importantly, the scheme is scalable to higher dimensions, paving the way for long-distance quantum communication with high information capacity.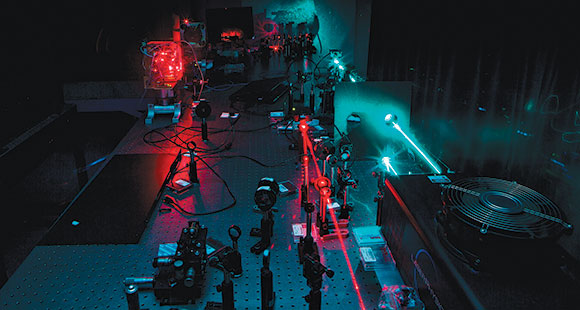 Figure 4. An experiment being conducted in the Structured Light Laboratory at Wits University.
For more information contact Schalk Mouton, Wits University, +27 (0)11 717 1017, schalk.mouton1@wits.ac.za
Further reading:
Personality profile: Jean Mearns
29 July 2020, WH Circuit , News
"No one works for me, they only work with me, for without each other our team will fail to exceed the expectations of our customers."
Read more...
---
Letter to the editor
29 July 2020 , News
I take exception to the article 'To fake or not to fake' published in the June edition of Dataweek that is clearly based on the principle 'guilty until proven innocent'. I am by no means an expert 
...
Read more...
---
Q&A with Brandon Kuhn and Steve Stafford
29 July 2020 , News
Q: What is the rationale behind the reorganisation? What impact will it have on Avnet's customers in South Africa?    A (Kuhn):
Since 2009, our shared front-end model in South Africa has differed from the 
...
Read more...
---
Avnet EMEA names two new leaders to SA operation
29 July 2020 , News
Avnet has named Steve Stafford and Brandon Kuhn as new leaders in South Africa following the completion of a reorganisation in the region.
Read more...
---
UCT chooses Tektronix instruments for training lab
29 July 2020, Comtest , News
Comtest, local partner to Tektronix, recently assisted the University of Cape Town (UCT) physics department in refurbishing its electrical training laboratory. All of the existing analog oscilloscopes 
...
Read more...
---
New electromagnetic solutions range from Accutronics
29 July 2020, Accutronics , News
Accutronics has been appointed as the reseller for the Electromagnetic Integrated Solutions (EIS) range of products from API Technologies. APITech offers a complete line of coaxial EMI solutions, 
...
Read more...
---
Fighting COVID-19 using TV white space spectrum
29 July 2020 , News
The CSIR has partnered with the Technology Innovation Agency (TIA) to enable local Internet service providers to deploy Television White Space (TVWS) networks, using the CSIR-developed Secondary Geo-Location 
...
Read more...
---
Clearing the Static: ESD wrist straps
29 July 2020, Actum Electronics , News
The human body is the primary source of electrostatic charge generation. In order to control and reduce static charge build-up and prevent electrostatic discharges (ESD), we use grounding systems to ensure 
...
Read more...
---
From the editor's desk: This too shall pass
29 July 2020, Technews Publishing , News
Things were tough enough for the South African electronics manufacturing industry before, but this year has thrown up unprecedented challenges that nobody could have foreseen and which are outside of 
...
Read more...
---
Electronics news digest
29 July 2020 , News
South Africa
• As part of the national data-driven approach to countering COVID-19, the CSIR has developed a platform that monitors human mobility to better understand movement patterns across specific 
...
Read more...
---