printer friendly version
Wits researchers demonstrate quantum teleportation of light
15 November 2017 News Electronics Technology
Quantum communication over long distances is seen as the future of information security and has been demonstrated in free space and fibre with two-dimensional states, recently over distances exceeding 1200 km between satellites. But using only two states reduces the information capacity of the photons, so the link is secure but slow. To make it secure and fast requires a higher-dimensional alphabet, for example, using patterns of light, of which there are an infinite number. One such pattern set is the orbital angular momentum (OAM) of light.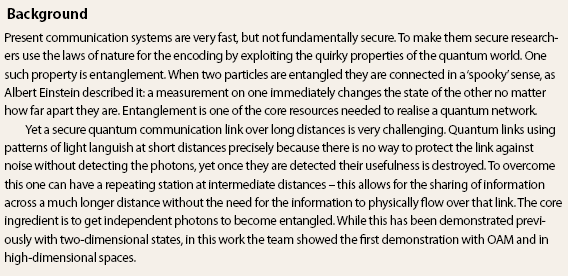 Increased bit rates can be achieved by using OAM as the carrier of information. However, such photon states decay when transmitted over long distances, for example due to mode coupling in fibre or turbulence in free space, thus requiring a way to amplify the signal. Unfortunately, such 'amplification' is not allowed in the quantum world, but it is possible to create an analogy, called a quantum repeater, akin to optical fibre repeaters in classical optical networks.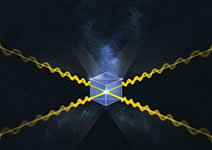 Figure 1. The core element of the quantum repeater is a cube of glass. The researchers put two independent photons in, and as long as they could detect two photons coming out the other side they knew that they could perform entanglement swapping.
An integral part of a quantum repeater is the ability to entangle two photons that have never interacted – a process referred to as entanglement swapping. This is accomplished by interfering two photons from independent entangled pairs, resulting in the remaining two photons becoming entangled. This allows the establishment of entanglement between two distant points without requiring one photon to travel the entire distance, thus reducing the effects of decay and loss. It also means that a line of sight is not necessary between the two places.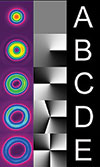 Figure 2. An alphabet of OAM modes. OAM modes are sometimes called twisted light as the light appears as a ring with a vortex in the middle. The light can be twisted once, twice, three times and so on to create a high-dimensional alphabet.
An outcome of this is that the information of one photon can be transferred to the other, a process called teleportation. Like in the science fiction series, Star Trek, where people are 'beamed' from one place to another, information is teleported from one place to another. If two photons are entangled and the value of one of them is changed, the other one automatically changes too. This happens even though the two photons are never connected and, in fact, are in two completely different places.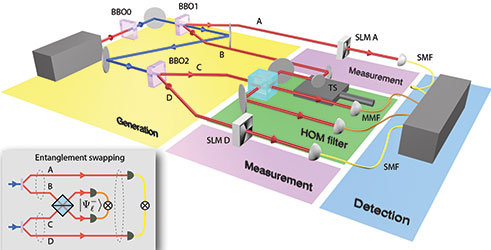 Figure 3. A schematic of the experiment. Four photons are created, one pair from each entanglement source (BBO). One from each pair (B and C) are brought together on a beam splitter. When all four photons are measured together one finds that photons A and D, which previously were independent, are now entangled.
In this latest work, the team performed the first experimental demonstration of entanglement swapping and teleportation for orbital angular momentum (OAM) states of light. They showed that quantum correlations could be established between previously independent photons, and that this could be used to send information across a virtual link. Importantly, the scheme is scalable to higher dimensions, paving the way for long-distance quantum communication with high information capacity.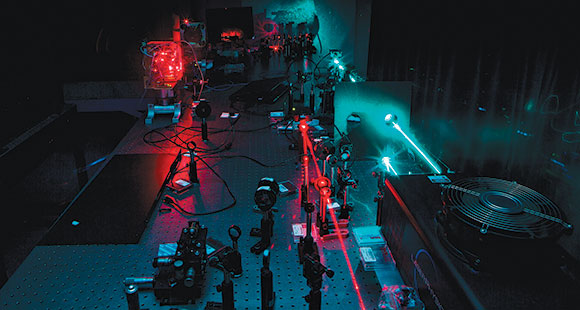 Figure 4. An experiment being conducted in the Structured Light Laboratory at Wits University.
For more information contact Schalk Mouton, Wits University, +27 (0)11 717 1017, schalk.mouton1@wits.ac.za
Further reading:
Intel ordered to cough up $2 billion in patent lawsuit
26 February 2021 , News
A federal jury in Texas has ruled against Intel in a trial over patent infringements related to chip-making, brought against Intel by VLSI Technology. While Intel's lawyer argued that VLSI was entitled 
...
Read more...
---
Electrocomponents backs Engineering for People Design Challenge
26 February 2021, RS Components (SA) , News
Electrocomponents, of which RS Components is a trading brand, has signed a one-year partnership agreement with Engineers Without Borders International, the leading movement that puts global responsibility 
...
Read more...
---
CSIR recognised as top employer in South Africa
25 November 2020 , News
The Council for Scientific and Industrial Research (CSIR) has been crowned as South Africa's top employer in the global Top Employers Institute's 2021 Top Employers awards. Being certified as a top employer 
...
Read more...
---
Top ten IC growth categories target emerging applications
25 November 2020 , News
IC Insights recently released its 2021 edition of The McClean Report. The new analysis and forecast of the IC industry includes its ranking of IC product categories based on sales growth rate. The listing 
...
Read more...
---
Musk's monkeys play mind games for real
25 November 2020 , News
As reported by
Bloomberg
and various other news outlets, Elon Musk stated during a speech on Clubhouse (a private social app where users host off-the-cuff, informal conversations) that one of his startup 
...
Read more...
---
Dire warning on component lead times
25 November 2020 , News
According to the supply chain, Microchip recently issued a notice to its customers, warning that the lead time of some of its devices will be extended from the previous 18 weeks to 54 weeks. As reported 
...
Read more...
---
From the editor's desk: Should I stay or should I go?
26 February 2021, Technews Publishing , News
Observant readers will have noted that, for most of the latter half of last year, we stopped publishing our regular events column. There just didn't seem much point when industry events were being cancelled 
...
Read more...
---
CSIR recognised as top employer in South Africa
26 February 2021 , News
The Council for Scientific and Industrial Research (CSIR) has been crowned as South Africa's top employer in the global Top Employers Institute's 2021 Top Employers awards. Being certified as a top employer 
...
Read more...
---
On-the-ground sales support for South African Farnell customers
26 February 2021, EBV Electrolink , News
Farnell, an Avnet company and global distributor of electronic components, products and solutions, has enhanced its service to customers in South Africa through a new partnership with sister company EBV, 
...
Read more...
---
Personality profile: Bossie Coetzer
26 February 2021, Rugged Interconnect Technologies , Editor's Choice, News
"Understanding product knowledge is power. I started reading any magazine that was available with articles discussing embedded products, including microprocessor technologies and bus architectures."
Read more...
---