printer friendly version
Wits researchers demonstrate quantum teleportation of light
15 November 2017 News Electronics Technology
Quantum communication over long distances is seen as the future of information security and has been demonstrated in free space and fibre with two-dimensional states, recently over distances exceeding 1200 km between satellites. But using only two states reduces the information capacity of the photons, so the link is secure but slow. To make it secure and fast requires a higher-dimensional alphabet, for example, using patterns of light, of which there are an infinite number. One such pattern set is the orbital angular momentum (OAM) of light.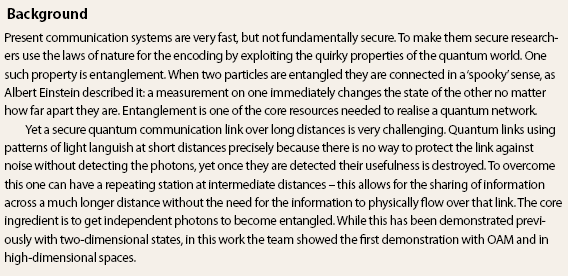 Increased bit rates can be achieved by using OAM as the carrier of information. However, such photon states decay when transmitted over long distances, for example due to mode coupling in fibre or turbulence in free space, thus requiring a way to amplify the signal. Unfortunately, such 'amplification' is not allowed in the quantum world, but it is possible to create an analogy, called a quantum repeater, akin to optical fibre repeaters in classical optical networks.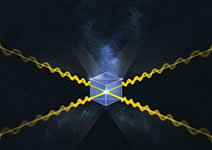 Figure 1. The core element of the quantum repeater is a cube of glass. The researchers put two independent photons in, and as long as they could detect two photons coming out the other side they knew that they could perform entanglement swapping.
An integral part of a quantum repeater is the ability to entangle two photons that have never interacted – a process referred to as entanglement swapping. This is accomplished by interfering two photons from independent entangled pairs, resulting in the remaining two photons becoming entangled. This allows the establishment of entanglement between two distant points without requiring one photon to travel the entire distance, thus reducing the effects of decay and loss. It also means that a line of sight is not necessary between the two places.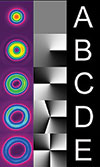 Figure 2. An alphabet of OAM modes. OAM modes are sometimes called twisted light as the light appears as a ring with a vortex in the middle. The light can be twisted once, twice, three times and so on to create a high-dimensional alphabet.
An outcome of this is that the information of one photon can be transferred to the other, a process called teleportation. Like in the science fiction series, Star Trek, where people are 'beamed' from one place to another, information is teleported from one place to another. If two photons are entangled and the value of one of them is changed, the other one automatically changes too. This happens even though the two photons are never connected and, in fact, are in two completely different places.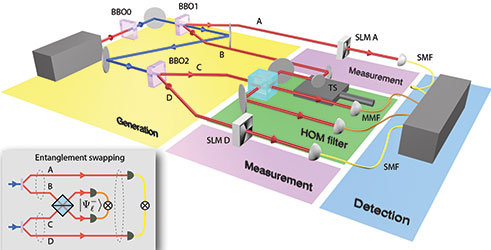 Figure 3. A schematic of the experiment. Four photons are created, one pair from each entanglement source (BBO). One from each pair (B and C) are brought together on a beam splitter. When all four photons are measured together one finds that photons A and D, which previously were independent, are now entangled.
In this latest work, the team performed the first experimental demonstration of entanglement swapping and teleportation for orbital angular momentum (OAM) states of light. They showed that quantum correlations could be established between previously independent photons, and that this could be used to send information across a virtual link. Importantly, the scheme is scalable to higher dimensions, paving the way for long-distance quantum communication with high information capacity.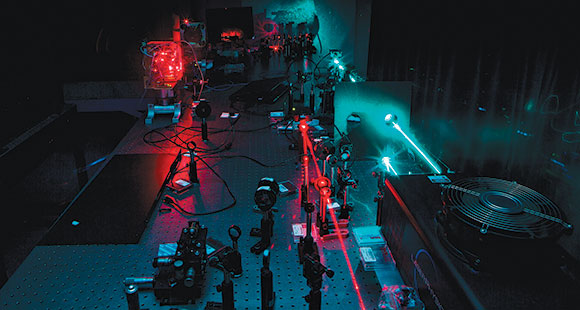 Figure 4. An experiment being conducted in the Structured Light Laboratory at Wits University.
For more information contact Schalk Mouton, Wits University, +27 (0)11 717 1017, [email protected]
Further reading:
Mouser stocks wide product selection from Renesas companies
TRX Electronics News
The products on offer include embedded solutions, semiconductors, optoelectronics, sensors and passive components.
Read more...
---
TUKS campus taken over by robots!
News
Students are required to build autonomous robotic vehicles with a sensor system to detect specific colours on a multi-coloured track.
Read more...
---
Altron Arrow FAE earns STMicroelectronics award
News
Renaldo Fibiger was one of only two people from the whole of the EMEA region who scored 30 out of 31 in the certification course.
Read more...
---
Infineon to exhibit at Embedded World 2022
News
This Infineon will be showcasing various focus areas dealing with embedded systems and the internet of things.
Read more...
---
Avnet Abacus congratulates Bourns on 75 years of innovation
Avnet Abacus News
This year also marks a milestone with the 21st anniversary of the distribution alliance between these two companies.
Read more...
---
New product marketing manager for Yamaha's SMT section
News
Yamaha appoints Kamil Stasiak, a 10-year veteran of the industry, as product marketing manager for its surface-mount technology section.
Read more...
---
Partnership between mLab and MICT SETA announced
News
The MOU between the two parties will seek to upskill South Africans, allowing them to keep up with a rapidly changing employment market.
Read more...
---
Infineon's easy-to-use replacement for legacy barrel jacks
Altron Arrow News
It is estimated that over 10 billion power tools are still using the old barrel jacks for their power needs, which will need to change.
Read more...
---
Worldwide silicon wafer shipments edge higher to new record
News
SMG reports that worldwide silicon wafer shipments in the first quarter of 2022 surpassed the previous record high set in the third quarter of 2021.
Read more...
---
Arrow Electronics announces alliance with Senseye
Altron Arrow News
The agreement will see Arrow Electronics together with Senseye bringing to market AI-based predictive maintenance solutions for industrial sectors.
Read more...
---