printer friendly version
Wits researchers demonstrate quantum teleportation of light
15 November 2017 News Electronics Technology
Quantum communication over long distances is seen as the future of information security and has been demonstrated in free space and fibre with two-dimensional states, recently over distances exceeding 1200 km between satellites. But using only two states reduces the information capacity of the photons, so the link is secure but slow. To make it secure and fast requires a higher-dimensional alphabet, for example, using patterns of light, of which there are an infinite number. One such pattern set is the orbital angular momentum (OAM) of light.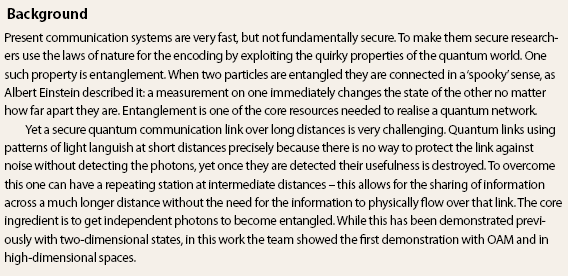 Increased bit rates can be achieved by using OAM as the carrier of information. However, such photon states decay when transmitted over long distances, for example due to mode coupling in fibre or turbulence in free space, thus requiring a way to amplify the signal. Unfortunately, such 'amplification' is not allowed in the quantum world, but it is possible to create an analogy, called a quantum repeater, akin to optical fibre repeaters in classical optical networks.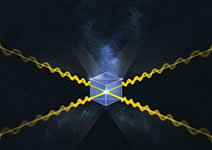 Figure 1. The core element of the quantum repeater is a cube of glass. The researchers put two independent photons in, and as long as they could detect two photons coming out the other side they knew that they could perform entanglement swapping.
An integral part of a quantum repeater is the ability to entangle two photons that have never interacted – a process referred to as entanglement swapping. This is accomplished by interfering two photons from independent entangled pairs, resulting in the remaining two photons becoming entangled. This allows the establishment of entanglement between two distant points without requiring one photon to travel the entire distance, thus reducing the effects of decay and loss. It also means that a line of sight is not necessary between the two places.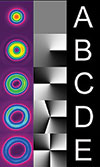 Figure 2. An alphabet of OAM modes. OAM modes are sometimes called twisted light as the light appears as a ring with a vortex in the middle. The light can be twisted once, twice, three times and so on to create a high-dimensional alphabet.
An outcome of this is that the information of one photon can be transferred to the other, a process called teleportation. Like in the science fiction series, Star Trek, where people are 'beamed' from one place to another, information is teleported from one place to another. If two photons are entangled and the value of one of them is changed, the other one automatically changes too. This happens even though the two photons are never connected and, in fact, are in two completely different places.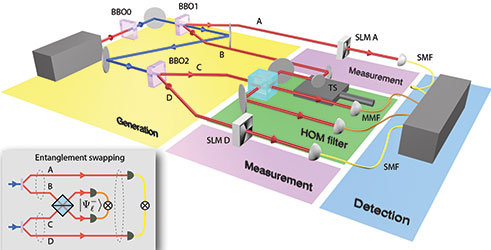 Figure 3. A schematic of the experiment. Four photons are created, one pair from each entanglement source (BBO). One from each pair (B and C) are brought together on a beam splitter. When all four photons are measured together one finds that photons A and D, which previously were independent, are now entangled.
In this latest work, the team performed the first experimental demonstration of entanglement swapping and teleportation for orbital angular momentum (OAM) states of light. They showed that quantum correlations could be established between previously independent photons, and that this could be used to send information across a virtual link. Importantly, the scheme is scalable to higher dimensions, paving the way for long-distance quantum communication with high information capacity.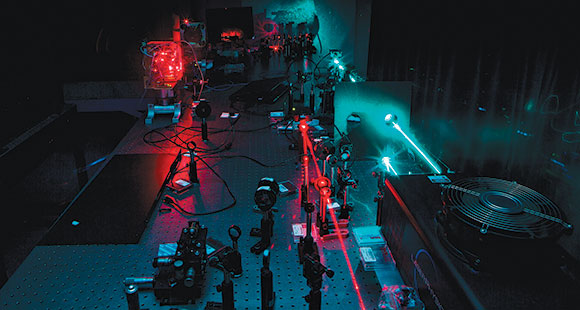 Figure 4. An experiment being conducted in the Structured Light Laboratory at Wits University.
For more information contact Schalk Mouton, Wits University, +27 (0)11 717 1017, schalk.mouton1@wits.ac.za
Further reading:
SAAB Avionics approves Elmatica auditor for PCB subcontractors
29 January 2020, Elmatica , News
Expanding on its international relationship with SAAB Avionics, printed circuit board supplier Elmatica's Jan Pedersen successfully completed the Part 21, Subpart G training, regarding auditing of printed 
...
Read more...
---
Electronics news digest
29 January 2020 , News
South Africa
• More than 2400 people braved pouring rain in Gauteng to attend the 5th Science Forum South Africa (SFSA) at the CSIR International Convention Centre in December. The annual Department 
...
Read more...
---
Appointment: ExecuKit
29 January 2020, ExecuKit , News
ExecuKit has appointed Marshant Benadie in a technical support role.    His duties will include developing business with clients within the electronics distribution and manufacturing industry; managing 
...
Read more...
---
Repro installs new SMT production line
29 January 2020 , News
The company is actively seeking business for this new assembly line, which promises extensive flexibility and high accuracy, and can easily be expanded for higher production volumes.
Read more...
---
AREI's plans for 2020
29 January 2020 , Editor's Choice, News
Erich Nast, chairman of AREI, discusses what the association's plans are to tackle the challenges and opportunities that lie ahead.
Read more...
---
Check out Dataweek's new-look website
29 January 2020, Technews Publishing , Editor's Choice, News
Our technical design elves have been locked away in our basement for months, improving the visual design and functionality of the Dataweek website.
Read more...
---
From the editor's desk: A fresh start, but a sad farewell?
29 January 2020, Technews Publishing , News
A couple of years ago, not many people had heard of Yekani. The company bought a stake in the well-known East London-based satellite decoder maker, Vektronix, and subsequently acquired it in its entirety. When 
...
Read more...
---
Company profile: ETION Create
EMP 2020 Electronics Manufacturing & Production Handbook, ETION Create , News
ETION Create is an original design manufacturer (ODM) that has been in operation for more than 25 years. Originally known as Parsec, the company was founded in 1993, focusing on the design, development 
...
Read more...
---
Company profile: Laser Stencil Technology
EMP 2020 Electronics Manufacturing & Production Handbook, Laser Stencil Technology , News
Since its inception in 2004, Laser Stencil Technology has grown into a prominent figure in the South African electronics manufacturing industry. Having been involved in circuit board manufacturing using 
...
Read more...
---
Company profile: Repro Supplies
EMP 2020 Electronics Manufacturing & Production Handbook , News
Repro Supplies is a systems integration company that specialises in turnkey systems for the mining industry, industrial, traffic and LED markets, both locally as well as internationally. The company was 
...
Read more...
---