printer friendly version
Enhancements to handheld RF/microwave analysers
15 November 2017
Test & Measurement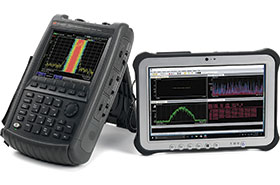 Keysight Technologies announced new enhancements for its FieldFox handheld RF and microwave analysers. The instruments now connect to Keysight's 89600 VSA software, the industry's leading toolset for signal demodulation and vector signal analysis.
The FieldFox to 89600 VSA link provides a powerful combination of hardware and software for design and troubleshooting of devices using signal formats including APCO-25 and TETRA for public safety radio; IEEE 802.11p for wireless vehicular communications; low-power wide area networks and other formats for the Internet of Things (IoT); and cellular communications including LTE, WCDMA and GSM.
"With increased spectral density and complex signal waveforms, engineers can find it challenging to identify and understand unique signal characteristics," said Dan Dunn, vice president and general manager: aerospace, defence and government solutions. "Option 351 provides a new I/Q analyser mode for FieldFox, a portable I/Q capture and analysis solution ideal for field-based communication systems applications; interference identification and analysis; and signal demodulation."
The FieldFox I/Q analyser provides frequency and time domain measurements and customisable multi-domain display views. Users can capture and analyse I/Q data directly on the instrument, or capture and save the data for post analysis using Keysight's 89600 VSA software, MATLAB, Python Toolkit or other third-party demodulation software.
FieldFox's I/Q analyser mode also enables verification of baseband subsystems and final signal chain integration, as well as troubleshooting of signal quality degradation due to hardware and software issues. Users can gain further insight into RF signal environments by regenerating and playing back I/Q capture data using a vector signal generator. Furthermore, engineers can apply environmental fading profiles to I/Q data using a vector signal generator to determine the performance of a receiver.
The instrument allows users to capture up to 10 MHz of flatness- and phase-corrected I/Q data, and measure magnitude spectrum (frequency domain) and RF envelope as well as I/Q waveform (time domain). With FieldFox, users can customise up to four simultaneous and multi-domain measurement views, and enhance performance with features such as amplitude and IF alignment before capture. FieldFox saves I/Q capture data file types including comma separated values (CSV), text (TXT), SDF (compatible with 89600 VSA software) and MATLAB (MAT).
For more information contact Tshiamo Mogakwe, Concilium Technologies, +27 (0)12 678 9200, info@concilium.co.za, www.concilium.co.za
Credit(s)
Further reading:
Modular, portable 5G RF spectrum analyser
Test & Measurement
EXFO recently introduced the 5GPro spectrum analyser, representing what it claims is the only modular, field-focused RF testing solution providing accurate visibility into 4G/LTE and 5G NR environments 
...
Read more...
---
RF receiver for spectrum regulators
Measuretest Test & Measurement
CRFS announced the launch of a new high-performance RF receiver, the RFeye Node 40-8, specifically designed to meet the needs of communications regulators. With a 40 MHz instantaneous bandwidth and 9 kHz 
...
Read more...
---
Single-instrument test solution for 5G IoT verification
Coral-i Solutions Test & Measurement
Anritsu has introduced the radio communication test station MT8000A 5G entry model, a single-instrument solution that supports multiple radio access technologies (RATs) of LTE through 5G NR. The 5G entry 
...
Read more...
---
Mixed-signal oscilloscopes with flexible resolutions
Comtest Test & Measurement
Pico Technology released the PicoScope 6000E Series FlexRes oscilloscopes, featuring eight channels with 500 MHz bandwidth, 16 digital channels and resolution of 8, 10 or 12 bits. The products work with 
...
Read more...
---
Critical airborne system testing from a single device
Measuretest Test & Measurement
New from Viavi Solutions is the AVX-10K flight line test set, enabling comprehensive performance verification testing of critical airborne systems from a simple-to-use device. The instrument helps avionics 
...
Read more...
---
PTP wander measurement for improved 5G network synchronisation
Coral-i Solutions Test & Measurement
Anritsu has added a function for PTP wander – a metric for evaluating frequency variations as low as 10 Hz with respect to the PTP (precision time protocol) network time synchronisation error – to the 
...
Read more...
---
IO Ninja adds flexibility with capabilities and subscriptions
RF Design Test & Measurement
The release of IO Ninja version 5.0 marks an opportune point for embedded designers to join the scores of professionals who have already adopted IO Ninja at Facebook, Siemens, Mitsubishi and many other 
...
Read more...
---
Using waveguide shorts and shims for RF testing
RF Design Test & Measurement
For many RF test applications in the higher frequencies, such as millimetre-waves, or for high-power use cases, rectangular waveguides are the interconnect solution of choice. In a similar vein to short-open-load-through 
...
Read more...
---
True RMS digital multimeter
Vepac Electronics Test & Measurement
The new PeakTech 2025 A offers a multitude of measurement functions for electrical variables for industry, trade, training, hobbyist and laboratory users. Of particular note is the integrated data interface, 
...
Read more...
---
First verified OTDOA positioning test for 5G NR
Coral-i Solutions Test & Measurement
The industry's first OTDOA (observed time difference of arrival) protocol conformance test for 5G New Radio (NR) has been verified with a device containing the MediaTek M70 5G modem and the Anritsu ME7834NR 
...
Read more...
---