printer friendly version
PSoC 6 microcontrollers for IoT
15 November 2017
Electronics Technology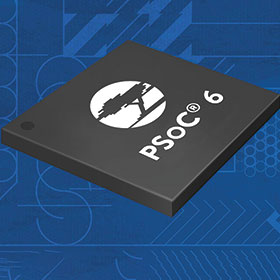 Cypress Semiconductor unveiled PSoC 6, its newest microcontroller (MCU) architecture that is purpose-built for the Internet of Things (IoT). The architecture is built on ultra-low-power 40 nm process technology and delivers one of the industry's lowest-power and most flexible solutions, with integrated security features required for next-generation IoT devices.
The architecture fills a gap in the IoT solution space between power-hungry and higher-cost application processors and performance-challenged, single-core MCUs. The dual-core ARM Cortex-M4 and Cortex-M0+ architecture lets designers optimise for power and performance simultaneously.
Cypress' proprietary 40 nm SONOS process technology enables the PSoC 6 MCU architecture to feature power consumption of 22 μA/MHz and 15 μA/MHz of active power on the ARM Cortex-M4 and Cortex-M0+ cores, respectively. With dynamic voltage and frequency scaling (DVFS), PSoC 6 offers both performance- and power-critical processing capability. The dual-core architecture enables power-optimised system design where the auxiliary core can be used as an offload engine for power efficiency, allowing the main core to sleep.
For more information contact Marian Ledgerwood, Future Electronics, +27 (0)21 421 8292, marian.ledgerwood@futureelectronics.com, www.futureelectronics.com
Credit(s)
Further reading:
Automotive LED drivers and controllers
29 January 2020, Future Electronics , Opto-Electronics
ON Semiconductor has launched a new family of four devices that facilitate the high levels of performance and innovative functionality that vehicle manufacturers and consumers now expect from automotive 
...
Read more...
---
Isolated, regulated DC-DC modules
29 January 2020, Future Electronics , Power Electronics / Power Management
Power density, low weight and ease of use are critical considerations when designing isolated, regulated DC-DC converter systems for a broad range of robotics, UAV, rail, communications and defence/aerospace 
...
Read more...
---
Image sensor evaluation kits
25 November 2019, Future Electronics , Opto-Electronics
Ams has released the NanoVision and NanoBerry evaluation kits, which provide a ready-made platform for the development of innovative solutions based on the ams NanEyeC miniature image sensor. The NanEyeC 
...
Read more...
---
Highly accurate temperature sensors
25 November 2019, Future Electronics , Analogue, Mixed Signal, LSI
New from ams is the AS621x-generation of temperature sensors delivering optimised performance for consumer electronic devices and wearables, health-related monitoring systems and heating, ventilation 
...
Read more...
---
Lattice AI stack for edge devices
25 November 2019, Future Electronics , Programmable Logic
Lattice Semiconductor received a number of industry awards for sensAI – a complete technology stack combining modular hardware kits, neural network IP cores, software tools, reference designs and custom 
...
Read more...
---
5G mMIMO power amplifier modules
25 November 2019, Future Electronics , Telecoms, Datacoms, Wireless, IoT
NXP Semiconductors announced the broad availability of a comprehensive RF power multi-chip module (MCM) portfolio supporting the development of massive MIMO (mMIMO) active antenna systems for 5G base 
...
Read more...
---
Online training: Battery Safety and Protection Overview
23 October 2019 , Electronics Technology, Multimedia, Videos
So many of the portable devices, electronic equipment, and tools we use every day are powered with lithium-ion battery systems. But one challenge for engineers who design these lithium-ion-powered products 
...
Read more...
---
High-temperature TVS MLVs
25 September 2019, Future Electronics , Circuit & System Protection
The new TransGuard VT Series multilayer varistors (MLV) made by AVX are rated for transient voltage suppression (TVS) applications operating at very high temperatures. They provide reliable, bidirectional 
...
Read more...
---
RF coaxial IDC connectors
28 August 2019, Future Electronics , Interconnection
AVX has released new wire-to-board RF coaxial IDC connectors for industrial and automotive applications. The initial release of the new 00-6791 Series is comprised of two small, single-piece solutions 
...
Read more...
---
Time-to-digital converter
29 May 2019, Future Electronics , Analogue, Mixed Signal, LSI
ams has introduced the AS6500, a new high-resolution time-to-digital converter (TDC) featuring CMOS inputs and compact packaging for use in space- and cost-constrained applications. It can measure time 
...
Read more...
---