printer friendly version
PSoC 6 microcontrollers for IoT
15 November 2017 Electronics Technology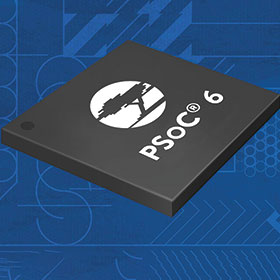 Cypress Semiconductor unveiled PSoC 6, its newest microcontroller (MCU) architecture that is purpose-built for the Internet of Things (IoT). The architecture is built on ultra-low-power 40 nm process technology and delivers one of the industry's lowest-power and most flexible solutions, with integrated security features required for next-generation IoT devices.
The architecture fills a gap in the IoT solution space between power-hungry and higher-cost application processors and performance-challenged, single-core MCUs. The dual-core ARM Cortex-M4 and Cortex-M0+ architecture lets designers optimise for power and performance simultaneously.
Cypress' proprietary 40 nm SONOS process technology enables the PSoC 6 MCU architecture to feature power consumption of 22 μA/MHz and 15 μA/MHz of active power on the ARM Cortex-M4 and Cortex-M0+ cores, respectively. With dynamic voltage and frequency scaling (DVFS), PSoC 6 offers both performance- and power-critical processing capability. The dual-core architecture enables power-optimised system design where the auxiliary core can be used as an offload engine for power efficiency, allowing the main core to sleep.
For more information contact Marian Ledgerwood, Future Electronics, +27 (0)21 421 8292, marian.ledgerwood@futureelectronics.com, www.futureelectronics.com
Credit(s)
Further reading:
Analog Devices leverages Microsoft's 3D ToF tech
25 November 2020 , Electronics Technology
Analog Devices is working with Microsoft to leverage Microsoft's 3D time-of-flight (ToF) sensor technology, allowing customers to easily create high-performance 3D applications that bring higher degrees 
...
Read more...
---
IoT communication without batteries
28 October 2020 , Electronics Technology
When we talk about IoT, we often gloss over the fact that all these interconnected things need batteries and electronics to carry out the job of collecting and processing data while they're communicating 
...
Read more...
---
FPGAs for embedded vision and edge AI
25 November 2020, Future Electronics , Programmable Logic
Lattice Semiconductor announced the first FPGA developed on its new Lattice Nexus FPGA platform, the CrossLink-NX. This new FPGA provides the low power, small form factor, reliability, and performance 
...
Read more...
---
DC-DC converter for aerospace/defence
25 March 2020, Future Electronics , Power Electronics / Power Management
Vicor announced the DCM5614, an isolated, regulated 270 V-28 V DC-DC converter with an output power rating of 1300 W in a 142,2 x 35,6 x 9,4 mm VIA package. Providing power density of 27,52 W/cm
3
at a 
...
Read more...
---
High-speed DDR4 SDRAMs
29 April 2020, Future Electronics , DSP, Micros & Memory
Alliance Memory has expanded its product offering with a new line of high-speed CMOS DDR4 SDRAMs. For improved performance over previous-generation DDR3 devices, the 4 GB AS4C256M16D4 and AS4C512M8D4 
...
Read more...
---
Wireless MCUs with built-in NFC
25 March 2020, Future Electronics , Telecoms, Datacoms, Wireless, IoT
NXP Semiconductors has released the new JN5189 and JN5188 IEEE 802.15.4 wireless microcontrollers (MCUs) that deliver ultra-low power connected intelligence for Zigbee 3.0 and Thread applications. The 
...
Read more...
---
Stable perovskite LEDs one step closer
25 March 2020 , Electronics Technology
Researchers at Sweden's Linköping University, working with colleagues in Great Britain, China and the Czech Republic, have developed a perovskite light-emitting diode (LED) with both high efficiency and 
...
Read more...
---
Infineon works with Qualcomm for 3D authentication
25 March 2020 , Electronics Technology
Infineon Technologies has collaborated with Qualcomm Technologies to develop a reference design for 3D authentication based on the Qualcomm Snapdragon 865 mobile platform. Infineon is thus extending its 
...
Read more...
---
DRAM for memory expansion
26 February 2020, Future Electronics , DSP, Micros & Memory
Cypress Semiconductor's HyperRAM 2.0 is a high-speed, low-pin-count, self-refresh Dynamic RAM (DRAM) for high-performance embedded systems requiring expansion memory. HyperRAM 2.0 offers HyperBus and 
...
Read more...
---
Automotive LED drivers and controllers
29 January 2020, Future Electronics , Opto-Electronics
ON Semiconductor has launched a new family of four devices that facilitate the high levels of performance and innovative functionality that vehicle manufacturers and consumers now expect from automotive 
...
Read more...
---