printer friendly version
Motor run capacitors
15 November 2017
Passive Components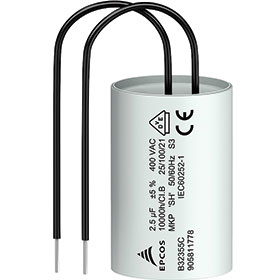 TDK rolled out the new B32355C* series of EPCOS MotorCap motor run capacitors, which are designed for a high continuous operating temperature of 100°C. They are based on a metallised polypropylene film, feature self-healing properties, and conform to Safety Class S3 as specified in IEC 60252-1.
These robust capacitors have a rated voltage of 400 V a.c. at 50/60 Hz. The series consists of six different types with capacitance values ranging from 1,5 μF to 5 μF. The components have been approved by the VDE and their design is IEC 60335-1 compatible (safety of household and similar electrical appliances).
A special design feature of the B32355C* series is the compact dimensions: the capacitors have a diameter of 25 mm and a height of 51 mm to 75 mm, depending on the capacitance. The capacitor can is made of flame-retardant plastic and filled with a dry resin. The terminals consist of two 100 mm cables. At maximum operating voltage the capacitors offer a life expectancy of at least 10 000 hours.
Due to its high temperature resistance, this capacitor is particularly suitable for the motors of heating system pumps as well as other AC applications.
For more information contact Deon Schoombee, Electrocomp, +27 (0)11 458 9000, deon@electrocomp.co.za, www.electrocomp.co.za
Credit(s)
Further reading:
AEC-Q200 compliant line filters
28 October 2020, Electrocomp , Circuit & System Protection
Bourns Magnetics Product Line is introducing the Model DR334A line filter series. These filters are constructed with a ferrite toroid core delivering compact size and high impedance over a broad frequency 
...
Read more...
---
Capacitors for fast-switching semiconductors
30 September 2020, TRX Electronics , Passive Components
KEMET's KC-LINK surface mount capacitors are designed to meet the growing demand for fast switching wide bandgap (WBG) semiconductors that operate at higher voltages, temperatures, and frequencies. These 
...
Read more...
---
High-reliability screening for PPI's capacitors
30 September 2020, RFiber Solutions , Passive Components
As typical electrical tests may not detect internal flaws such as voids, cracks, delaminations and electrode discontinuities, which can lead to latent and/or catastrophic failures in high-power applications, 
...
Read more...
---
Rugged three-phase AC filter capacitors
30 September 2020, Electrocomp , Passive Components
TDK introduced two new series of EPCOS power capacitors for AC filtering in three-phase delta connection applications. The B32375* series is designed for the low to medium power range and covers a capacitance 
...
Read more...
---
High-speed protectors for automotive circuits
30 September 2020, Electrocomp , Circuit & System Protection
Bourns announced the release of the AEC-Q101 compliant Model TBU-CA-Q High-Speed Protector series. These products are low-capacitance, single bidirectional high-speed protection components, constructed 
...
Read more...
---
Stylish new plastic enclosure family
30 September 2020, Electrocomp , Enclosures, Racks, Cabinets & Panel Products
Hammond Electronics has announced its new 1557 family. Initially available in four plan sizes, each in two heights, it is available in polycarbonate sealed to IP68 and ABS designed to meet IP66. The sizes 
...
Read more...
---
Metallised polypropylene film capacitors
30 September 2020, Avnet Abacus , Passive Components
Vishay Intertechnology has introduced a new series of Automotive Grade DC-Link metallised polypropylene film capacitors optimised for high humidity environments. The Vishay Roederstein MKP1848H DC-Link 
...
Read more...
---
Mini air core inductors
29 July 2020, RF Design , Passive Components
Coilcraft has released its latest mini air core inductors, the 1512SP /2712SP Series. Specifications include Q factors up to 100 at 150 MHz; a wide range of standard EIA inductance values from 2,5 to 
...
Read more...
---
Microthermal liquid flow sensors
29 July 2020, Electrocomp , Analogue, Mixed Signal, LSI
The SLF3x liquid flow sensor series from Sensirion represents an advancement for microthermal liquid flow sensors. By combining Sensirion's 20-year track record in low and lowest flow rate sensing with 
...
Read more...
---
Supercapacitors usurping batteries, says IDTechEx
31 August 2020 , Passive Components
A new IDTechEx report shows that supercapacitors have started to replace 10% of lithium-ion batteries and also help to kill lead-acid.
Read more...
---