printer friendly version
Win a Microchip ATmega328PB development suite bundle
15 November 2017
News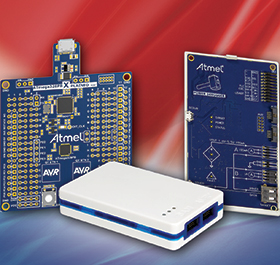 Dataweek and Microchip Technology are offering a chance to win an ATmega328PB development suite bundle. The ATmega328PB is a low-power CMOS 8-bit microcontroller (MCU) based on the AVR enhanced RISC architecture. By executing powerful instructions in a single clock cycle, it achieves throughputs close to 1 MIPS per MHz.
The MCU is supported with a full suite of program and system development tools and this bundle includes an ATmega328PB Xplained Mini evaluation kit, an ATATMEL-ICE development tool and an ATPOWERDEBUGGER power debugger kit.
The ATmega328PB Xplained Mini evaluation kit is a hardware platform for evaluating the ATmega328PB microcontroller. It comes with a fully integrated debugger that provides seamless integration with Atmel Studio. The kit provides access to the features of the ATmega328PB MCU enabling easy integration of the device into a custom design. The kit features two capacitive buttons for easy evaluation of the integrated QTouch peripheral touch controller (PTC).
The Atmel-ICE is a development tool for debugging and programming ARM Cortex-M based SAM and AVR microcontrollers with on-chip debug capability. It offers programming and on-chip debugging of all AVR 32-bit MCUs on both JTAG and aWire interfaces, programming and on-chip debugging of all AVR XMEGA family devices on both JTAG and PDI 2-wire interfaces, JTAG and SPI programming and debugging of all AVR 8-bit MCUs with OCD support on either JTAG or debugWIRE interfaces, programming and debugging of all SAM ARM Cortex-M based MCUs on both SWD and JTAG interfaces, and programming of all tinyAVR 8-bit MCUs with support for the TPI interface.
The Power Debugger kit is a tool for debugging and programming AVR microcontrollers using UPDI, JTAG, PDI, debugWIRE, aWire , TPI or SPI target interfaces and ARM Cortex-M based SAM microcontrollers using JTAG or SWD target interfaces. In addition, the Power Debugger has two independent current sensing channels for measuring and optimising the power consumption of a design. It also includes a CDC virtual COM port interface as well as Data Gateway Interface channels for streaming application data to the host computer from an SPI, USART, TWI or GPIO source. The Power Debugger is a CMSIS-DAP compatible debugger which works with Studio 7.0 or later, or other frontend software capable of connecting to a generic CMSIS-DAP unit. It streams power measurements and application debug data to Data Visualizer for real-time analysis.
For your chance to win this Microchip ATmega328PB development suite bundle, visit www.microchip-comps.com/data-328 and enter your details in the online entry form.
Further reading:
Coalition calls on European Commission to postpone SCIP deadline
30 September 2020 , News
A coalition of 40 industry organisations has written a letter to European Commission President Ursula von der Leyen calling for decisive action to solve implementation issues within the EU Waste Framework 
...
Read more...
---
Follow this engineering journey of a 3D-printed boat
30 September 2020, RS Components (SA) , News
RS Components is releasing a 10-episode documentary series – titled SeaQuest – featuring members of its DesignSpark engineering community who embarked on a first-of-its-kind challenge to design, test 
...
Read more...
---
Mouser revamps technical resource centre
30 September 2020, TRX Electronics , News
Mouser Electronics has redesigned its Technical Resource Centre, which contains the global distributor's ever-expanding collection of technical articles, blogs, eBooks, and Methods technology and solutions 
...
Read more...
---
From the editor's desk: Electric and autonomous vehicles driving full-speed ahead
28 October 2020, Technews Publishing , News
I still can't stop myself from doing a double-take when I hear that Tesla is rolling out a software update to add some sort of new functionality to its cars. Some of those updates are pointless show-off 
...
Read more...
---
Electronics news digest
28 October 2020 , News
South Africa
• The Department of Defence (DoD) has appointed a special team, called 'Save Denel' to investigate Denel's financial struggles, and the impact they might have on SA National Defence Force 
...
Read more...
---
Clearing the Static
28 October 2020, Actum Group , News
The Importance of ESD audits
An ESD audit is the first step in establishing an effective static control programme. Before you invest money in new ESD equipment, an ESD audit will help you identify vulnerable 
...
Read more...
---
TRX welcomes Hannes Taute as new MD
28 October 2020, TRX Electronics , Editor's Choice, News
We delve into his background, what his plans for TRX Electronics are, and how he envisions what the future of the local electronics industry will look like.
Read more...
---
CSIR marks 75th anniversary
28 October 2020 , News
The Minister of Higher Education, Science and Innovation, Dr Blade Nzimande, has congratulated the Council for Scientific and Industrial Research (CSIR) for its contribution in shaping the country's science, 
...
Read more...
---
Diamonds are a quantum scientist's best friend
28 October 2020 , News
Diamonds have a firm foothold in our lexicon. Their many properties often serve as superlatives for quality, clarity and hardiness. Aside from the popularity of this rare material in ornamental and decorative 
...
Read more...
---
Würth extends online service for IC reference designs
28 October 2020 , News
As one of the leading manufacturers of electronic and electromechanical components, Würth Elektronik has been working for years with top semiconductor companies, such as Analog Devices, Infineon Technologies, 
...
Read more...
---