Comtest Solutions recently hosted Bird Technologies' sales manager, Mike Gathergood, at its Gauteng offices, as part of an extensive tour across the EMEA region he services, with a two-pronged objective. The main focus of his visit was the launch of Bird's new Channel Power Monitor, combined with some product training on the Site Hawk and Signal Hawk devices, followed up with meetings with both dealers and clients.
Bird Technology's Mike Gathergood in SA for the launch of the new Channel Power Monitor.
"I'm particularly excited about the launch of Bird's new Channel Power Monitor, designed for monitoring the individual transmission sites and antennas of critical communications systems, such as the TETRA Systems used by the various emergency services. The system can also be used to monitor the mission-critical radio systems of airports, sea ports, coastguards and private security companies," commented Gathergood.
The system monitors critical communication transmissions and alerts operators to a fault, for example if the transmitter's power output has been reduced, or if there is a fault on the antenna or cable. Corrective action can be taken before the end user is even aware there is a problem, with the optimum being a no-outage result.
The device is connected via an IP network back to a central monitoring site and incorporated into whatever network management system the end user is using, and it is also compatible with SNMP. The goal is to proactively look after the remote sites, so rather than users calling in faults while responding to an emergency call or trying to land an aircraft, there is an awareness of the situation before the user becomes aware of it, and maintenance can be planned ahead. Very frequently, these initial incidences start slowly and spiral downward over a period of time before actually causing a failure, and this system allows for identification and action-taking.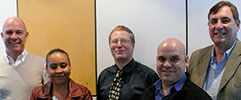 Mike Gathergood with the Comtest team.
Gary Casper, Comtest product manager added, "Comtest has a couple of upcoming exhibitions – the Fibre-to-the-Home conference and Africa Telecoms – and this information boost will be incorporated into our offering. Mike has specialist knowledge and expertise in essential technical details, so that the Comtest team has an in-depth understanding of the Bird product range, and especially the new Channel Power Monitor, enabling the team to recommend the right product to our customers."