Stretching back to 1992, Connector Technology has been providing customised connector, cabling and harnessing solutions for the South African electronics manufacturing industry.
Today the company has a national footprint with a presence in Johannesburg, Durban and Cape Town.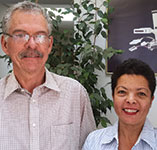 Connector Technology founders, Mark Rishworth and Jackie Booysen.
According to co-founders Mark Rishworth and Jackie Booysen, the company is focused on serving its clients, with a specific aim of finding solutions to its clients' specific needs in terms of what is going to work, what will be reliable etc. It then sources high-quality connector, cabling and harnessing products at competitive pricing to provide a lasting solution. "We aim to keep our clients in the long term so we build trusted relationships," explains Rishworth.
In a sense, the company's roots date all the way back to 1976, which is when Rishworth started working in his father's connector business. "When my father sold the business to American company Molex, I resigned and started my own business as I believed there was an unfulfilled niche for a truly South African connector and harnessing business in the market. Our clients in South Africa have specific requirements, which we could fulfil then by sourcing the best available products from around the world. We continue to do this today," he states.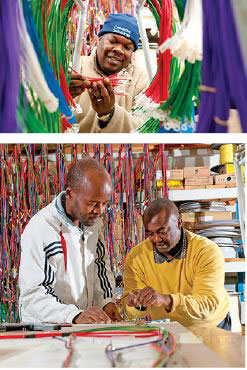 Today, Connector Technology serves numerous sectors, including lighting, home automation, business equipment, automotive, security, mining, medical, telecoms and military, with a diversity of products sourced from a range of international distributors and assembled in South Africa. The company has invested in an extensive line of automatic, semi-automatic and manual tooling, and is equipped to process and terminate products offered by Molex, TE Connectivity, Hirose, J.S.T, Delphi and others.
"Ultimately we aim to support and grow the local electronics industry," says Rishworth. "We do this by providing high-quality, reliable solutions for the long term. We genuinely want our clients to be successful, and to think of us as providing that personal touch which is so rare in today's market. In a market that is more and more commoditised, we are unique in that we work with the client to understand their requirements. We design solutions for the long term, and then source good quality products at fair prices. We also offer unparalleled technical expertise; for example we are one of the only companies that can crimp down to 1 mm pitch.
"We have a proven track record with our clients, many of whom have been with us for many years. We believe that we offer the best value, both in designing solutions and delivering quality products. We are able to guide our clients through the minefield of compatibility, minimum order quantities, long delivery lead times, quality and pricing issues that can arise when dealing with a range of international distributors."

As to what the future holds for Connector Technology, Rishworth emphasises the need to keep a finger on the pulse of future trends. "The trend in the electronics industry is towards smaller and smaller form factors," he clarifies. "As one of the few companies to be currently crimping down to 1 mm pitch, we are on the leading edge of this trend and plan to maintain this advantage through continuous improvements in our technical expertise. We plan to remain in our niche providing high-quality connector and harnessing solutions for the long term."