printer friendly version
Zero-drift nanopower op-amp
31 January 2018
Analogue, Mixed Signal, LSI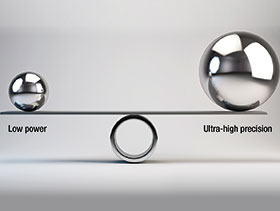 Texas Instruments has introduced an operational amplifier (op-amp) combining ultra-high precision with the industry's lowest supply current.
Boasting exceptional power-to-precision performance, the LPV821 zero-drift, nanopower op-amp is designed for use in precision applications such as wireless sensing nodes, home and factory automation equipment, and portable electronics.
Consuming only nanoamps of supply current, while providing the high-precision benefits of optimised offset, drift and 1/f noise (flicker noise), the LPV821 is beneficial for applications where both precision and low power are essential system needs, including industrial gas detectors, field transmitters and battery packs.
TI's zero-drift technology delivers a low initial offset of 10 μV and an offset drift of 0,02 μV/°C, eliminating temperature drift and flicker noise, and enabling engineers to attain the highest DC precision and dynamic error correction. Additionally, self-calibration technology helps engineers save system development cost and speed time to market.
An input bias current of 7 pA and low flicker noise at 3.9 µVp-p enables operation with high-impedance sensors, delivering more accurate measurements in precision systems. Engineers can pair the LPV821 with the TLV3691 comparator or ADS7142 analog-to-digital converter to program a threshold that will automatically wake up a microcontroller, further reducing system power consumption.
For more information contact EBV Electrolink, +27 (0)21 402 1940, capetown@ebv.com, www.ebv.com
Credit(s)
Further reading:
3-axis accelerometers with selectable ranges
25 November 2020, Altron Arrow , Analogue, Mixed Signal, LSI
The analog output ADXL354 and the digital output ADXL355 are low noise density, low 0 G offset drift, low power, 3-axis accelerometers with selectable measurement ranges. The ADXL354B supports the ±2 G 
...
Read more...
---
Multimodal sensor front end
25 November 2020, Altron Arrow , Analogue, Mixed Signal, LSI
Analog Devices' ADPD4000 and ADPD4001 operate as a complete multimodal sensor front end by stimulating up to eight LEDs and measuring the return signal on up to eight separate current inputs. Twelve 
...
Read more...
---
CO2 sensor for indoor air quality applications
25 November 2020, Electrocomp , Analogue, Mixed Signal, LSI
With dimensions of just 10,1 x 10,1 x 6,5 mm, the SCD40 from Sensirion's footprint has been miniaturised by a factor of five compared to its predecessor, the SCD30. Using the photoacoustic sensing principle, 
...
Read more...
---
Global shutter image sensor for machine vision
28 October 2020, EBV Electrolink , Opto-Electronics
ON Semiconductor has introduced the AR0234CS 2,3 megapixel CMOS image sensor with global shutter technology. The high-performance sensor is designed for a variety of applications including machine vision 
...
Read more...
---
High-speed Rad-Hard logic ICs
28 October 2020 , Analogue, Mixed Signal, LSI
STMicroelectronics has introduced the first two logic devices in a new high-speed, radiation-hardened family that brings 150 MHz+ performance to space applications. The QML-V qualified RHFOSC04 (SMD15962F20207) 
...
Read more...
---
High-voltage analog multiplexers
30 September 2020, Altron Arrow , Analogue, Mixed Signal, LSI
Diodes Incorporated announces the PS508 and PS509 analog multiplexers that are capable of switching signal voltages of up to 36 V in an industrial environment. The high voltage capability of the devices 
...
Read more...
---
Low inductance SiC power module gate driver kit
31 August 2020, Altron Arrow , Analogue, Mixed Signal, LSI
The transformation to electrify transportation – from trains, trams and trolleys to buses, automobiles and EV chargers – continues at a rapid pace, as countries shift toward improved modes of transit 
...
Read more...
---
New GaN-on-SiC power amplifiers
31 August 2020, RFiber Solutions , Analogue, Mixed Signal, LSI
MACOM Technology Solutions, a leading supplier of semiconductor solutions, recently announced at the virtual International Microwave Symposium the introduction of its new gallium nitride on silicon carbide 
...
Read more...
---
DACs with 1 or 2 channels
31 August 2020, Altron Arrow , Analogue, Mixed Signal, LSI
The MCP47CXBXX/MCP48CXBXX are single- and dual-channel 8-bit, 10-bit and 12-bit buffered voltage output digital-to-analog converters (DAC), with volatile or MTP memory and an I2C/SPI interface. The MTP 
...
Read more...
---
Data buffer for high performance server and cloud service applications
30 September 2020, Hi-Q Electronics , Analogue, Mixed Signal, LSI
Renesas Electronics Corporation has introduced a new high speed, low power DDR5 data buffer for data centre, server and high-performance workstation applications. Advancements over the past few years 
...
Read more...
---