printer friendly version
Bluetooth 5 development kit
31 January 2018
Telecoms, Datacoms, Wireless, IoT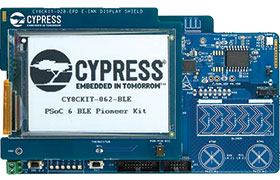 RS Components is making available the Pioneer Kit development platform for the PSoC 6 MCU from Cypress Semiconductor. PSoC 6 is purpose-built for the IoT with an ultra-low-power, flexible architecture and integrated security features required for next-generation IoT devices.
The CY8CKIT-062-BLE kit has a PSoC 63 device on-board, with Bluetooth 5 ready to go, creating a powerful launchpad for developing IoT devices. Cypress' 512 Mb Quad-SPI NOR Flash memory and EZ-PD CCG3 USB Type-C controller with power delivery are also available on-board. Smart power options are provided too, with support for a rechargeable LiPo battery and a supercapacitor that can be used as backup power.
Users can also refine the user interface for their new applications by taking advantage of the on-board capacitive-sensing buttons, sliders and proximity sensor based on Cypress' CapSense technology, and the 2,7" E-ink display shield (CY8CKIT-028-EPD) included in the pack. This board plugs into the platform's Arduino UNO v3 shield headers, which simplify additional functional expansion leveraging the extensive Arduino ecosystem.
The PSoC 6 BLE Pioneer Kit contains everything users need to get their applications up and running, including essential software. There is a comprehensive software development kit (SDK) containing header files, startup code and fully integrated middleware, called the Peripheral Driver Library (PDL). The PDL helps quickly take control of the flexible peripherals of PSoC 6 MCUs.
The new PSoC 6 MCU will also soon be available from RS, for customers to implement their projects developed using the PSoC 6 BLE Pioneer Kit. The PSoC 6 architecture integrates a 150 MHz ARM Cortex-M4 core and 100 MHz Cortex-M0+ to allow compute tasks to be assigned efficiently for optimum performance and power. Active power can be as low as 22 μA/MHz on the ARM Cortex-M4 and 15 μA/MHz on the Cortex-M0+ cores, and dynamic voltage and frequency scaling ensures maximum energy efficiency as the load varies.
The devices also feature a hardware-based trusted execution environment (TEE), which addresses IoT security challenges without requiring external memory or a secure element. The PSoC 6 TEE supports state-of-the-art security features such as secure boot, secure data storage, and advanced cryptographic algorithms.
Leveraging the flexibility of Cypress' programmable-SoC philosophy, the latest PSoC 6 generation also allows designers to take advantage of software-defined peripherals to create custom analog front-ends (AFEs) or digital interfaces. The new devices also support Cypress' popular CapSense touch technology, giving the option to provide sleek, smooth user interactions where needed.
Credit(s)
Further reading:
RF amplifier for linear and saturated applications
28 October 2020, RFiber Solutions , Telecoms, Datacoms, Wireless, IoT
The MAPC-A1103 is a high-power GaN-on-silicon-carbide HEMT D-mode amplifier suitable for DC to 2,7 GHz frequency operation. The device supports both CW and pulsed operation with peak output power levels 
...
Read more...
---
Antennas from Linx available from RS
25 November 2020, RS Components (SA) , Telecoms, Datacoms, Wireless, IoT
RS Components is now stocking a comprehensive range of antennas from wireless technology specialist, Linx Technologies. Linx, headquartered in Oregon, USA, produces antennas that enable design engineers 
...
Read more...
---
Major update to GNSS firewall software strengthens protection
25 November 2020, Comtest , Telecoms, Datacoms, Wireless, IoT
Critical infrastructure systems including power utilities, financial services, mobile networks and transportation rely on Global Positioning System (GPS)-delivered timing to ensure ongoing operations. 
...
Read more...
---
The difference between RF limiters and attenuators
25 November 2020, RF Design , Telecoms, Datacoms, Wireless, IoT
Both RF limiters and attenuators reduce the power of an RF signal. However, they do so in different ways that are key to understanding their use. These components are often used to protect sensitive RF 
...
Read more...
---
RTLS tag module for real-time positioning
25 November 2020, Altron Arrow , Telecoms, Datacoms, Wireless, IoT
Inpixon announced the launch of its newest smart tag module, the swarm bee LE V3, supporting a range of indoor and outdoor location applications including real-time location systems (RTLS). This is 
...
Read more...
---
Antenna selection and design for small IoT devices
25 November 2020, Avnet Abacus , Telecoms, Datacoms, Wireless, IoT
IoT devices are typically small and often have a severely limited power budget to operate for long periods from a small energy source such as a primary coin cell. While careful selection of ICs and modules, 
...
Read more...
---
Connectivity for IoT devices with SoftSIM platform
25 November 2020, Otto Wireless Solutions , Telecoms, Datacoms, Wireless, IoT
IoT device vendors are facing more and more complex cellular connectivity issues these days. Manufacturing is often outsourced to third-party factories and finished devices are being distributed to many 
...
Read more...
---
Otto Wireless Solutions' evolution into a wireless connectivity powerhouse
25 November 2020, Otto Wireless Solutions , Telecoms, Datacoms, Wireless, IoT
Otto Wireless Solutions, established in 2010, has gradually evolved into a South African powerhouse of industrial wireless connectivity, offering solutions which cover multiple industries with its suite 
...
Read more...
---
Nordic supports development of Amazon Sidewalk devices
25 November 2020, RF Design , Telecoms, Datacoms, Wireless, IoT
Nordic Semiconductor is cooperating with Amazon to develop Bluetooth Low Energy (Bluetooth LE) solutions for Amazon Sidewalk. Amazon Sidewalk is a neighbourhood network designed to help customer devices 
...
Read more...
---
4G USB device gateway makes IoT retrofitting easy
25 November 2020, Gemalto IoT (Cinterion Wireless Modules) , Telecoms, Datacoms, Wireless, IoT
As 2G and 3G networks phase out around the world, the Cinterion DGL61-W USB Device Gateway offers a simple and powerful solution for retrofitting existing IoT applications while providing seamless evolution 
...
Read more...
---