printer friendly version
Panel voltmeter with E-Ink display
31 January 2018
Test & Measurement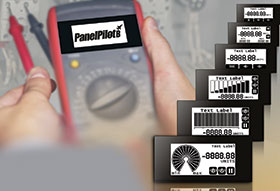 The PanelPilot SGD 21-B from Lascar Electronics, a leading maker of display panels for industrial applications, is a low-cost and ultra-low-power single-channel voltmeter with a sleek monochrome E-Ink display.
E-Ink displays are typically used in a range of electronic consumer devices – most notably in a leading e-book reader product – but are now starting to see use in industrial applications. These types of displays have two major advantages over alternative technologies: firstly, they are readable even in extreme sunlight; and secondly, they offer very low power consumption.
The PanelPilot SGD 21-B comes with a 2,1" dot-matrix display with a 250 x 122 pixel resolution. The product takes advantage of the PanelPilot B Windows-based platform, which allows users to configure and customise a range of Lascar compatible displays with the click of a mouse. The use of pre-loaded display layout templates, which are configurable for further customisation, enables users to get up and running very quickly, without writing any code.
For the new PanelPilot SGD 21-B, the software platform enables users to choose from a selection of analog and digital voltmeter apps, and then customise labels, scaling and alarms for their own specific application. The device allows the setting of two alarm levels with a dedicated alarm output and a configurable digital I/O pin. A splashscreen can be added to display on power-up. Once the app is complete, it can be uploaded to the SGD 21-B display using a USB cable.
Key to the product is its 4 to 9 V d.c. power supply and its very low power consumption, which means it can be used in mobile applications that are powered by batteries. The display measures 73,8 x 37,5 x 10,8 mm and has an operating temperature range of 0°C to +40°C.
Credit(s)
Further reading:
Antennas from Linx available from RS
25 November 2020, RS Components (SA) , Telecoms, Datacoms, Wireless, IoT
RS Components is now stocking a comprehensive range of antennas from wireless technology specialist, Linx Technologies. Linx, headquartered in Oregon, USA, produces antennas that enable design engineers 
...
Read more...
---
High-power grounding jumpers
25 November 2020, RS Components (SA) , Interconnection
Molex's Triton grounding jumpers provide for the safe management of high-power busbars. Unique to the industry, the range is UL certified to deliver quality, safety and reliability. The jumpers are 
...
Read more...
---
Thermal camera for detecting abnormal body temperatures
25 November 2020, Coral-i Solutions , Test & Measurement
Because measuring a person's body temperature is a major issue in the news at the moment, Chauvin Arnoux is launching the CA 1900 thermal camera, a new health tool for identifying anyone with an excessively 
...
Read more...
---
Real-time phase noise analysis up to 50 GHz
25 November 2020, RF Design , Test & Measurement
Wireless Telecom Group announced the introduction of the Holzworth HA7063A Downconverter, which extends the capabilities of the phase noise analyser product portfolio to 50 GHz. The new downconverter 
...
Read more...
---
Real-time dashboards for remote test data access
25 November 2020, Comtest , Test & Measurement
Tektronix announced the availability of a native integration between the Keithley DAQ6510 and DMM6500 instruments with Initial State, an loT dashboard for data streaming and visualisation for world-class, 
...
Read more...
---
Follow this engineering journey of a 3D-printed boat
30 September 2020, RS Components (SA) , News
RS Components is releasing a 10-episode documentary series – titled SeaQuest – featuring members of its DesignSpark engineering community who embarked on a first-of-its-kind challenge to design, test 
...
Read more...
---
ESD testing equipment and calibration
28 October 2020, Actum Group , Test & Measurement
ESD stands for electrostatic discharge, and describes the transfer of electrostatic charge between two objects. The resulting discharge from an electron imbalance may be so small that the human body cannot 
...
Read more...
---
Full-featured Ethernet test solution
28 October 2020, Lambda Test , Test & Measurement
VeEX recently announced the MTX150x Dual 10G Ethernet installation and maintenance handheld test set. This packet switched networks (PSN) tester covers all data rates from 10 Mbps to 10 Gbps and is the 
...
Read more...
---
1200 V SiC MOSFETs
28 October 2020, RS Components (SA) , Power Electronics / Power Management
RS Components now stocks ON Semiconductor's latest 1200 V-rated MOSFETs. Based on silicon-carbide (SiC) technology, these power discretes are able to push the performance envelope. The new N-channel 
...
Read more...
---
Low insertion force SMT connectors
28 October 2020, RS Components (SA) , Interconnection
RS Components is now stocking a new range of SMT, low insertion force (LIF) connectors from Würth Elektronik. Leveraging low-profile, lightweight, and secure and removable connection, they are made to 
...
Read more...
---