printer friendly version
SiP for low-power cellular IoT
21 February 2018
Telecoms, Datacoms, Wireless, IoT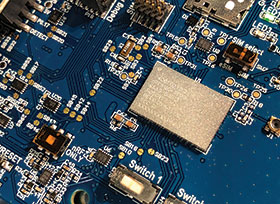 Nordic Semiconductor recently provided a 'sneak peek' of its upcoming nRF91 series low-power cellular IoT solution. During an event in Oslo, the company also demonstrated the nRF91 operating on the Verizon Wireless Network in the US and on the Telia network in Norway.
Explaining the rationale behind the development of the new module family, Nordic said, "The Nordic nRF91 series is all about taking the unique value proposition of cellular and bringing simplicity and appeal to a broader market." That concept manifests as a highly integrated, low-power, global multimode LTE-M / NB-IoT system-in-package (SiP). The SiP integrates a complete low-power cellular IoT system into a tiny 10 x 16 x 1,2 mm package that integrates modem, transceiver, RF front end, dedicated application processor, Flash memory, power management, and crystal and passive components.
Nordic partnered with Qorvo for both the RF front end and the SiP development and manufacturing. The nRF91 leverages Qorvo's state-of-the-art, proven RF front end, advanced packaging, and MicroShield technology. The nRF91 series supports global operation with a single SiP variant thanks to the combination of Nordic's multimode LTE-M / NB-IoT modem, SAW-less transceiver, and Qorvo's custom RF front end solution.
The nRF91 emphasises security for low-power IoT devices by combining the inherent security of cellular connectivity with a cutting-edge security solution for the application hardware and software. The integration of an ARM Cortex-M33 processor and ARM CryptoCell-310 security IP enables an entire low-power cellular IoT application to be implemented on an nRF91 SiP.
The built-in host processor features TrustZone for ARMv8-M, helping secure application data, firmware and peripherals using an isolated, trusted execution environment across the CPU and system. This solution provides an efficient security foundation, and reduces size, bill-of-materials and power consumption versus using an external host processor. The nRF91 SiP also features built-in support for positioning via an integrated Assisted GPS (A-GPS) solution that combines cellular and GPS technology to deliver fast and accurate positioning.
The nRF91 series includes a complete suite of software and easy-to-use development tools to accelerate innovation and product development. Assistance is available from Nordic's technical support team and development community.
Nordic is sampling devices to selected lead customers now, and plans to be ready for general sampling by mid-2018, with first production quantities available by the end of the year. The nRF91 SIP will be available in variants with and without integrated GPS.
For more information contact Carl van der Merwe, Avnet South Africa, +27 (0)11 319 8600, carl.vandermerwe@avnet.eu, www.avnet.co.za; Andrew Hutton, RF Design, +27 (0)21 555 8400, andrew@rfdesign.co.za, www.rfdesign.co.za
Credit(s)
Further reading:
RF amplifier for linear and saturated applications
28 October 2020, RFiber Solutions , Telecoms, Datacoms, Wireless, IoT
The MAPC-A1103 is a high-power GaN-on-silicon-carbide HEMT D-mode amplifier suitable for DC to 2,7 GHz frequency operation. The device supports both CW and pulsed operation with peak output power levels 
...
Read more...
---
Antennas from Linx available from RS
25 November 2020, RS Components (SA) , Telecoms, Datacoms, Wireless, IoT
RS Components is now stocking a comprehensive range of antennas from wireless technology specialist, Linx Technologies. Linx, headquartered in Oregon, USA, produces antennas that enable design engineers 
...
Read more...
---
Major update to GNSS firewall software strengthens protection
25 November 2020, Comtest , Telecoms, Datacoms, Wireless, IoT
Critical infrastructure systems including power utilities, financial services, mobile networks and transportation rely on Global Positioning System (GPS)-delivered timing to ensure ongoing operations. 
...
Read more...
---
The difference between RF limiters and attenuators
25 November 2020, RF Design , Telecoms, Datacoms, Wireless, IoT
Both RF limiters and attenuators reduce the power of an RF signal. However, they do so in different ways that are key to understanding their use. These components are often used to protect sensitive RF 
...
Read more...
---
RTLS tag module for real-time positioning
25 November 2020, Altron Arrow , Telecoms, Datacoms, Wireless, IoT
Inpixon announced the launch of its newest smart tag module, the swarm bee LE V3, supporting a range of indoor and outdoor location applications including real-time location systems (RTLS). This is 
...
Read more...
---
Antenna selection and design for small IoT devices
25 November 2020, Avnet Abacus , Telecoms, Datacoms, Wireless, IoT
IoT devices are typically small and often have a severely limited power budget to operate for long periods from a small energy source such as a primary coin cell. While careful selection of ICs and modules, 
...
Read more...
---
Connectivity for IoT Devices with SoftSIM platform
25 November 2020, Otto Wireless Solutions , Telecoms, Datacoms, Wireless, IoT
IoT device vendors are facing more and more complex cellular connectivity issues these days. Manufacturing is often outsourced to third-party factories and finished devices are being distributed to many 
...
Read more...
---
Otto Wireless Solutions' evolution into a wireless connectivity powerhouse
25 November 2020, Otto Wireless Solutions , Telecoms, Datacoms, Wireless, IoT
Otto Wireless Solutions, established in 2010, has gradually evolved into a South African powerhouse of industrial wireless connectivity, offering solutions which cover multiple industries with its suite 
...
Read more...
---
Nordic supports development of Amazon Sidewalk devices
25 November 2020, RF Design , Telecoms, Datacoms, Wireless, IoT
Nordic Semiconductor is cooperating with Amazon to develop Bluetooth Low Energy (Bluetooth LE) solutions for Amazon Sidewalk. Amazon Sidewalk is a neighbourhood network designed to help customer devices 
...
Read more...
---
4G USB device gateway makes IoT retrofitting easy
25 November 2020, Gemalto IoT (Cinterion Wireless Modules) , Telecoms, Datacoms, Wireless, IoT
As 2G and 3G networks phase out around the world, the Cinterion DGL61-W USB Device Gateway offers a simple and powerful solution for retrofitting existing IoT applications while providing seamless evolution 
...
Read more...
---