printer friendly version
Humidity, temperature and CO2 sensor
21 February 2018
Test & Measurement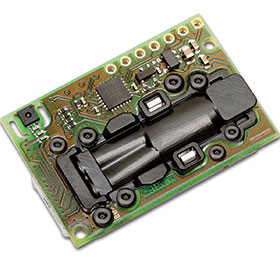 The new SDC30 is a humidity, temperature and carbon dioxide concentration sensor from Sensirion.
Carbon dioxide is a key indicator of indoor air quality. Thanks to new energy standards and better insulation, houses have become increasingly energy efficient, but the air quality can deteriorate rapidly. Active ventilation is needed to maintain a comfortable and healthy indoor environment, and to improve the wellbeing and productivity of the inhabitants. The SCD30 offers accurate and stable CO2, temperature and humidity monitoring. This enables customers to develop new solutions that increase energy efficiency and simultaneously support wellbeing.
CMOSens technology for IR detection enables highly accurate carbon dioxide measurement at a competitive price. Along with the NDIR measurement technology for CO2 detection, a best-in-class Sensirion humidity and temperature sensor is also integrated on the same sensor module. Ambient humidity and temperature can be outputted by Sensirion's algorithm expertise through modelling and compensating of external heat sources without the requirement for any additional components.
Thanks to the dual-channel principle for the measurement of carbon dioxide concentration, the sensor compensates for long-term drifts automatically by design. The very small module height allows easy integration into different applications.
Credit(s)
Further reading:
ESD testing equipment and calibration
28 October 2020, Actum Group , Test & Measurement
ESD stands for electrostatic discharge, and describes the transfer of electrostatic charge between two objects. The resulting discharge from an electron imbalance may be so small that the human body cannot 
...
Read more...
---
Full-featured Ethernet test solution
28 October 2020, Lambda Test , Test & Measurement
VeEX recently announced the MTX150x Dual 10G Ethernet installation and maintenance handheld test set. This packet switched networks (PSN) tester covers all data rates from 10 Mbps to 10 Gbps and is the 
...
Read more...
---
AEC-Q200 compliant line filters
28 October 2020, Electrocomp , Circuit & System Protection
Bourns Magnetics Product Line is introducing the Model DR334A line filter series. These filters are constructed with a ferrite toroid core delivering compact size and high impedance over a broad frequency 
...
Read more...
---
Real-time dashboards for remote test data access
30 September 2020, Comtest , Test & Measurement
Tektronix announced the availability of a native integration between the Keithley DAQ6510 and DMM6500 instruments with Initial State, an loT dashboard for data streaming and visualisation for world-class, 
...
Read more...
---
Rugged three-phase AC filter capacitors
30 September 2020, Electrocomp , Passive Components
TDK introduced two new series of EPCOS power capacitors for AC filtering in three-phase delta connection applications. The B32375* series is designed for the low to medium power range and covers a capacitance 
...
Read more...
---
High-speed protectors for automotive circuits
30 September 2020, Electrocomp , Circuit & System Protection
Bourns announced the release of the AEC-Q101 compliant Model TBU-CA-Q High-Speed Protector series. These products are low-capacitance, single bidirectional high-speed protection components, constructed 
...
Read more...
---
Miniature SMT noise sources
31 August 2020, RF Design , Test & Measurement
Pasternack has released a new series of miniature SMT packaged noise sources that are ideal for built-in test equipment, dithering for increased dynamic range of A/D converters and as a source for bit 
...
Read more...
---
New digital storage oscilloscope
31 August 2020, RS Components (SA) , Test & Measurement
RS Components is now stocking the Tektronix TBS1000C digital storage oscilloscope. Affordable, compact and easy-to-use, the TBS1000C comes with enhanced user interface and courseware, proving a great 
...
Read more...
---
High-spec, low-cost oscilloscope for industry and education
31 August 2020, RS Components (SA) , Test & Measurement
RS Components has introduced the Tektronix TBS2000B digital storage oscilloscope, aimed at industrial design and maintenance engineers and the educational sector. A higher-specification but low-cost drop-in 
...
Read more...
---
Stylish new plastic enclosure family
30 September 2020, Electrocomp , Enclosures, Racks, Cabinets & Panel Products
Hammond Electronics has announced its new 1557 family. Initially available in four plan sizes, each in two heights, it is available in polycarbonate sealed to IP68 and ABS designed to meet IP66. The sizes 
...
Read more...
---