printer friendly version
Li-ion battery management ICs
21 February 2018
Power Electronics / Power Management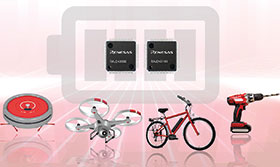 Renesas Electronics rolled out two new battery management IC solutions for lithium-ion (Li-ion) rechargeable batteries used in industrial equipment, such as electric power tools and E-bikes (bicycles incorporating electric motors). The solutions based on the RAJ240090, supporting three to eight cells, and RAJ240100, supporting three to 10 cells, simplify the design of industrial battery management systems, providing a high degree of safety.
The new solutions support up to 10 cells for a maximum 50 V capability and are Renesas' first battery management solutions for Li-ion batteries supporting industrial applications. The RAJ240090 and RAJ240100 have built-in safety features to protect Li-ion batteries from catastrophic failure. In addition, Renesas offers design support tools, which enable the rapid development of battery management systems.
Featuring an integrated RL78 MCU (microcontroller), the ICs integrate the remaining capacity measurement and safety monitoring functions, such as over-voltage and over-current, into a single package. This provides a high-precision analog-to-digital converter (required for battery control voltage measurement) and MCU that have been matched and adjusted beforehand, thereby contributing to substantially reducing the need for calibration. In addition, the peripheral functions required by industrial applications, including power supply, field effect transistor (FET) driver and real-time clock, are included on-chip.
The RAJ240090 and RAJ240100 support an ultra-low-power mode, which reduces current consumption to only 25 μA. This allows battery monitoring functions to operate constantly, even when the system is powered off. A record-keeping function can store information such as battery history to monitor deterioration and store system faults in the MCU memory. The MCU can issue an alarm and disable the battery to prevent Li-ion battery failure.
In addition, the battery management ICs support a system configuration in which N-channel MOSFETs are positioned at the positive poles of the battery cells. This means that if the battery management IC fails, the system can be shut down safely. If, on the other hand, the MCU enters a runaway state, the battery protection function of the analog front-end block can continue to operate independently, providing a failsafe for enhanced system safety.
Renesas plans to release development startup support tools, such as reference software, reference circuit diagrams and setup manuals. The support tools will enable changes to parameter settings and simplify Li-ion battery pack design, and enable faster solutions for battery management.
For more information contact Callie Lombard, Hi-Q Electronics, +27 (0)11 894 8083, callie@hi-q.co.za, www.hi-q.co.za
Credit(s)
Further reading:
Miniature 4,4 A boost converter
28 October 2020, iCorp Technologies , Power Electronics / Power Management
The SGM6623 from SG Micro is a general-purpose, miniature boost DC-DC switching regulator with high efficiency for battery backup and standby power systems. The acceptable input voltage range is between 
...
Read more...
---
Double the power output from new Tadiran battery
25 November 2020, Altron Arrow , Power Electronics / Power Management
Tadiran has developed the latest in its PulsesPlus HLC battery range, doubling the power output of its previous offering. Recently the company launched the C-type HLC which represented a huge improvement 
...
Read more...
---
High power-density TVS diodes
25 November 2020, Hi-Q Electronics , Circuit & System Protection
Today's modern high power-density electronics are more vulnerable to electrical stresses than ever due to component miniaturisation. High-demand, scalable electronics such as smart meters require highly 
...
Read more...
---
DIN-rail power supplies for harsh conditions
25 November 2020 , Power Electronics / Power Management
Available from Traco Power is a dedicated series of DIN-rail power solutions for harsh industrial applications. The TSP series' high immunity against electrical disturbances and rugged metal casing 
...
Read more...
---
SiC diodes for electric vehicles
25 November 2020, Altron Arrow , Power Electronics / Power Management
As vehicle electrification continues rapid growth worldwide, innovative power technologies such as silicon carbide (SiC) are required for high-voltage automotive systems ranging from motors to on-board 
...
Read more...
---
Single-cell battery charger
25 November 2020, iCorp Technologies , Power Electronics / Power Management
The SGM41511 is a battery charger and system power path management device with integrated converter and power switches for use with single-cell Li-ion or Li-polymer batteries. This highly integrated 3 A 
...
Read more...
---
Locally designed gang battery charger
25 November 2020, Seven Labs Technology , Power Electronics / Power Management
Made by Seven Labs Technology, the JuiceBar has 10 individually configurable chargers, each of which can be configured to charge the battery with a charge current of up to 2 A. What really makes the JuiceBar 
...
Read more...
---
Regenerative power system integrating two instruments
25 November 2020, Conical Technologies , Power Electronics / Power Management
The IT-M3600 regenerative power system from ITECH integrates two instruments in one, those being a bidirectional power supply and a regenerative electronic load. When used as a load, its energy recovery 
...
Read more...
---
Battery manufacturer enters South African market
25 November 2020 , Power Electronics / Power Management
Energon, a leading battery manufacturer based in Russia, has expanded its global presence to include new subsidiaries in Turkey (as the centre of a new cluster for eastern Europe, the Middle East and 
...
Read more...
---
Maintaining backup battery systems for maximum usage and reliability
30 September 2020, Comtest , Power Electronics / Power Management
Standby battery backup systems play a critical role in keeping essential operations functional in the event of a utility outage. Facilities like data centres, hospitals, airports, utilities, oil and gas 
...
Read more...
---