printer friendly version
A new approach to turnkey industrial PC systems
21 February 2018
Computer/Embedded Technology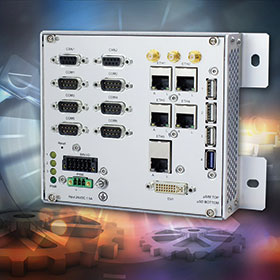 When it comes to embedded computer systems, every market and even every single application has different requirements in terms of packaging, mounting, and of course performance and I/O functionality.
Accordingly, a strongly focused market approach prevails in the offering of application-ready systems. It seems that manufacturers are forced to compromise: it is either robust design or high performance; either compact size or configurable I/O; either modular or inexpensive.
The resulting systems out in the market differ to a large extent. Most of them, and at least anything called a 'box PC', have their own design with a rather rigid set of functions. Despite that, vendors seem to follow their competition as well as basic market trends regarding interfaces, housing design and supported temperature ranges. Unfortunately, this leads to a lack in flexibility and modularity.
For a manufacturer focused on board-level products, the most flexible solutions use platforms like CompactPCI or ATX with configurable slots that can ideally be filled from the manufacturer's own component portfolio. ATX or Mini ATX are built up mostly of PCI cards. More compact platforms like DIN rail PCs require special boards for most systems. In both cases, systems end up rather specialised, which makes them more expensive and less flexible for future extensions.

Unsatisfied with conventional ideas, MEN has raised the bar on turnkey solutions with the goals of ensuring short time to market, easy configuration even with special I/O requirements, a modular approach to save time and costs, and a final system that is ready for harsh environments.
One basic idea that MEN's standard products have paved the way for is built-to-order (BTO) systems. Computer systems are subject to extreme cost pressure, particularly in industrial areas such as automation. On the other hand, they need to be configurable. They need PCI components and fieldbus options. Ideally, everything has to come off the shelf to optimise the costs, both on the manufacturer's side and on the customer's side.
To meet these needs,19-inch CompactPCI with a standard height of 4U seemed the most solid standard basis, and a more compact system can use only half the horizontal pitch with 40 HP (9,5"). The harder part was to make it configurable in such a way that it can accommodate all kinds of I/O functions along with the PCI cards very common in industrial applications, without having to change the resulting backplane for different configurations.
The backplane for MEN's resulting industrial PC solution is built around a standard 3U CompactPCI (PlusIO) CPU board. An Intel Core i7 processor brings high CPU performance to industrial applications. This performance is scalable through an existing family of compatible CPU boards and results in lower maintenance and modification costs. The family concept also makes the system long-term available: when an Intel CPU is discontinued, a new compatible CPU card with an up-to-date processor will be in place. The CPU comes standard with two Gigabit Ethernet interfaces, USB and VGA at the front, and connects to high-speed serial interfaces via its PlusIO rear connector.
With such CPU flexibility at its heart, even an industrial PC can cover a broad range of possible tasks, including RAIDs, NAS, kiosk or data acquisition functions. To implement the actual I/O functions, two CompactPCI and two CompactPCI Serial peripheral cards can be plugged in, plus two PCI or PCI Express cards. These proven and reliable standards ensure the demanded modularity, and allow independence from a single supplier, if necessary. The two PCI/PCIe slots can be equipped with half-length cards for further customised extension.
The industrial PC can be powered by two 6-HP AC or DC power supply units (PSUs) to provide redundancy. An uninterruptible power supply (UPS) guarantees continuous operation, or lets the operating system shut down gracefully. A carefully-designed shelf controller adds supervision and a status panel. Its mechanical setup allows the system to be wall- or rack-mounted. Cooling can be either by natural convection or by a fan installed in an additional fan tray at the bottom.
While this concept is not brand new, it does take modularity to the extreme. The pool of standard hardware available to build up a specific functionality includes all kinds of I/O for PCI, CompactPCI and CompactPCI Serial such as networking or mass storage, analog and digital I/O, or wireless interfaces. Additionally, MEN has partnered with Hilscher to offer fieldbus interfaces from CANopen, DeviceNet, real-time Ethernet (EtherCAT, EtherNet/IP, Modbus, Powerlink, Profinet, Sercos, Varan) to Profibus on 3U CompactPCI. The supported components have been selected to guarantee a complete range of options from a reliable source.
In terms of power supply, MEN relies on its own experience and is launching a new family of PSUs that emphasise the modular approach. Depending on the market, PSUs can vary greatly. They have to handle a wide range of DC or AC input voltages, for instance. To facilitate certification procedures, the new products will fulfil the railway requirements of different geographical areas. Parallel and redundant modes let the user connect power supplies inside a system to increase availability or power output.
And finally, even the best hardware cannot be called 'application-ready' without matching software. This is why the industrial PC always comes with a pre-installed operating system and drivers.
If that sounds like a solid base for many tasks, one should never forget how different embedded applications can be. There is no 'Jack of all trades' solution. This has never been as true as it is today, with embedded computers finding their way into ever-new fields of use. Engineers need to think outside the box before actually designing it. The footprint of a 19" system may still be too large, its cooling concept may not work in restricted surroundings, or its housing may not be robust enough. MEN engineers have considered these aspects as part of their vision.
To cater to a market that needs robust box PCs and other more dedicated systems, they came up with is an impressive roadmap of devices embedded into a clear concept. A growing family of off-the-shelf box computers is one important pillar in this plan.
A number of standardised components can be assembled to build up all kinds of box PCs, allowing for different CPU performance classes from ARM to AMD and Intel, numerous I/O configuration options and scalable housing sizes. A range of standard boxes cover dedicated functional areas to meet cost requirements and fast time-to-market.
An important focus is on in-vehicle PCs complying with EN 50155 for rail and ISO 7637-2 for automotive. One compact box was designed for graphical performance and another slightly larger box comes as an all-rounder for wireless communication. With AMD, or alternatively Intel performance, it is combinable with displays or storage, while PCI Express Mini Cards, SIM card holders and antenna facilities leave the necessary room for configuration of the exact wireless functionality up to LTE (4G) or WLAN / Wi-Fi. A GNSS interface supporting GPS and GLONASS for positioning complements the possibilities.
Also based on AMD are an industrial box PC optimised for cost efficiency and one for storage applications, including hot-pluggable HDD/SSD shuttles. Next up there is a number of Intel-based box PCs for even higher performance in storage and communication functions.
One option for implementing a panel PC is to combine a suitable display and box PC. The box design was already prepared for that, too. What these CompactPCI based systems and box PCs have in common is their modular, family-based design. Many design details are completely dedicated to one package concept, but many functions can be re-used and technologies can be shared between device types.
Plug-on modules like PCIe Mini cards can add wireless or legacy I/O functions and especially fieldbus interfaces. Hilscher's modular solution for functions from CANopen to real-time Ethernet integrates perfectly into MEN systems, with CompactPCI peripherals and mini cards being based on the same functional unit. Re-using such units drastically reduces costs.
The mentioned, system formats will soon be expanded by a family of routers and switches, available both in box and 9,5" rack-mount CompactPCI format, similar to the different industrial PCs explained above. These are not just application-ready but true turnkey systems. The networking products are designed with one common PCB base. This will yield a complete range of ready-to-use devices optimised for different markets and performance levels.
Besides upcoming application-ready RAID and NAS systems based on CompactPCI, very special systems are also under way for safe train control. These involve sophisticated design according to standards like EN 50128/50129 but use the same modular basis of 9,5" CompactPCI. They are combined with an existing 3U CompactPCI safe rail CPU card, safe rail I/O cards and safe software.
While MEN is not exclusively active in the rail market, this is where the most challenging designs have their origin. All of the system-level products already available or coming up soon benefit from more demanding requirements. Flexibility and modularity not only bring reliable, rugged design and competitive pricing to demanding markets, but also to industrial PC solutions or networking.
The final question is whether even heavily configurable devices can keep up with the off-the-shelf idea.
Even with a radically modular concept, can one just 'click and place' components online and put the system into a shopping basket for ordering?
Yes and no, in a way. 'Complicated' is an attribute that does not sound desirable for a system that promises easy configuration, but a truly optimised solution deserves some degree of complexity.
Customers face full racks of devices in all flavours in the embedded supermarket. By understanding its customers' needs, MEN's solution can still put a customer's system on their desk and in their project in a very short time, but without the hassle of worrying about which components really match.
Credit(s)
Further reading:
High-speed synchroniser and distribution board
28 October 2020, Rugged Interconnect Technologies , Computer/Embedded Technology
Pentek introduced a new board to the Quartz RFSoC architecture family, the Model 5903, a 3U VPX high-speed synchroniser and distribution board, optimised for Pentek products using the Xilinx Zynq UltraScale+ 
...
Read more...
---
BC200 Boxed Rugged Industrial Configurable PC
31 August 2020, Rugged Interconnect Technologies , Computer/Embedded Technology
• Based on proven 3U CompactPCI.Serial technologies • The system is user configurable for unlimited solutions supporting: • 4HP/8HP Processor boards configured with I/O side cards • 4HP/8HP Peripheral 
...
Read more...
---
Data recorder qualified for aerospace
31 August 2020, Rugged Interconnect Technologies , Computer/Embedded Technology
The Galleon G1 microRecorder is a powerful gigabit and 10Gb Ethernet recorder in an extremely small enclosure. It is designed to meet the most severe environmental conditions without compromising on functionality 
...
Read more...
---
11th Gen Intel Core processors with new design options
30 September 2020 , Computer/Embedded Technology
In parallel with the 11th Gen Intel Core processor launch (code named Tiger Lake), congatec has launched both its first COM-HPC Client size A module and a next generation COM Express Compact Computer-on-Module. 
...
Read more...
---
PCIe board for wireless applications
29 July 2020, Rugged Interconnect Technologies , Computer/Embedded Technology
Pentek introduced an addition to the Quartz RFSoC architecture family, the Model 7050, an eight-channel A/D and D/A converter, PCIe double-wide board based on the Xilinx Zynq UltraScale+ RFSoC. The Model 
...
Read more...
---
Configured computing systems and individual elements
29 July 2020, Vepac Electronics , Computer/Embedded Technology
Verotec has a selection of configured systems plus individual elements such as backplanes, power supplies and cooling products, which are compliant with the PICMG/VITA specifications, and supported by 
...
Read more...
---
Pentek accelerates real-time recording
29 July 2020, Rugged Interconnect Technologies , Computer/Embedded Technology
Pentek has introduced a new addition to the Talon series of recorders, the Model RTR 2757 4U 19-inch rackmount recorder. This new recorder complements Pentek's Quartz RFSoC products that stream digitised 
...
Read more...
---
FPGA development suite for Pentek recorders
30 June 2020, Rugged Interconnect Technologies , Programmable Logic
Pentek's ArchiTek FPGA Development Suite is a new product for adding custom IP to select Pentek Talon recording systems. ArchiTek is a comprehensive development environment that enables engineers to add 
...
Read more...
---
Backplanes for various computing architectures
30 June 2020, Vepac Electronics , Computer/Embedded Technology
Verotec designs, supplies and integrates bus-based products and systems. Its extensive standard range consists of open-architecture backplanes and extender boards for VME, VME64x, VXI, VPX, VXS, CompactPCI, 
...
Read more...
---
PCIe Gen 4 switches
30 June 2020 , Computer/Embedded Technology
To support cloud, data centre and hyperscale computing that facilitates advancements in artificial intelligence (AI) and machine learning (ML), Microchip Technology released to production its Switchtec 
...
Read more...
---